Leafs visit Pierre Engvall & the New York Islanders: Leafs Tailgate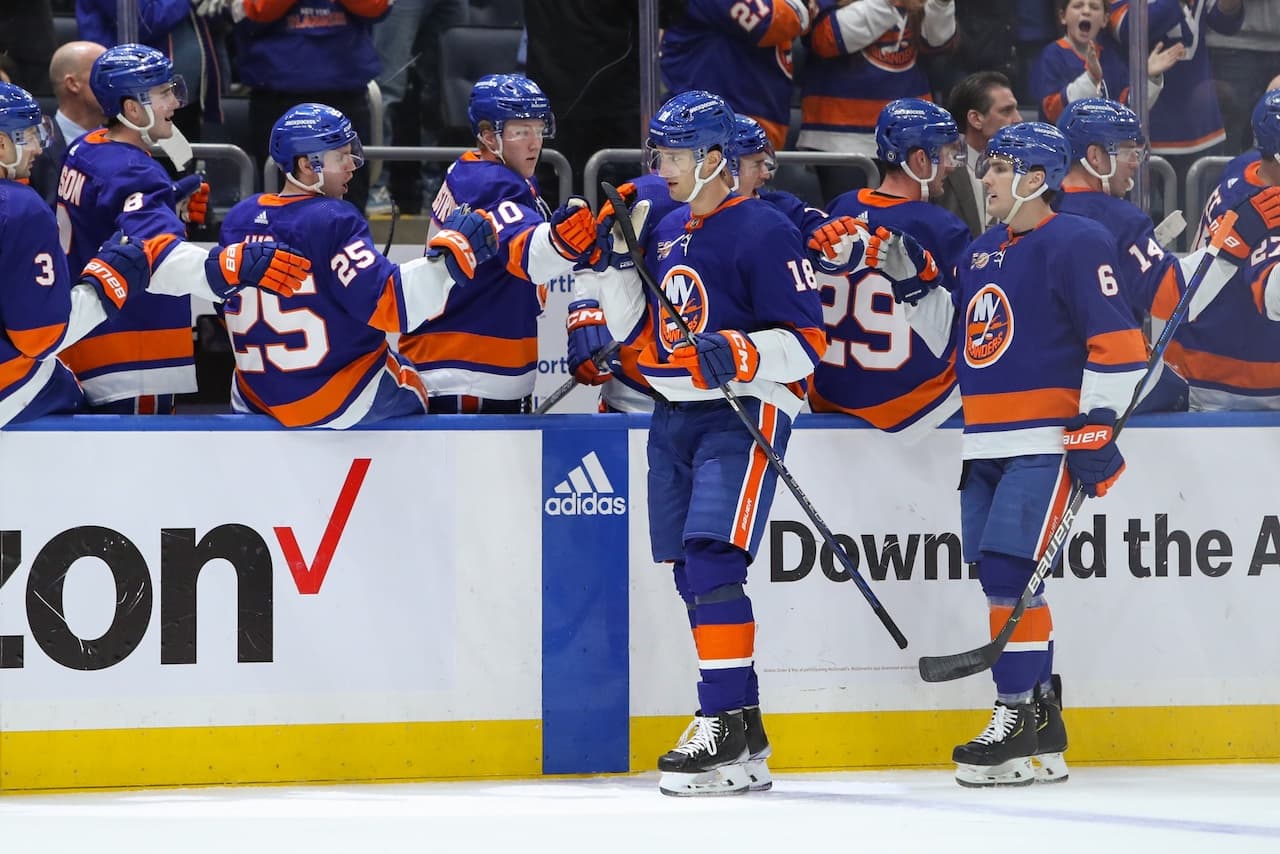 Photo credit:Thomas Salus-USA TODAY Sports
After kicking off their five-game road trip with a 5-4 shootout victory in Kanata on Saturday night, stop No. 2 brings the Maple Leafs to Long Island tonight to tangle with the desperate New York Islanders (36-27-8) at UBS Arena.
In two previous meetings with John Tavares' former squad this season, Toronto has grabbed three of a possible four points (1-0-1). Both of those contests took place at Scotiabank Arena.
With 13 games remaining, the Leafs have 93 points (42-18-9) and are three up on the Tampa Bay Lightning for second in the Atlantic Division with two games in hand. Meantime, as mentioned, the Isles are in a dog fight just to make the Stanley Cup Playoffs right now. At 80 points, they're currently clinging to the first wildcard spot in the Eastern Conference.
Also, apologies for burying the lede here. For the first time since being dealt to the Islanders just before the trade deadline, Pierre Engvall will play the Leafs. In seven outings with his new team, he's tallied three goals and five points. You just know he's scoring tonight.
TIME: 7:30 PM ET (TSN4)
STARTING GOALIES:
TOR Ilya Samsonov – CONFIRMED (24-8-3, 2.35, 0.917, 3 SO)
@
NYI Ilya Sorokin – CONFIRMED (25-19-6, 2.35, 0.925, 5 SO)
PROJECTED LINEUPS:
 Kerfoot-Matthews-Jarnkrok
Bunting-Tavares-Marner
McMann-Lafferty-Nylander
Aston-Reese-Kampf-Acciari
Rielly-Gustafsson
Giordano-Holl
McCabe-Liljegren
Lee-Horvat-Holmstrom
Engvall-Nelson-Palmieri
Parise-Pageau-Fasching
Martin-Cizikas-Clutterbuck
Pelech-Mayfield
Romanov-Pulock
Aho-Dobson
THREE STORYLINES:
ANOTHER RETURN FOR JT
Yes, indisputably, the narrative has lost its lustre, but as long as John Tavares is a Maple Leaf, it's still profoundly a storyline. Unbelievably, tonight will mark the 11th time Tavares will play the Islanders. Through 10 outings, he's notched four goals and seven points. Essentially, from day one, he's been John Tavares and come pretty much as advertised. The atmosphere won't be anywhere close to when he made his initial return, but rest assured, Islanders fans have a long memory. And personally, I love the idea/potential storyline of the Leafs beating New York in regulation and putting a dent in their playoff hopes. Never forget: REVENGE is a dish best served cold. A monster night for Tavares would be outstanding.
CAN WILD BILL SNAP OUT OF HIS SLUMP?
Call it a slump, call it what you want, offence has been harder to come by lately for William Nylander. Over the past 10 games, he's notched two measly points – both goals – and is slated to start tonight's game on the third line alongside Sam Lafferty and Bobby McMann.
Dare I say it's the first time this season that Nylander has dealt with a bit of adversity? I'm curious to see how he responds, because obviously, there's another level that he can get to.
GOALIE BATTLE
It goes without saying but the Leafs will be in tough against Ilya Sorokin, who's widely regarded as one of the premier goalies in the NHL right now. Not to be outdone, father-to-be Ilya Samsonov will oppose him in the Toronto crease. Both have been fantastic this season, and thus, I fully expect offence to be at a premium tonight. Once upon a time ago, Sorokin and Samsonov, who both came over from the KHL, were talked about in the same breath. Obviously, Sorokin has ascended into elite status, but dare I say Samsonov is not far behind? These guys are competitors and friends; I'm looking forward to this match-up!
BETTING:
(As of Noon EDT)
PROP PLAY:
UNDER 5.5