Life without Joe Thornton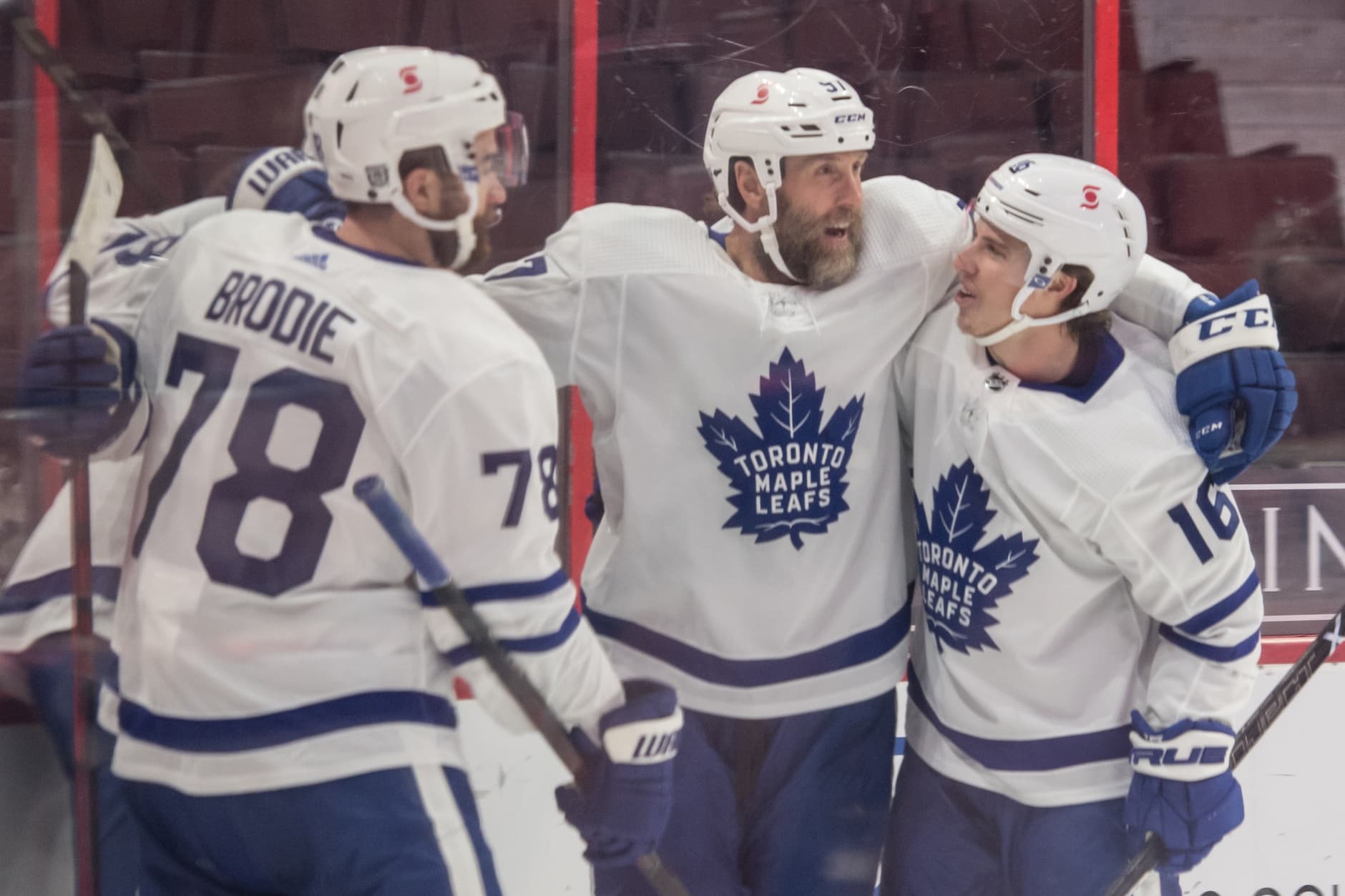 Photo credit:Marc DesRosiers-USA TODAY Sports
It was fun while it lasted, but five games into the Joe Thornton era we are being treated to an indefinite hiatus. It appears that we are looking at weeks rather than days in waiting for his return based on early speculation, and with the recall of Joey Anderson to join the Leafs practice squad there will be some changes coming to the Leafs forward group.
With the loss of Robertson and Thornton, the Leafs are now sitting at 10 healthy forwards, and 7 defensemen in their lineup, with only $560k of cap space to make a recall. Basically the Leafs can't recall anyone unless they also demote Mikko Lehtonen to the taxi squad, and up their flexibility to $1.485M, which would allow them to recall two of Adam Brooks, Joey Anderson, and Travis Boyd.
The other option for the Leafs is to put Thornton and Robertson on their injured reserve, and bring up in Barabanov while keeping Lehtonen on their roster. This decision would impact the Leafs ability to accumulate cap space to use at the trade deadline. This is something they'll likely explore at some point, but when you consider they didn't use it immediately after Robertson, and they were willing to lose Aaron Dell to preserve this flexibility, they aren't going to rush into it now. They'll play the players they have.
So let's move beyond cap space and start contemplating the lineup…
Let's start with the fact that Brooks is 100% a placeholder for Matthews. If something was seriously up with Matthews, Marner would either be playing with Tavares or Kerfoot. So we can assume that Vesey is replacing Thornton on the top line. Based on last game that isn't exactly a merit based promotion.
Hyman being moved up to the Tavares line is encouraging. Hyman belongs in the top six, and he's one of the few Leafs that had a solid showing against Edmonton on Wednesday. Fingers are crossed that we don't see him outside the top six again.
The third line sees Simmonds as the replacement for the promoted Hyman, and most importantly it keeps the Mikheyev-Kerfoot pairing intact. They've done well together, even if Kerfoot didn't have good game against Edmonton, and we should all be developing real concerns about Mikheyev's ability to produce offensively. Mikheyev as a third liner is perfect, as is Kerfoot, there shouldn't be any interest in moving them up. Simmonds getting a bit more ice time is only a good thing.
The fourth line is a giant question mark. Simply put, the Leafs can't afford to have Barabanov-Engvall-Spezza as the line. They can afford Anderson-Brooks-Spezza, which is also an interesting line, but a harsh reality for Barabanov, who probably should be in the lineup, at least until we know what the Leafs have with him. The question still remains on what the Leafs will do with Lehtonen, who seems like a cap casualty for Friday night. While Sandin might be playing with Bogosian, I'd put money on it being a Dermott-Bogosian bottom pairing Friday.
Beyond the cap and the lineup card the absence of Thornton will hurt the Leafs. He's been a positive addition for the team, and the idea of having a superstar around who has his fun, but works hard, wants to win, and will do anything it takes to give the team the best chance of winning was the right attitude to bring in. Now the Leafs are coming off a game with an effort reminiscent of last season, and there's one less voice helping them pull out of that funk.
While I've never been a fan of Thornton on the top line, there's little doubt that going from Thornton to Vesey is a downgrade, but bringing Hyman into the top six is an upgrade. When Thornton returns it would be nice to see him slot in to a depth role, and be moved up situationally. I'd also argue that Thornton with Tavares and Nylander might make more sense, and Hyman should be with Matthews and Marner, but whatever. We won't go too far down the line combo rabbit hole.
Thornton also takes a passer off the power play unit. The Leafs do have options, but none that compare to Thornton. Loading up the top power play unit may once again be the best option.
With the promise of MRI results later today, we'll patiently wait to find out if the sky has fallen or not, but this doesn't seem good. The Leafs 3-2-0 start hasn't been particularly inspiring, and the immediate adversity of losing Robertson and Thornton to long term injuries doesn't help the situation.