Looking back at the Toronto Maple Leafs' 2018 draft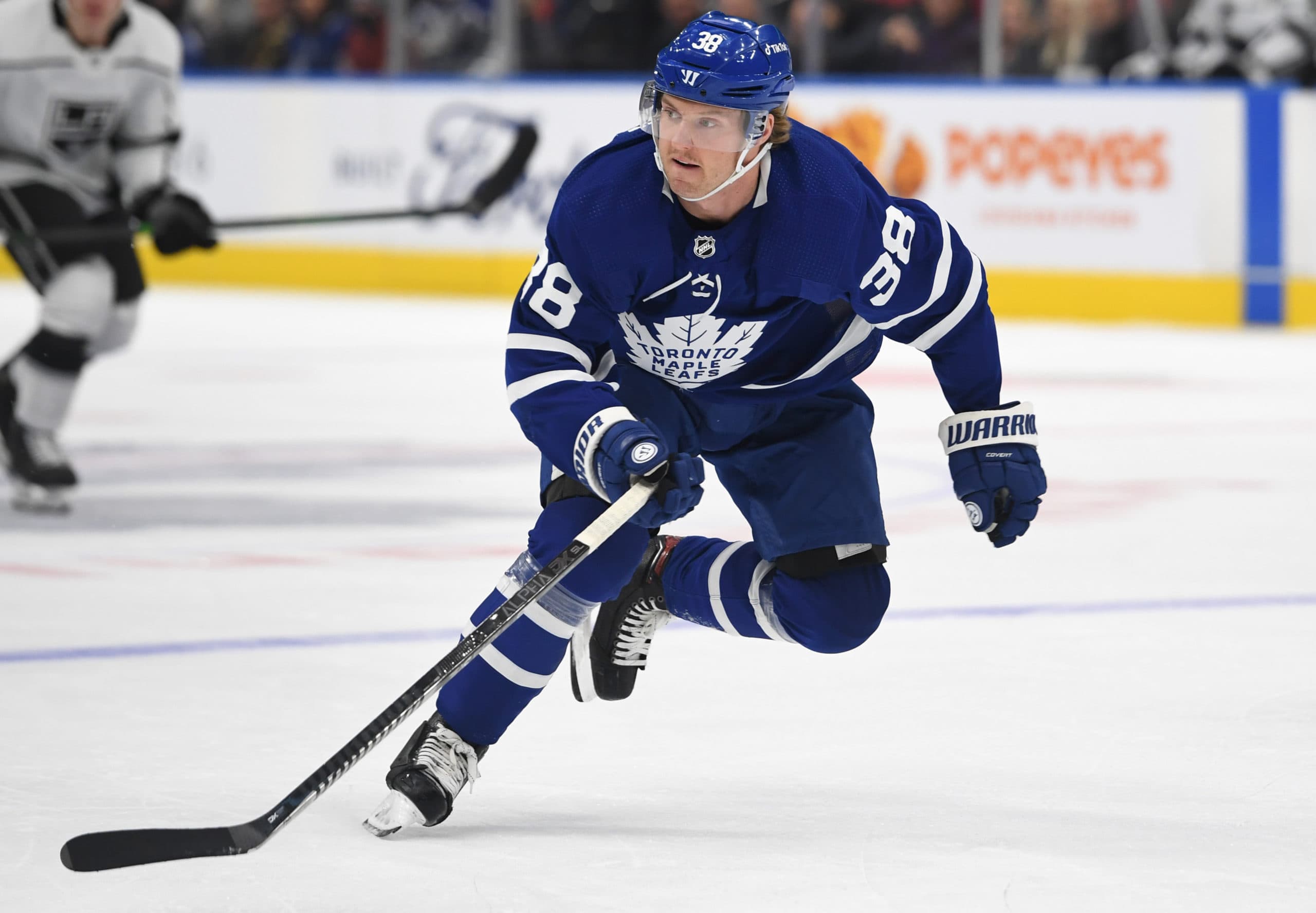 Photo credit:Dan Hamilton-USA TODAY Sports
Over the course of this week, I've been looking back at each of the Toronto Maple Leafs' four draft classes under the tenure of GM Kyle Dubas, reviewing how the selections were viewed at the time, how they have panned out to date, and noting what talent they missed out on (if any) in the immediate picks following.
Today, we finish off the series by reviewing the 2018 draft class for the Toronto Maple Leafs, the first draft overseen by Kyle Dubas as general manager. With a fairly shallow prospect pool having seen major pieces graduate to the NHL roster in the two years prior to this draft, Dubas and the rest of the Leafs staff needed to hit on at least some of the picks to begin to restock the cupboards.
1st Round, 29th Overall – Rasmus Sandin, LD, OHL
At the time
Firstly, Kyle Dubas traded down from the 25th overall slot, adding a third-round pick by moving down four positions in the draft order.
Then, upon selecting @Rasmus Sandin, many were thinking "here we go again" as Dubas' first draft pick came from non-other than Sault Ste. Marie, the very OHL team Dubas had been the general manager of prior to his time with the Maple Leafs.
It was a bold move for Dubas to put aside the optics of immediately drafting a Greyhounds player and put faith in the Leafs scouting staff that Sandin was the right choice for Toronto. It's not like Sandin was some unexpected choice in this range either, and his production as an OHL rookie backed it up.
After starting the season in Sweden, Sandin joined Sault Ste. Marie early in the season and didn't look back. His 45 points in 51 games ranked third among draft-eligible defencemen behind @Evan Bouchard and @Ryan Merkley, and top ten among defencemen in the league overall.
Sandin was one of the best offensive defencemen in the league right away, and though his defensive results were subpar, especially relative to his teammates playing on a top team, he was a worthy selection at 29th overall. Most public rankings had him as a fringe first-rounder, coming in at 27th on Bob McKenzie's consensus ranking. The likes of Craig Button, Jeff Marek, and Future Considerations were notably high on Sandin, having him as a top 20 prospect on their rankings.
Today
Of course, Rasmus Sandin has emerged as a legit NHL defenceman over the past season for the Maple Leafs.
He immediately joined the Toronto Marlies in his DY+1 season, before really starting to break out in his DY+2 season. A fantastic stretch of play to begin the 2019-20 season where he dominated the AHL and won Top Defenceman at the World Juniors saw Sandin get an extended look on the Leafs roster in only his DY+2 year, appearing in 28 games in the NHL.
Things were halted a bit in 2020-21, though, as Sandin was buried on the NHL depth chart and couldn't quite get into a run of games. Upon being sent down when the AHL season began, he was then injured and only returned just prior to the start of the Stanley Cup playoffs. Sandin would get into five games with Toronto in the postseason, seeing time on the powerplay as the Leafs looked to spark something, but ultimately had 2020-21 come to a close in a bit of a disappointing fashion.
This year, Sandin finally found himself playing regular minutes consistently in the NHL. On a third pair, Sandin and his partner often had the best results on the Leafs defence throughout the season. While the points weren't necessarily there to show for it, with just five goals and 16 points in 51 games, the Leafs were consistently a good team when Sandin was on the ice.
Sandin ranked top three in major categories including on-ice Corsi-for per 60 (1st), on-ice expected goals for (2nd), goals-against per 60 (3rd), and goal share (3rd), among others. While keeping in mind he was on a sheltered third pairing for most of the season, Sandin's results at age 21 bode well for his top four potential going into the future.
Unfortunately, Sandin's season was again interrupted due to injury, as he came out of the lineup just after the trade deadline and did not return to action.
Heading into 2022-23, Sandin's status on the Leafs and where he fits in on the blueline as currently constructed is one of the more fascinating topics to me. He's clearly shown potential as a play-driving defenceman, but with @Morgan Rielly, @Jake Muzzin, and @Mark Giordano down the left side, will he have to rotate into the lineup or will he have to shift to the right side?
Overall, Dubas' first pick may have been criticized at the time due to the connection to his OHL stomping grounds, but it's proven to have been the right call.
Did they miss on anyone?
As a late first-round pick, we'll look at players drafted in the five picks following Sandin at 29th overall.
While @Mattias Samuelsson, @Joe Veleno, and @Jonatan Berggren stand out to varying degrees, Sandin still stands above the group immediately following him. He leads in NHL games played so far and has also shown positive results in those minutes. Sandin was absolutely the right pick looking back.
2nd Round, 52nd Overall – Sean Durzi, RD, OHL
At the time
Back in 2018, I had my eye on @Calen Addison as the Leafs pick neared at 52nd overall. They took a right defenceman, just not the one I thought it would be.
After going undrafted in 2017, @Sean Durzi attended the Maple Leafs development camp that summer. Upon returning to the OHL without a contract, Durzi absolutely exploded with the Owen Sound Attack.
He emerged as one of the OHL's top offensive defencemen, scoring 49 points in 40 games, and had some of the best overall results not just on his team, but league wide when comparing players to their teammates.
This development saw Durzi become the first overage prospect off the board at the 2018 draft when the Leafs selected him 52nd overall, right in the range he was anticipated to go in when he was ranked 48th on Bob McKenzie's consensus rankings.
Today
Durzi remained in the Leafs system for less than a year, as he was included in the package that was sent to the Los Angeles Kings for @Jake Muzzin.
While Durzi never played a game in the Leafs system, as he was traded while still playing in the OHL, the Leafs' faith in his game to make him a second-round pick despite being an overage prospect has been proven right over the four years since he was drafted.
After two solid years in the AHL, Durzi took off early in 2021-22. With 16 points through 13 games, he was recalled by the Kings and has since become a regular in their lineup.
Playing on a sheltered third pair at even strength and getting minutes on the man advantage, Durzi scored 27 points in 64 games during the regular season with the Kings, and chipped in another three points in the playoffs.
Did they miss on anyone?
As a second-round pick, we'll look at players selected in the five picks following Durzi at 52nd overall.
With Durzi's emergence in 2021-22, it's safe to say he was the right choice…for now. The one challenger he has in the group following him is the aforementioned Calen Addison, who has yet to break into Minnesota's lineup at the NHL level, but projects in a similar way to Durzi.
A year and a half younger than Durzi, though, Addison is further ahead in his development than Durzi was at the same point and could be a factor for the Wild as soon as 2022-23.
While the Leafs never got to see Durzi's development through, his selection proved worthwhile early on as he was a significant factor in their ability to acquire Jake Muzzin.
3rd Round, 76th Overall – Semyon Der-Arguchintsev, C, OHL
At the time
As the youngest player in the draft, @Semyon Der-Arguchintsev was a pure upside swing by the Leafs in third round, using the extra pick they had acquired from St. Louis by trading down on Day 1 of the draft.
Der-Arguchintsev was, and still is, one of the more fascinating prospects in hockey. If he were born one day later, he wouldn't have been draft-eligible until the 2019 draft. In his draft year, Der-Arguchintsev showed vision and playmaking ability that made him such an interesting prospect.
Despite the raw skills, Der-Arguchintsev's slight 5-foot-10 and 165-pound frame as a centre and low floor dropped him down various rankings. He wasn't even ranked on Bob McKenzie's consensus top 93, while some, such as Corey Pronman, saw the tools and ranked him inside their first round.
Today
A small centre with vision and playmaking but a difficult NHL projection? Four years may have passed and Der-Arguchintsev has definitely improved, but his status remains largely the same.
Making his full-season AHL debut in 2021-22, Der-Arguchintsev was thrown to the wolves when the Marlies lost @Adam Brooks and @Michael Amadio due to waivers. Rather than adjusting to the AHL in a secondary role, he had to sink or swim while centring the top line.
Early in the season, it was much more sink than swim.
At times, Der-Arguchintsev's early struggles saw him demoted to the fourth line, with players like @Curtis Douglas and Ryan Chyzowski lining up at centre higher in the lineup than him. Yet, as the season went along, Der-Arguchintsev became more and more comfortable, to the point where he was a top-six centre on merit for the Marlies by the end of the year.
Overall, his numbers weren't anything too crazy, with 32 points in 51 games. Notably, he was able to produce at a respectable rate on both the powerplay (one of his better attributes), but also at even strength. His on-ice results were victimized by a poor PDO, and while his shooting percentage will come back down to earth, an improved on-ice save percentage will be a big boost to his totals if he gets that next year.
His progression from the opening game of the season to his last game of the season drew praise from the Marlies management. He was described as the most improved player on the roster by general manager Ryan Hardy, and while his NHL projection is still hard to nail down as a diminutive centre with high-end skill that has yet to put it all together, there are positive signs for SDA heading into 2022-23.
Did they miss on anyone?
As a third-round pick, we'll look at players selected in the 11 picks following Der-Arguchintsev at 76th overall, as Toronto had another selection in the 10 after 76th.
While Der-Arguchintsev remains an intriguing prospect, there has been talent in the group after him that has started to emerge. The most notable of that group is Anaheim's @Lukas Dostal, one of the better goaltending prospects in hockey. Dostal has posted a .916 save percentage in back-to-back AHL seasons and got his first taste of NHL action this past season. Given Toronto's lack of upper echelon goaltending prospects knocking on the door, a prospect like Dostal would be incredibly valuable to have at the moment.
Other than Dostal, Vancouver's @Linus Karlsson is coming off of an SHL rookie of the year campaign and is set to make his AHL debut this upcoming year. @Sampo Ranta, @Blake McLaughlin, and @Alexander Khovanov are also intriguing names, though that group is more in the category that Der-Arguchintsev finds himself in.
3rd Round, 83rd Overall – Riley Stotts, C, WHL
At the time
This pick was strange from the time it was announced.
After a horrible start to his draft year, Riley Stotts was traded to the Calgary Hitmen, where he saw a complete flip of the script. Stotts went from scoring three points in 22 games with Swift Current to scoring 41 points in 47 games with Calgary.
Still, as an average-sized centre who had just begun to show scoring ability in the WHL around midseason, Stotts was not ranked by many outlets. He was unranked on Scott Wheeler's top 100, Bob McKenzie's top 93, and Corey Pronman's top 74. Even on Central Scouting's North American skaters list, Stotts was just 51st.
Despite the lack of interest in public rankings, Toronto took Stotts with their second third-round pick, leaving many scratching their heads.
Today
As a top 90 draft pick that ultimately went unsigned, Riley Stotts is the biggest miss of the Dubas tenure at the draft so far for me.
Sure, he wasn't a first-round pick or anything like that, but there is still plenty of value to be found in the top 90 of the draft. To completely miss on a prospect, someone that two years after being drafted wasn't even deemed worthy of an entry-level contract, is rough.
Stotts would have been a fine swing later in the draft given his midseason turnaround in Calgary. But at 83rd overall? It was a strange pick at the time that has aged horribly.
As I mentioned, Stotts went unsigned by Toronto by the signing deadline in 2020, returning to the WHL as an overage player in 2020-21 before joining the University of Calgary in USports this past season.
I'm a fan of USports, I spent most of my Saturdays this past year broadcasting them for crying out loud, but having your top 90 draft pick end up there is…rough.
Did they miss on anyone?
As a third-round pick, we'll look at players selected in the 10 picks following Stotts at 83rd overall.
What compounds the error in the Stotts pick is the quality prospects that were taken after him. I already mentioned Lukas Dostal, who would have overhauled the Leafs goalie pipeline, as well as Linus Karlsson.
Arizona's @Nathan Smith was a dominant force in the NCAA with Minnesota State this year, stepped into the Coyotes lineup at the end of the season, and produced four points in 10 games. Carolina prospect @Joey Keane hasn't broken through into the NHL yet, but has had a strong AHL career to date and is knocking on the door.
Even @Connor Dewar, a Maple Leafs development camp attendee in the year before the 2018 draft, has become a solid depth player for the Minnesota Wild.
4th Round, 118th Overall – Mac Hollowell, RD, OHL
At the time
The second Sault Ste. Marie Greyhound drafted by the Leafs and the second prospect to be taken by Toronto that had attended their 2017 development camp, @Mac Hollowell had a lot of similar characteristics to second-round pick, Sean Durzi.
Hollowell also broke out as one of the top offensive defencemen in the OHL as a DY+1. Playing on that elite Greyhounds team, Hollowell scored 56 points in 63 games. At 5-foot-9, though, Hollowell's lack of size and slightly older age saw him remain available by the middle of the draft.
Today
Hollowell remains in the Leafs organization and is under contract for another season having signed an extension midseason, but his NHL prospects don't look too promising.
As an undersized offensive defenceman, Hollowell has had good results at the AHL level but has not quite broken out in the way that would have him on the path to becoming an NHL player as he approaches his 24th birthday.
At this point, Hollowell has been a good top four AHL defenceman who can produce offence at even strength. As a 5-foot-9 player, though, those results aren't going to be good enough for him to get an NHL opportunity.
He took a step forward this year with the Marlies and should remain a fixture in their top four, but unless he takes an even bigger step in 2021-22, I don't see him being anything more than an AAAA player.
Did they miss on anyone?
As a fourth-round pick, we'll look at players selected in the 10 picks following Hollowell at 118th overall.
With 121 games of NHL experience already under his belt, @Philipp Kurashev of the Chicago Blackhawks is the top prospect passed over by Toronto in this range. While Kurashev's NHL results haven't been spectacular by any means, he's a bottom-of-the-lineup option that can chip in as a playmaker and bump up the lineup when needed.
5th Round, 149th Overall – Filip Kral, LD, WHL
At the time
The defence-heavy draft for the Leafs continued in the fifth round with the selection of Czech blueliner @Filip Kral.
Kral was a prospect that fit with what the Leafs liked. He had good even-strength production in the WHL and had very strong results in transition according to publicly tracked data. Ranked 54th among North American based skaters by Central Scouting, Kral was seen as a good value pick in the fifth round.
Today
Kral is coming off of his rookie season in the AHL, with mixed results. The 22-year-old impressed in the Leafs preseason and having impressed in the Czech league in his first year as a professional, expectations were starting to rise for Kral.
He finished his first season with the Marlies with 21 points in 58 games, and outside of one incredible week which saw him earn AHL Player of the Week honours, Kral was a bit underwhelming.
With a season of AHL hockey under his belt, I'm watching to see if Kral can build on his rookie campaign and take a needed step next year. With the abilities he has shown in the past in transition and at even strength, Kral should feature even more in the Marlies top four in 2022-23.
Did they miss on anyone?
As a fifth-round pick, we'll look at players selected in the 11 picks following Kral at 149th overall as the Leafs had another pick in the 10 after 149th.
Nobody from this group has separated themselves from the rest. Winnipeg's @Declan Chisholm is probably the most promising of the bunch, having produced at a good rate at even strength in the AHL this year.
6th Round, 156th Overall – Pontus Holmberg, C, Sweden
At the time
Who? That was the reaction when the Leafs traded into the sixth round, only to select an overage prospect out of…the Swedish third tier?
It was a strange pick, especially given Toronto traded specifically to take @Pontus Holmberg. His numbers were good, but nothing special in the Ettan, Sweden's third-tier pro league, scoring 20 points in 36 games with his hometown team. He had played two games on loan to Växjö in the top league and was signed on to play for them in 2018-19, but nothing indicated NHL prospect.
But if you know anything about the Leafs draft history, you never underestimate a late-round swing on a Swede. Longtime Toronto scout Thommie Bergman has unearthed the likes of @Anton Stralman, @Viktor Stalberg, and @Carl Gunnarsson in the past, and more recently @Andreas Johnsson and @Pierre Engvall.
If you see the Swedish flag next to a Leafs sixth or seventh-round pick, you just shrug and hope Thommie found another one.
Today
Well, guess what, it looks like ol' Thommie found another one.
After breaking out during the 2021 SHL playoffs, where he won playoffs MVP, Holmberg took the momentum from his postseason run and had a phenomenal season in Sweden this past year.
Scoring 41 points in 46 games as he became a top-line centre, Holmberg's progression from an unknown overage draft pick to a legit first-line player in Sweden is one of the best stories in the entire Leafs system.
At 23 years of age, Holmberg should push for NHL minutes as soon as this year with the Leafs as he comes over to play his first season in North America. While I do believe he needs time with the Marlies to adjust, I'd be more surprised if he didn't make his NHL debut in 2022-23 than if he does.
Did they miss on anyone?
As a sixth-round pick, we'll look at players selected in the 10 picks following Holmberg at 156th overall.
Holmberg's breakout play over the past calendar year has him as the top prospect from this range of the draft. Carolina's @Jesper Sellgren would likely slide in second, but no prospect taken in this part of the draft looks as promising as Holmberg at this point.
7th Round, 209th Overall – Zachary Bouthillier, G, QMJHL
At the time
A late in the draft swing on a goaltender, Zachary Bouthillier was actually ranked 6th among North American based netminders by Central Scouting, but remained on the board deep into Day 2.
He was ranked above numerous goaltenders taken in the 100 or so picks before he was eventually taken by Toronto. Listed at 6-foot-2, Bouthillier had decent size but a sub-.900 SV% on a mediocre Chicoutimi team. He played very well in their first-round loss that season, posting a .931 SV% in six playoff games.
Today
Bouthillier never posted a save percentage above .900 in his QMJHL career, though he was often stuck on non-playoff teams.
He went unsigned by Toronto in 2020, joining UQTR in USports before forgoing his university career to sign in the ECHL for 2021-22. His results were poor, to say the least, recording an abysmal .870 SV% in 20 games of action split between three teams.
Did they miss on anyone?
As the 209th pick, we'll look at the final eight players drafted before the end of the 2018 draft following Bouthillier.
As you may expect at the end of the seventh round, there isn't much here. Minnesota's Sam Hentges has had a solid career at St. Cloud State, but that's essentially it.
7th Round, 209th Overall – Semyon Kizimov, C, MHL
At the time
Is it truly a Maple Leafs draft class if they don't take one random Russian?
Semyon Kizimov was ranked 97th by Central Scouting among European-based skaters, having scored 18 points in 30 games in the Russian junior league. He had a solid U18s with Russia, scoring two goals and three points in as many games.
Today
Toronto still has Kizimov's exclusive rights as a draft pick out of Russia, but he's nowhere near an NHL prospect.
In fact, Kizimov has only played four games in the KHL to this point, having spent the vast majority of his career in the second-tier Russian pro league, the VHL. If you see his name, it's probably just at the end of any Leafs prospect ranking where the poor soul decides to rank every player in the system (that poor soul is me).
Did they miss on anyone?
No. Six players were taken after Kizimov before the end of the draft and none of them is notable in any way on an NHL radar.
That does it for this week's series looking back at all four draft classes under the tenure of Kyle Dubas! Thanks for reading, and a huge shoutout to
Pick224
and
Elite Prospects
, which are invaluable resources for content like this. If you missed any, be sure to check them out with the following links:
PointsBet is live in Ontario. 
Get started here
.