Looking back at the Toronto Maple Leafs' 2020 draft, Part 1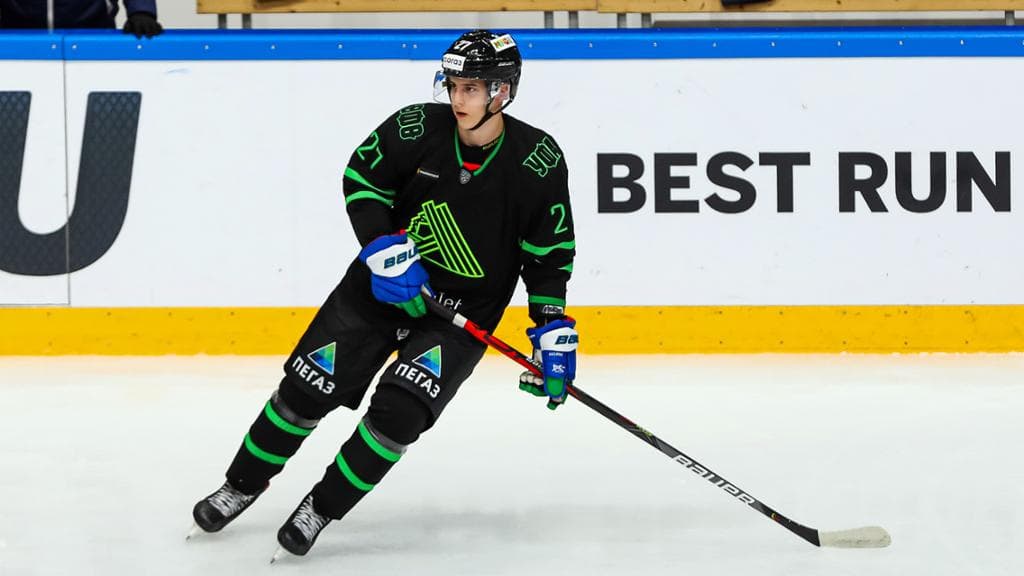 Over the course of this week, I'll be looking back at each of the Toronto Maple Leafs' four draft classes under the tenure of GM Kyle Dubas, reviewing how the selections were viewed at the time, how they have panned out to date, and noting what talent they missed out on (if any) in the immediate picks following.
Today, we continue by taking a look back at the 2020 NHL Entry Draft. As the Maple Leafs made a whopping 12 (!) selections in that draft, I'll be splitting this one into two articles, beginning with the first six picks today.
Toronto was active during the 2020 draft, making three trades during Day 2 of the draft to trade up and down the board. Unlike yesterday's look back at the 2021 draft, we do begin on Day 1 with the first round.
1st Round, 15th Overall – Rodion Amirov, RW, KHL
At the time
While the Leafs did trade their first-round pick to the Carolina Hurricanes in order to shed Patrick Marleau's cap hit the previous summer, Toronto was able to recoup a first-round pick when they traded @Kasperi Kapanen back to the Pittsburgh Penguins.
The highest pick the Leafs had held since drafting @Auston Matthews first overall in 2016, there was a lot of pressure on Toronto's staff to hit on the 15th overall pick.
That pick ended up being Russian forward @Rodion Amirov, a two-way winger touted with strong transition ability. He had played a minimal role in the KHL with a top team in Salavat Yulaev Ufa, but Amirov dominated when he was against his age group in the junior league. He scored 22 points in 17 games at the MHL level go with his two assists in 21 games in the KHL, promising numbers that saw him ranked in the middle of the first round by most outlets.
While I and many others were excited by the selection given Amirov's high-end skill and projectable style, others looked at his slight frame (listed at 6-foot-0, 177 pounds at the time) and position and questioned whether the selection made sense. Other prospects were available (which we'll get to later) that fit the Leafs' immediate needs more, even if they didn't have the same upside Amirov did.
Today
Most of you will already know that Rodion Amirov was diagnosed with a brain tumour during the 2021-22 season. This unimaginable turn of events has put his hockey career on the backburner as he undergoes treatment.
In what is by far the least important aspect of Amirov's circumstance, his situation makes it difficult to discuss him as a hockey asset. I'll still review his last two seasons in a hockey context, just know that it is incredibly secondary at this moment.
Prior to this season, Amirov had shown progression in the KHL. He was a bottom-six contributor on a quality KHL team in 2020-21, scoring nine goals and 13 points in 39 games, a big step from what he had done as a draft-eligible. He also looked good at the World Juniors, producing six points in seven games to lead the Russian team in scoring.
Though he signed an entry-level contract following that season, Amirov returned to Russia for one final season with Ufa. It looked like he was going to get a legit shot in the top six to start the season, lining up on the top line during the preseason, before an injury just prior to the start of the regular season sidelined him for an extended period.
Amirov ended up playing 10 games in the KHL during the 2021-22 season, playing a lesser role in minimal action returning from his original injury. Of course, his season would be cut short after leaving the lineup again and ultimately being diagnosed with a brain tumour.
Did they miss on anyone?
In normal circumstances, Amirov would be getting ready to begin his first season in North America with the Toronto Marlies. Given his blend of skill and transition ability, he would have been a fascinating option for the Leafs as the year went along.
I stand by the opinion that Amirov was a good selection for Toronto. There's simply nothing the team can do about his current health situation and I hope we one day get to see Amirov not only return to the ice but don the blue and white as well.
Amirov's circumstances make it a bit awkward to talk about who they missed out on following his selection. As a first-round pick, we'll look at the five players drafted after Amirov.
At the time, there were quite a few people disappointed Toronto did not draft defenceman @Braden Schneider. The physical 6-foot-2 blueliner out of the WHL fit the Leafs' organizational needs but did not have the same high-end upside Amirov showed. Schneider became a regular with the New York Rangers this season and looks to be a mainstay on their defence for years to come.
While Schneider was the one some were clamouring for at the time, it's @Dawson Mercer that is the one Toronto really missed out on. Mercer, taken three picks later by New Jersey, exploded with the Devils this year as a rookie. He made the team out of camp and ended up scoring 17 goals and 42 points while playing the full year in the NHL. That kind of production on an entry-level contract is exactly what Toronto was hoping to get out of Amirov in the next couple of seasons.
Other than those two, Montreal's @Kaiden Guhle and Chicago's @Lukas Reichel also stand out as players that have yet to break through at the NHL level but have strong resumes.
2nd Round, 59th Overall – Roni Hirvonen, C, Liiga
At the time
On Day 2 of the draft, Toronto traded down from 44th overall to add an extra pick at the beginning of the third round. This trade moved them back 15 spots down to 59th overall, where they selected Finnish forward Roni Hirvonen to begin a busy Day 2 for Toronto.
Hirvonen was good value for the Leafs in this spot, having been projected as a late first-round pick by some outlets. Despite playing the entire 2019-20 season in Liiga as a draft-eligible, Hirvonen fell to the end of the second round, where the Leafs were there to scoop him up.
Hirvonen primarily played as a third-line centre during his draft year, scoring 16 points in 52 games while seeing minimal powerplay opportunities. He showed solid playmaking and drove good on-ice goal results, seeing positive impacts on goals for and goals against.
Today
Though Hirvonen hasn't popped off in the same way the next prospect we'll get to has, he's seen a steady progression in Finland's top league that sees him with essentially the same projection as to when he was drafted.
Hirvonen moved to HIFK in 2021-22 after another solid season with Ässät, where he saw an expected permanent move to the left wing. Playing a third-line role, Hirvonen continued to increase his assist rate while becoming more of a powerplay threat as well.
Most intriguingly, though, was Hirvonen's ability to generate shots. If he continues to get that many pucks on the net, his shooting luck is bound to turn around and his goal totals will increase as a result. This is one of the areas I'm watching closest into next season for Hirvonen, as the goal potential is there, he's just yet to have it become a reality.
You'll notice Hirvonen has had his defensive results drop off as well, though I believe that is more due to poor PDO luck than anything. This year, Hirvonen ranked sixth in the league with a Corsi-for of 60.9 per cent and had an abysmal PDO of 0.958. When he gets average goaltending and his shooting luck turns around, watch out for his numbers to jump.
Did they miss on anyone?
As a second-round pick, we'll look at players selected in the six picks following Hirvonen at 59th overall, as Toronto also had another pick within the five after 59th.
Excluding Topi Niemela from the discussion for now, the Leafs have to still feel good about Hirvonen in this spot. @Will Cuylle and @Egor Sokolov have had standout seasons in the OHL and AHL respectively, but neither looks drastically different from Hirvonen's projection.
3rd Round, 64th Overall – Topi Niemela, RD, Liiga
At the time
Another player that had fallen down the draft board, @Topi Niemela was surprisingly available when the Leafs went on the clock with the additional pick they had acquired from Ottawa to trade down.
Similar to Hirvonen, Niemela had spent essentially the entire season in Liiga, an impressive feat for a draft-eligible defenceman, but still didn't go until the beginning of the third round.
Niemela was viewed as a modern defensive defenceman, listed at only 5-foot-11 and 170 pounds, but possessing good puck-moving abilities and positional play. Even at the junior level, Niemela had not produced much offence but had consistently had positive on-ice results, particularly in his own zone.
Today
As I alluded to earlier, Niemela absolutely blew away expectations this year.
Coming off of a DY+1 season in which he was limited due to injury, but showed out at the World Juniors to win the Top Defenceman award, Niemela came out of the gate hot with Kärpät. At one point during the 2021-22 season, Niemela led not just U20 players, not just defencemen, but the entire league in scoring.
While he cooled off his torrid pace slightly by the end of the year, he still managed to break Sami Vatanen's record for most points by a U20 Liiga defenceman on the last day of the season, finishing the year with 32 points in 48 games.
Niemela has transformed his NHL projection from a bottom-pairing, modern defensive defenceman to one that sees him as a potential top-four blueliner with offensive skill.
I do believe he's in for some regression, particularly in terms of goal scoring unless he increases the amount he shoots the puck, and I'm not sure about his long-term future as a powerplay quarterback, but Niemela still had a phenomenal season, one that has seen him break into the conversation as one of the Leafs top prospects.
Did they miss on anyone?
As a third-round pick, we'll look at players selected in the 10 picks following Niemela at 64th overall.
With his offensive breakout, you'd be hard-pressed to find a prospect I'd prefer over Niemela in the range following his selection. Vegas' @Lukas Cormier is the one who I would hear an argument for, with his incredible production in the QMJHL and similar projection. But given how Niemela has produced already at the professional level and has a history of better defensive results, I'd still lean in favour of Niemela.
4th Round, 106th Overall – Artur Akhtyamov, G, MHL
At the time
Despite positive results in the Russian junior league as a draft-eligible, Artur Akhtyamov was not ranked by Central Scouting. As a fourth-round pick with a .931 save percentage in a decent junior league, though, most were pleased that the Leafs were taking a swing on a goaltender at all.
Today
Akhtyamov built on his impressive draft year with a strong showing across all three levels of Russian hockey as a DY+1.
He made his KHL debut with Ak Bars Kazan, getting into three games, but mainly played at the VHL and MHL levels. He had above a .900 SV% across the board, with very promising showings with a .927 SV% in 14 games in the VHL and a .935 SV% in the junior league.
After bouncing between the three leagues, Akhtyamov settled in as a VHL starter this past season. He struggled to find consistency in the first half of the year, with a sub-.900 SV% through the middle of November but really began to find his groove as the year went along. By the end of the season, he had risen to a .912 SV% on the year as a whole, posting a .925 SV% in the back half of the season.
After a quick exit in the VHL playoffs, Akhtyamov was sent down to the MHL affiliate but was beaten out for the playoff starting gig by fellow Leafs prospect, Vyacheslav Peksa, who I discussed in yesterday's look back.
Did they miss on anyone?
As a fourth-round pick, we'll look at players selected in the 10 picks following Akhtyamov at 106th overall.
There aren't any major standouts in the group immediately following Akhtyamov, but it is still early in the development cycle. Two goaltenders, Jan Bednar and Juho Markkanen, were picked in this range, so it will be interesting to see if any of the group do become NHL players.
Columbus pick @Mikael Pyyhtia had a breakout year in Finland, while Pittsburgh's @Lukas Svejkovsky had a great season in the WHL. While you have to be more patient with goaltenders and I'm excited to see what Akhtyamov becomes, Pyyhtia's 21-goal and 35-point season in Liiga looks like excellent value in the fourth round.
4th Round, 122nd Overall – William Villeneuve, RD, QMJHL
At the time
@William Villeneuve was a fascinating player heading into the 2020 NHL draft. As one of the top offensive defencemen in the QMJHL as a draft-eligible, most would expect him to be a top pick based on his statistical profile.
Yet, due to his defensive woes and underwhelming skating, he was only an honourable mention on Bob McKenzie's pre-draft list and barely cracked the top 90 on Corey Pronman's. On Day 2 of the draft, he was still available for the Leafs at the end of the fourth round. At 6-foot-2, it's not like Villeneuve was a tiny, offensive defenceman either.
In the first three rounds, Villeneuve wasn't quite worth the gamble, but nearly entering the fifth round, the Leafs felt it was time to take on the project.
Today
Villeneuve remains a similar player to me at this point in his career. His defensive game has improved a bit and the offensive creation is still there, but without any sample at the professional level, he's still in the same boat.
We know Villeneuve can produce points in junior. Until he gets to the Marlies or Newfoundland Growlers and shows that his foot speed won't be an issue (or improves) and he can still put up points as a pro, he'll still be a secondary prospect at best.
Did they miss on anyone?
As a fourth-round pick, we'll look at players selected in the 10 picks following Villeneuve at 122nd overall.
The big miss here is on Montreal prospect Sean Farrell. The undersized forward had a good draft year but fell all the way to the fifth round, where he immediately has made people regret their decisions. Farrell dominated the USHL as a DY+1, scoring 101 points in 53 games, before joining the Harvard Crimson as a DY+2 and immediately producing at a point-per-game rate.
That's not to mention the six points Farrell scored at both the Olympics and World Championships as well.
Other than Farrell, who is the biggest miss, @Antonio Stranges, @Ty Tullio, and @Martin Chromiak are intriguing prospects as well but are closer to Villeneuve's calibre.
5th Round, 137th Overall – Dmitry Ovchinnikov, LW, MHL
At the time
Oh was I ever excited for this one. @Dmitry Ovchinnikov was an electric player in the Russian junior league as a draft-eligible, but as a small forward, I wasn't even sure if he was going to be drafted.
Instead, the Leafs traded up to select him.
Ovchinnikov had scored at a point-per-game rate, with 55 points in 54 games and was heavily involved in his team's even-strength scoring. Even with a shooting percentage that exceeded his shot generation, Ovchinnikov was an exciting, long-term swing in the middle of the draft.
Today
After a splendid DY+1 season in which Ovchinnikov became a truly dominant player at the MHL level and got his first taste of KHL action, I was incredibly disappointed not with his play, but with how his development was handled in 2021-22.
Ovchinnikov was put in an awkward spot, where his KHL team, Sibir Novosibirsk, didn't feel he was ready for KHL minutes but didn't have a VHL affiliate to send him to. That resulted in Ovchinnikov dressing and either not playing or only seeing a couple of minutes of ice-time in the KHL, or being sent down to the junior league he had already dominated and continued to dominate.
At the end of the season, Toronto managed to get Ovchinnikov released from his KHL contract in order to sign him to an ELC. He made his AHL debut at the end of the Marlies' year, scoring two goals in seven games.
He's a fun prospect with his speed and offensive potential, but still has a long way to go. He's a candidate to split time next year between the Marlies and Growlers.
Did they miss on anyone?
As a fifth-round pick, we'll look at players selected in the 10 picks following Ovchinnikov at 137th overall.
Overall, there isn't one standout. There are a few notable names, like Chicago's @Isaak Phillips, Minnesota's @Pavel Novak, and Tampa Bay's @Jaydon Dureau, but nobody truly breaks apart from a similar group as Ovchinnikov.
Be sure to come back tomorrow as I take a look back at the second half of the Toronto Maple Leafs' 2020 draft class!