Looking back at the Toronto Maple Leafs 2021 draft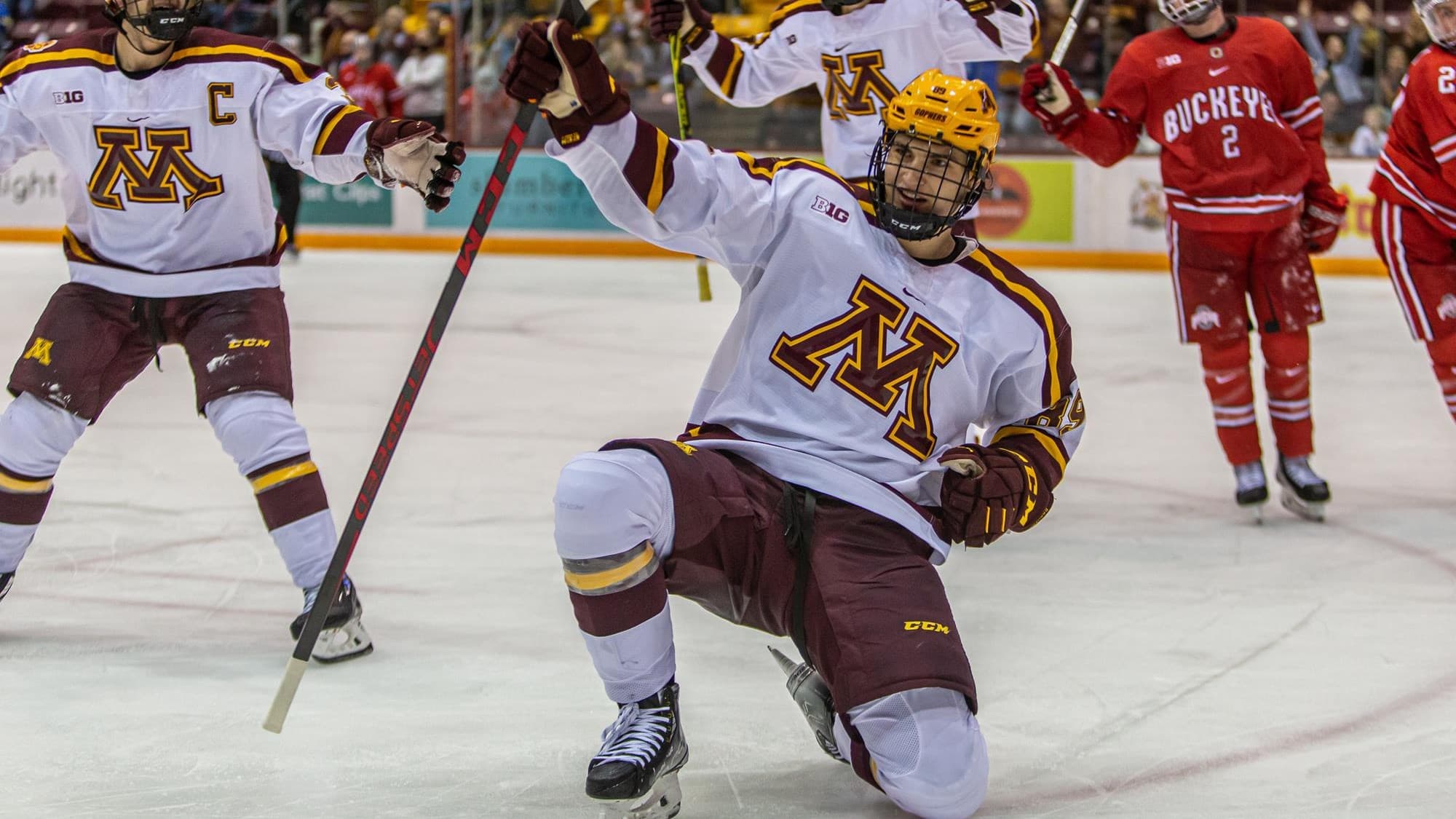 Photo credit:gophersports.com
Over the course of this week, I'll be looking back at each of the Toronto Maple Leafs' four draft classes under the tenure of GM Kyle Dubas, reviewing how the selections were viewed at the time, how they have panned out to date, and noting what talent they missed out on (if any) in the immediate picks following.
Today, we begin with the Maple Leafs' most recent class, taking a look back at the 2021 NHL Entry Draft. Toronto entered the 2021 draft with only three picks, in the second, fifth, and sixth rounds. Numerous picks had been traded at the deadline and with a lack of draft capital, many expected the Leafs to trade down once or even twice to recoup assets.
Instead, as the picks slowly ticked off the board on Day 2 of the draft leading up to the Maple Leafs' first selection at 57th overall, they did not trade down. Rather, with a player their scouts were very high on still available, they made the pick.
2nd Round, 57th Overall – Matt Knies, LW, USHL
At the time
When the pick was made, many were surprised first that the Leafs did not trade down, but also that Matt Knies was the selection.
On paper, Knies didn't fit the characteristics of a typical Toronto draft pick under the tenure of Kyle Dubas. For starters, he was the biggest prospect drafted by Toronto under Dubas, listed at 6-foot-3. He also wasn't a statistical standout, having failed to improve upon his DY-1 season in the USHL.
Knies led the USHL in scoring among 2021 eligible prospects during his DY-1 season but saw his results at even strength dip over the course of the year. With this lack of progression, Knies came in as the 56th-ranked prospect on the consolidated draft ranking I compiled heading into the draft last year, meaning the Leafs took him in exactly the range he was anticipated to go.
Following the draft, then Leafs Director of Amateur Scouting, John Lilley, made note of Knies' underage season in the USHL as a major factor as to why Toronto's staff liked the player so much. Lilley, along with Dubas, also noted that Knies dealt with COVID and an obstructed schedule in the first half of the season that affected his overall season totals.
Today
As many of you already know, Matt Knies absolutely showed out at the University of Minnesota as a freshman this season.
He scored at a point-per-game rate with 33 points in as many games, was named to the United States' World Junior and Olympic teams, and found his way onto the Big 10's All-Rookie Team and Second All-Star Team.
Needless to say, Knies' emergence as a high-end NCAA player this early showed Toronto made a smart bet on the player at the 2021 draft. They identified a player who, due to unique circumstances, was undervalued despite bringing a tantalizing set of skills and qualities to the table.
As a 6-foot-3 power forward that can skate, is always trying to get the puck to the inside, and is more than willing to be physical, Knies has the typical profile of a player that is drafted higher than where he should be selected, not lower. Yet, because of his poor start to the 2020-21 season due in large part to a bout with COVID and a fluctuating schedule, he fell down draft boards and Toronto was there to scoop him up.
To many, Knies has become the organization's top prospect in less than a year. If he continues to build on his strong freshman year to become a dominant force in the NCAA alongside projected top-three 2022 pick Logan Cooley next season, expect him to don the blue and white by the end of 2022-23.
Did they miss on anyone?
As a second-round pick, we'll look at the five selections made following Knies at 57th overall.
It's not much of a surprise that Knies stands above the rest in terms of potential. Arizona's 60th overall pick, defenceman JJ Moser, has already played 43 games in the NHL, though that is in large part due to the fact he was drafted as a 21-year-old. Defenceman Sean Behrens, Colorado's 61st overall pick, also had a strong start to his NCAA career at Denver (and is the player I thought the Leafs were going to draft at 57th overall).
While the group after Knies has some promising names, I *highly* doubt the Leafs regret passing on any of them to take him.
5th Round, 153rd Overall – Ty Voit, RW, OHL
At the time
After deciding to keep their second-round pick to select Matt Knies and not trade down, Toronto had to wait for nearly 100 picks to make their next selection.
At 153rd, they had a bit of a return to form for what is expected of a Leafs draft pick under Kyle Dubas when they drafted @Ty Voit out of the OHL. As one of the many OHL players that did not play as a draft-eligible due to the cancellation of the 2020-21 league season, Voit was a wild card. In terms of game footage, the Leafs only had his DY-1 season to go off of (except for the few exhibition games Voit participated in as part of an OHL draft showcase).
As an OHL rookie in 2019-20, Voit played a secondary role on the Sarnia Sting, showing flashes of high-end playmaking skill. His assist rate, particularly at even strength, showed the potential he had to become one of the top playmakers in the OHL. While Voit had subpar defensive results, he had a positive impact relative to Sarnia's 5v5 goal results overall.
Voit had also fallen from his consolidated ranking of 80th. This ranking was largely due to various scouts from Twitter, though, as notable sources such as Bob McKenzie and Corey Pronman did not have Voit ranked at all.
Today
Ty Voit took the potential he showed in a depth role in 2019-20 and blossomed as one of the OHL's elite playmakers returning to action in 2021-22.
On a young Sarnia team, Voit was not only tasked with first-line minutes but was also challenged to shift to the middle of the ice for the Sting. Despite this significant load, Voit thrived, scoring nearly as many goals (26) as he had points (28) as a DY-1. In total, he finished the year with 80 points in 67 games, exactly the kind of year the Leafs were hoping Voit would have when they drafted him.
Even with his move up the lineup, Voit was able to improve his assist rate. At 5v5, Voit's 31 primary assists ranked third in the OHL. Just 10 of his 54 assists this season were secondary, reiterating just how involved Voit was in creating offence whenever he was on the ice.
Voit has a long way to go, the defensive size still isn't great, he could add more of a shooting threat, and he will need to add more size to his 5-foot-10 frame, but he's the type of prospect you want to swing on in the middle to late rounds of the draft. His performance in 2021-22 was good enough to earn an entry-level contract, further proof he's on the right path post-draft.
Did they miss on anyone?
As a fifth-round pick, we'll look at players selected in the 10 picks following Voit at 153rd overall.
Nobody really stands out from the group of 10 that were drafted after Voit yet. Anaheim's 162nd overall pick, forward Kyle Kukkonen, had a solid year in the USHL, but that's about it. Goaltender Semyon Vyazovoy, Seattle's 163rd overall pick, had a good year in the Russian junior league but had his overall numbers dip from 2020-21.
At this point, the Leafs should feel good about taking Voit where they did.
6th Round, 185th Overall – Vyacheslav Peksa, G, MHL
At the time
Who? That was the reaction basically everyone had when the Toronto Maple Leafs made their third and final pick of the 2021 draft. Vyacheslav Peksa was not ranked by any outlets that I came across, including Central Scouting.
An overage prospect, Peksa played as a backup in the Russian junior league during the 2020-21 season, posting an unremarkable .909 save percentage. This late in the draft, and especially with goaltenders, most people just shrug and say "sure!" to any selection made. That was essentially the case here with Peksa.
It was interesting that Peksa was drafted by the Leafs given Toronto drafted fellow Kazan goaltender, Artur Akhtyamov, in the 2020 draft. As a fairly unknown prospect, it seemed like the Leafs' first exposure to Peksa came through keeping an eye on Akhtyamov.
In his post-draft availability, John Lilley noted that then Marlies goaltending coach Jon Elkin was working with the amateur scouting department to look at goaltenders for the draft and that Elkin pushed for Peksa's skills.
Today
I'm still not sure why Jon Elkin was watching Vyacheslav Peksa's tape in 2021, but the returns are already promising.
Peksa took over the starting role with Irbis Kazan in the MHL this year and flourished, posting a .936 SV% in a whopping 56 appearances. For context, Kazan played 64 total games. Peksa was an absolute workhorse and easily one of the top goaltenders in the Russian junior league last season.
Now, context is key. Peksa was in his DY+2 season last year, having been drafted as an overage prospect. His results were very impressive, don't get me wrong, but as a DY+2 player in that league, those are the results that should be expected of any kind of notable NHL prospect.
Peksa has still yet to play above the MHL level, but his progression from 2020-21 to 2021-22 was significant. He's an athletic goaltender with decent size (listed at 6-foot-2), which is always an intriguing combination.
But just like Knies and Voit, one year out from being drafted, it's hard to say you could've realistically wanted much more out of Peksa this past season.
Did they miss on anyone?
As a sixth-round pick, we'll look at players selected in the 10 picks following Peksa at 185th overall.
Only one year from being drafted for sixth-round picks is tough to get much more of a read on things, but it's fair to say Peksa has become a perfectly reasonable pick in this spot.
Overage prospect Xavier Simoneau, the 191st overall pick by Montreal, has been a personal favourite of mine since he attended Toronto's development camp in 2019. The diminutive forward has torched the QMJHL for essentially four years now, so there wasn't much more he could've done this year to impact his stock. Still, his 86 points in 48 games were absolutely hilarious this season, and I'm excited to see how the 5-foot-7 forward transitions to the professional game.
Other than Simoneau, Buffalo's 193rd pick Tyson Kozak had a strong season in the WHL. Simoneau and Kozak are the only two in the 10 following Peksa that stand out as having results worthy of note, but we'll have to see how things play out over the next few years.
Be sure to come back tomorrow as I take a look back at the Toronto Maple Leafs' 2020 draft class!