Lucchini's debut, the Red Wings struggle and Tampa earns Team of the Week: Around the Atlantic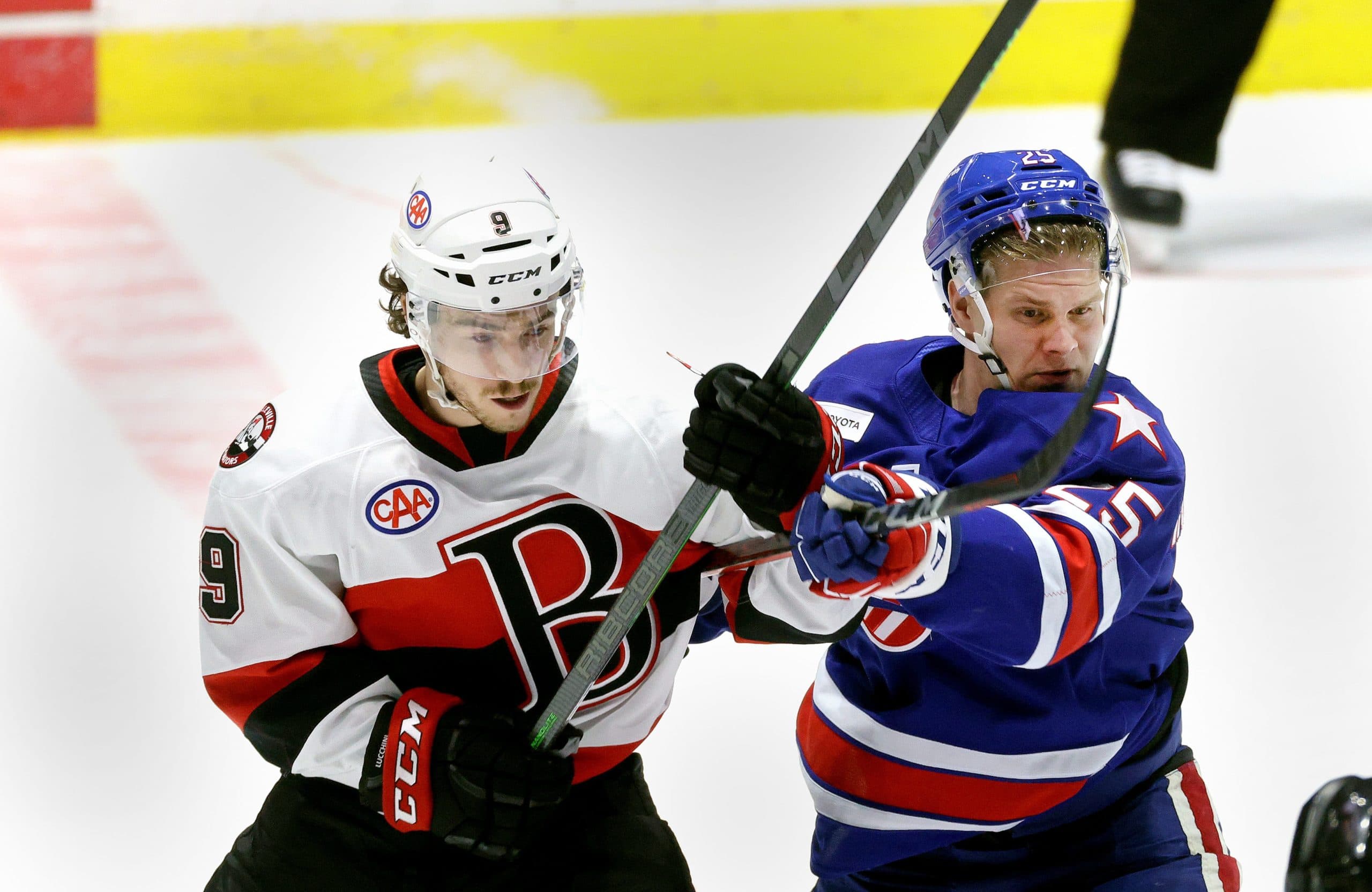 Photo credit:Jamie Germano / USA TODAY NETWORK
This week in the Atlantic Division we had one of the best feel-good stories of the year. A 27-year-old Ottawa Senator made his NHL debut after spending several years in the AHL. Other news includes the Detroit Red Wings hitting a rough patch and the Tampa Bay Lightning taking home the Team of the Week.
Lucchini's debut
On Wednesday night against the Montreal Canadiens, Senators forward Jake Lucchini made his NHL debut. It had been a long time coming for the 27-year-old product of Trail, BC. Over the past four plus seasons he played nearly 200 games for three American League clubs.
He was signed as a free agent by the Wilkes-Barre/Scranton Penguins in 2018-19 after four productive seasons for the Michigan Tech Huskies. It took some time for him to find his footing in the AHL but once he landed in Belleville in 2021-22 his scoring took off.
Lucchini led the Baby Sens in scoring last year with 20 goals and 51 points and earned a two-way deal with Ottawa in the summer. His improved offensive output continued this season. Prior to being called up to the big club he registered 23 points in 24 games.
It's always nice to see a player being rewarded after grinding it out in the minor leagues. The Senators won the game 3-2. Lucchini had one shot, one hit and nearly 11 minutes of ice time. He's been scratched in the following two games because of Tyler Motte's return to the lineup but he showed he belonged and could be an important piece for the Sens if they run into more injury trouble.
Red Wings skid
It's been rough sledding for the Detroit Red Wings lately. They've spent most of the season in playoff position, but they've fallen off recently by losing five straight and dropping to 11th place in the Eastern Conference.
Their play these last couple of weeks has been reminiscent of the teams that have failed to qualify for the playoffs for the past six seasons. Though a lot of that can be contributed to injury trouble.
The Wings had one of the most exciting off seasons in the entire league. They added veterans David Perron, Andrew Copp, Ben Chiarot, Dominik Kubalik and Olli Maatta in free agency and traded for goaltender Ville Husso. With the emergence of rookies Moritz Seider and Lucas Raymond last year it was looking like this team could finally find its way back to the post season.
Unfortunately for them, Tyler Bertuzzi and Jakub Vrana, two of their top six forwards, have combined to play in just 11 games all season. The fact they've managed to stay competitive for this long without a third of their best two lines has been impressive, but luck could be running out.
Seider and Raymond have both struggled compared to their debut campaigns. Seider has only 12 points in 30 games after scoring 50 as a rookie. He's also among the league leaders for lowest plus minus rating. Raymond has 17 points so far, well below his pace from last season.
It's not over yet for the Red Wings. Their roster is much improved from last season, but they have to get back on track quick if they want to contend. That said, things are looking up for the franchise. It just may take another year before they're ready to compete with the NHL's best.
Team of the Week
The Tampa Bay Lightning had a hell of week winning all three of their games and extending their win streak to five. They outscored their opponents 15-4 in the process. Tampa is now firmly in third place in the Atlantic with 41 points, seven up on the Florida Panthers.
Nikita Kucherov continued his quietly dominant season. He had a pair of three assist games versus Seattle and Columbus and added a goal against Montreal. He leads the Lightning with 47 points in 30 games.
Brandon Hagel was a force as well. In each of the last two games he had two goals and an assist. He also had an assist in their first game of the week. He's now up to 26 points in 30 games.
The rest of their stars did their thing as well. Andrei Vasilevskiy was back to his Vezina Trophy form stopping 58/61 shots and earning two wins. Victor Hedman had five assists. Brayden Point, Steven Stamkos and Mikhail Sergachev all had three points.
It's a big week for the Lightning coming up, they have three divisional games. They face the Leafs in Toronto on Tuesday, then they're off to Detroit on Wednesday and head to Buffalo on Saturday.