Make or Break: the 2022-23 Leafs goaltending primer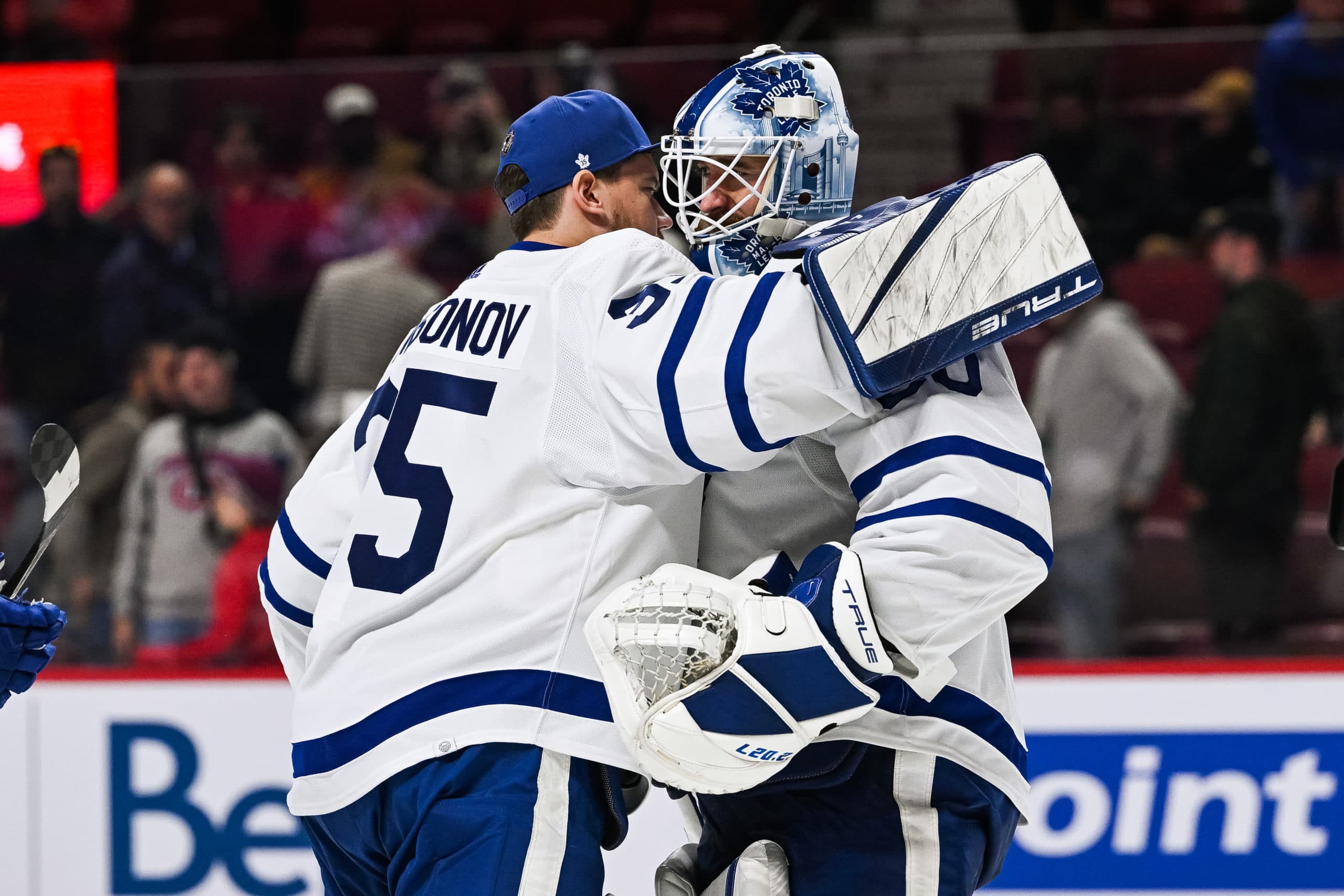 Photo credit:David Kirouac-USA TODAY Sports
The NHL season is finally upon us, and with it, another season of Toronto Maple Leafs hockey begins.
Among the fans of this team, I'm sure that there have been a variety of approaches to this season. Many will be back, as interested as ever, analyzing the opening lineup and consuming all of the content that they can get their hands on. Others may be feeling apathetic about it all. And who could blame them after yet another first-round disappointment?
If you're reading this, it's likely that you've been at least mildly engaged with the team and their moves during the off-season. It certainly has not been a summer without intriguing storylines. While most of the moves made during the summer are interesting individually, they have all been colored by one theme: this is Kyle Dubas' last shot. Notably, Dubas, with one year left on his contract, has not been given an extension as General Manager of the Leafs. Rightly or wrongly, every move made since the Game 7 loss to Tampa Bay will be seen to have a very direct impact on the job security of Dubas.
This brings us to goaltending. The most notable roster moves for the Leafs this summer were in the crease. Fan-favorite Jack Campbell walked to western Canada to the tune of a 5×5 contract with the Edmonton Oilers. Not-so-fan-favorite Petr Mrazek was dumped on draft day to the Chicago Blackhawks. With an empty slate and a recent history of goaltending struggles, who would the Leafs turn to? That's right, Matt Murray and Ilya Samsonov.
The concept of this being a "make or break" season does not only apply to Kyle Dubas and the core of the Leafs. While it may not be to the same extent, this is a massive season for a number of goaltenders in the Leafs' North American pipeline. A pipeline that, unlike in years past, suddenly seems a little crowded. For a goalie nerd like myself, the performance of the goaltenders at all three levels (NHL, AHL, ECHL) will be of great interest. I think though, as any type of Leafs fan, you will find some value in monitoring the following goaltenders.
Matt Murray
Matt Murray. The kid who once burst onto the scene by winning back-to-back cups with the Penguins is now a Leaf. At 28 years old however, Murray is no longer that same kid. A decline in play in Pittsburgh followed by a trade to Ottawa and further struggles has led him back to some familiar faces in Toronto. As a former goaltender for the Soo Greyhounds, both Murray and the Leafs are betting that his familiarity with Dubas, Keefe, and goalie guru Jon Elkin will help bring his game back to where it once was.
When training camp opened, many Leafs fans got their first real opportunity to see Murray in action. He had a great preseason, posting a .970 save percentage and seemingly developing a level of confidence. Opening night however, did not go as well. In the same way that I wouldn't anoint him as the savior after three preseason games, I won't write him off after one game (particularly with the play of the defense). It is worth noting, however, that many have had concerns about Murray's particularly wide stance (as seen below) causing lateral mobility and glove positioning issues. In game one, this aspect of his game was evident. It will be interesting for an analysis standpoint to see if he modifies his stance as the season progresses.
Murray will be leaned on heavily this season to eat up a large number of starts. He seems to have won the "starter" job out of camp, although the sense is that the team will run with whichever goalie gets hot (if either do).
Can Murray overcome his injury and performance issues to provide Toronto with much-needed stability in goal? Or will he continue to play his way out of the NHL? Only time will tell.
Ilya Samsonov
True to the "make or break" theme, this is a real prove-it year for Ilya Samsonov. Once a highly touted first-round pick of the Washington Capitals, Samsonov was not qualified this summer as an RFA. As a 25-year-old UFA goaltender, Samsonov decided to take a one-year contract in Toronto. Reportedly leaving money on the table to join the Leafs, he comes into this season determined to prove himself as a quality NHL option.
Although Murray started in game one, Samsonov will be given plenty of opportunity to establish himself as the lead goaltender. Right now, he's scheduled to be the Leafs' starting goalie in game two against the Washington Capitals (who doesn't love a revenge game), and by the time you read this, you'll know how he fared. Samsonov also had a very strong preseason, posting a .917 save percentage and playing even better than the numbers would suggest.
If Samsonov is to finally live up to the hype he once had, now would be the time. He'll be given every opportunity to succeed in a market where success (even small amounts) can resurrect a career. Now it's time to see if he can do it.
Erik Källgren
The lone goalie to play more than 5 NHL games for the Leafs last season and return to the organization, Källgren will likely be leaned upon in the AHL and as a potential injury call-up. Having joined the Leafs last year after a strong year in Sweden, the 25-year-old posted a .904 save percentage in 26 AHL games, and a .888 save percentage in 14 NHL games.
Although Källgren went 8-4-1 in his NHL stint and seemed to be generally well liked by the fanbase, I don't think many would have deemed him to be NHL-ready. At 25 years of age, it's unlikely that Källgren develops into an impact NHL starter. However, goalies do tend to have delayed and irregular development curves. With his technical base it's possible that he could work his way into being an NHL quality goalie in the near future, which makes him an asset worth investing in for the Leafs.
He has been assigned to Marlies camp, which rules out any small chance he may have had to steal a job from Murray or Samsonov. Källgren would likely benefit from getting an undisturbed season under his belt as an AHL starter. He projects to be the third goalie on the depth chart, slotting perfectly into place as the Marlies' starting goaltender. He'll likely see heavy minutes this season, particularly early in the season with Woll being injured. With one year left on his contract, if he wishes to prove his readiness he'll have to emerge as a dominant goaltender in the minors this season.
Joseph Woll
A former third round pick of the Leafs in 2016, Woll will return to the organization to compete for the Marlies' starting job. The 24-year-old American has now played three seasons at the AHL level, and appeared in 4 games for the Leafs last year, posting a .911 save percentage.
Woll will open the season on IR while he recovers from shoulder surgery. His timeline to return is unclear at this point, but all signs point toward a smooth recovery.
Injuries have plagued Woll over the last few seasons, limiting his development. There is still reason to believe that Woll could someday become an NHL goaltender though. Evidenced by his continuous improvement at the AHL level and success (in a very small sample) at the NHL level, it's possible that Woll could be ready to step into a backup role in the near future. The Leafs seem to see this too, having signed him to a two year extension this summer.
Woll has graduated from a prospect at this point. If he can manage to return to full health, this season should be a great indicator of where his career is headed.
Dylan Ferguson
Ferguson came to Leafs camp as a bit of a surprise PTO and appears to have played himself into an AHL contract with the Marlies. You may remember him as an 18-year-old emergency call-up for Vegas in 2017-18. He joins the Leafs having spent three years in the Golden Knights organization at the ECHL and AHL levels. He has played 16 AHL games over the course of those three years, posting a .916 overall save percentage.
The decision to sign Ferguson was a little bit puzzling. With Källgren and Woll as established AHL options, and Petruzzelli knocking on the door, there doesn't appear to be a long-term spot for Ferguson. However, with Woll being injured, and the Leafs' recent history of goaltending issues, Ferguson could slot in as a temporary solution and injury insurance until Woll returns. Further, as a recently-turned 24-year-old, a stint with the Marlies could reveal any upside that Ferguson may have.
I would expect him to start the season as the Marlies' backup until Woll returns. If/when everyone returns to the lineup, I would see him as a prime candidate to be loaned to another AHL organization in order to free up space in the depth chart.
Keith Petruzzelli
Coming off of a strong first professional season, the Leafs will likely be looking to see Petruzzelli take a step forward this year. A third round pick of Detroit in 2017, the 23-year-old Petruzzelli posted a .927 save percentage in 23 ECHL games and a .902 save percentage in 5 AHL games last year. In order to continue being considered an NHL prospect, he will have to have some degree of AHL success this season.
As one of three goalies remaining at Marlies camp, it is possible that he could outplay Ferguson for the backup role with Woll out to start the year. The likely outcome, however, is that Petruzzelli will be sent to be the starter for the Newfoundland Growlers once again to form a tandem with either McKay or Cavallin. I do expect that at some point Petruzzelli will be given a significant opportunity to prove himself at the AHL level this year, whether with the Marlies or through a loan agreement.
Dryden McKay
One of the more intriguing cases in this year, McKay signed an AHL contract with the Leafs after being awarded the Hobey Baker award as a 24-year-old. In April, he was given a six-month suspension for the use of a banned substance that he was reportedly unaware was in his supplements.
McKay had an extremely impressive NCAA career from a statistical standpoint, posting a .932 save percentage in 140 games. He also holds the NCAA career shutout record with 34. While these numbers are certainly eye-popping, some of his success has been attributed to playing behind a strong Minnesota State University defense that competes in a weaker division of the NCAA.
Now that his suspension has been served, McKay has been assigned to Newfoundland Growlers camp. The expectation is that he will be given the chance to prove himself at the professional level, similar to Petruzzelli last season. This season should be a great opportunity for McKay to show what he really is. Is he truly an elite level goaltender, or did he simply benefit from his situation?
Luke Cavallin
Cavallin joins the Leafs organization at 21 years old following a strong season at the OHL level. In 56(!) regular season games, Cavallin posted a .910 save percentage before leading Flint on a deep playoff run in which he posted a .929 save percentage in 19 games.
Earlier this month, Cavallin was assigned to Growlers camp along with Dryden McKay. He will likely spend the year at the ECHL level, getting his feet wet at the professional level. As an undrafted goaltender, a strong season could propel him into relevance as a prospect. I could see him being played in a relatively sheltered role as the Growlers' backup with either Petruzzelli or McKay loaned elsewhere to get starting minutes.