Maple Leafs' 2023 offseason trade watch: Winnipeg Jets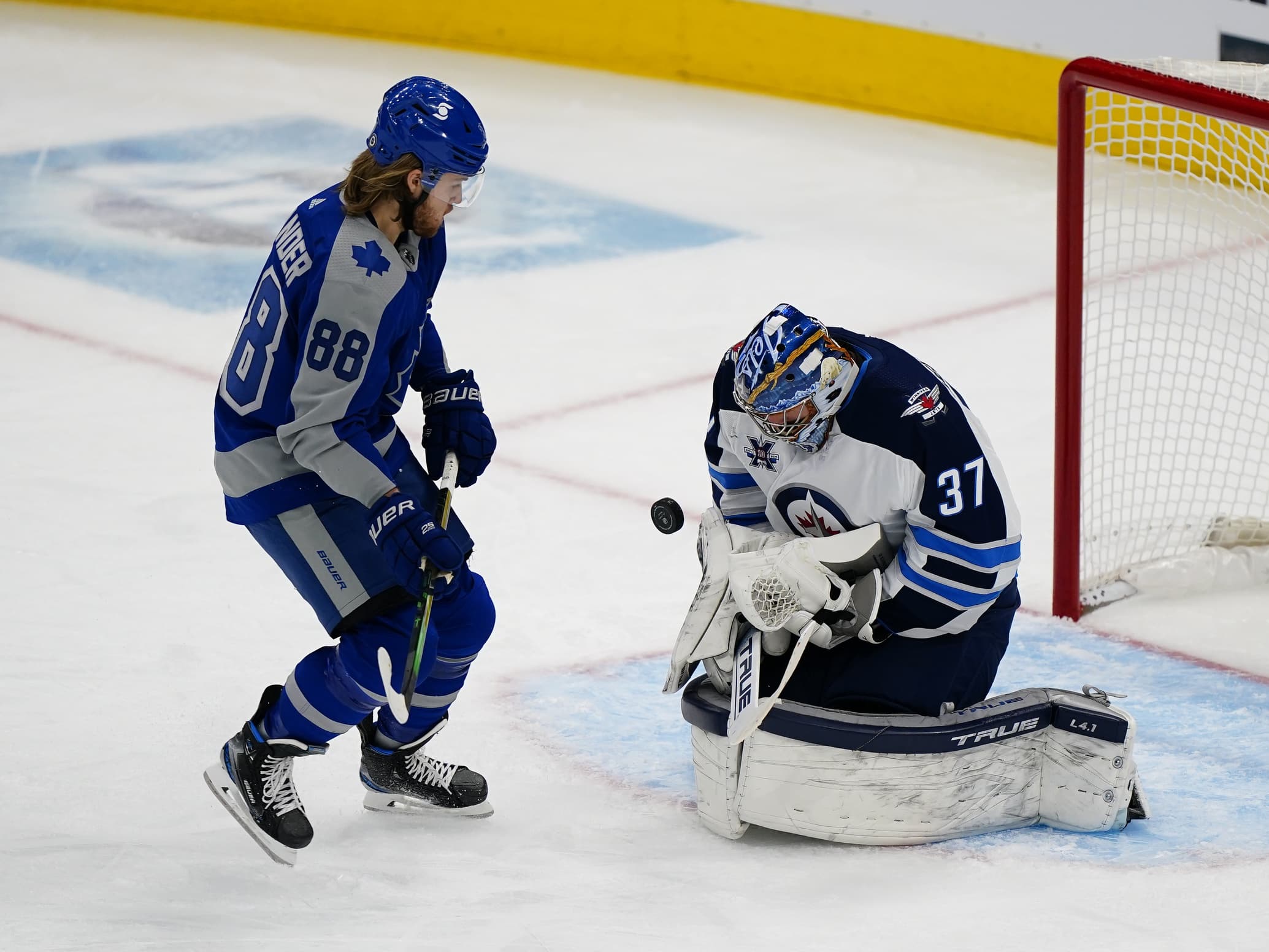 Photo credit:John E. Sokolowski-USA TODAY Sports
Welcome to the Toronto Maple Leafs' 2023 offseason trade watch series where trade candidates from around the NHL will be showcased as options for general manager (GM) Brad Treliving. There's little doubt the Leafs will be busy this summer and the transactions are expected to be early and often. Buckle up, the silly season has arrived.
For the first stop of the series, let's make way to Winnipeg to zone in on four Jets who should be targets for the Maple Leafs:
Connor Hellebuyck
Yes, Treliving needs to kick tires here to see what exactly Jets GM Kevin Cheveldayoff is looking for in a trade.
Hellebuyck has informed the team
he's not interested in re-signing next summer so a deal will be completed at some point this summer. If it's Toronto, the likes of Ilya Samsonov,
Nick Robertson
and the Leafs 2023 first-round pick would be a conversation starter at the NHL draft in the coming days.
Hellebuyck is a world class talent and is still in the prime of his career. It's been a very long time since a goalie of this magnitude suited up for the Leafs, dating back to the Ed Belfour and Curtis Joseph days. This trade would give Leafs Nation the same type of vibe as Hellebuyck is able to steal games and make a difference, night in and night out. His .920 save percentage in 65 games last season was impressive and at 30 years old, he's in great position to be a mentor for youngster Joseph Woll. Considering Woll is signed for under $1 million through the 2024-25 season, adding Hellebuyck and re-signing him shouldn't be out of the question financially.
This trade won't be possible until Treliving figures out what to do with Matt Murray. A trade is less likelier than a buy out, but at this point the Maple Leafs will do anything they can to get Murray off the books. Once this domino falls, look for Toronto's interest in Hellebuyck sky rocket.
Mark Scheifele
The Maple Leafs have a bunch of internal decisions to make when it comes to the likes of Ryan O'Reilly, David Kampf and Noel Acciari. If
O'Reilly does return to St Louis
, as it feels like he could, the Maple Leafs need to be in the market for another center.
Scheifele can take over on the second line and move
John Tavares to the wing
, or could be moved down into the third hole. This would give Toronto the best trio of centers in the league and it may not be close. Scheifele has one season left on his contract, like Hellebuyck, so any trade will likely come with extension talks already being in the works. Would Scheifele sign long term in Toronto?
Last season the former first-round pick recorded 68 points in 81 games. Scheifele's also capable of stepping up when it matters, at just under a point-a-game player in the Stanley Cup Playoffs. The Detroit Red Wings are likely going to be very interested, as too will be the Pittsburgh Penguins. If Scheifele's contract talks go nowhere this offseason, look for Cheveldayoff to change from listening to offers, to shopping the veteran center.
Nikolai Ehlers
The Maple Leafs are desperate for more team speed and Ehlers would check a lot of boxes in Toronto. Treliving needs to find more depth at left wing with Michael Bunting likely leaving and Ehlers is a player who can step in and play on either of the top-two lines.
Last season the 27-year-old speedster recorded 38 points in 45 games. His contract runs through the next two seasons at $6 million annually and Ehlers has trade protection that covers 10 teams of his choice. Heading to a contender in Toronto is likely something that makes the approval list.
Ehlers would cost a lot to acquire given his contract status but that shouldn't scare Treliving away. He'd fit in great in Toronto and would give them another weapon up front. One of the fastest weapons in the league, for that matter.
Logan Stanley
Stanley is a towering presence at 6-foot-7 and unfortunately for him, last season Jets head coach Rick Bowness made him the odd man out. It
led to a trade request
, however Cheveldayoff wasn't able to land on a deal he was happy with.
Stanley is a former first-round pick, he's only 25 years old and as a restricted free agent, there's some security there for any acquiring team. He'd fit in nicely as a depth option for the Maple Leafs' blueline as they don't have a ton of players like him. Stanley is a solid penalty killer with his long reach and he's not afraid to throw his weight and hands around. He'd add a ton of toughness to a team who needs much more of it. Treliving loves a heavy and tough team, Stanley checks both boxes and has lots of potential still left in the tank.
The Maple Leafs could likely acquire the Jets defenseman for an up-and-coming forward from the Toronto Marlies. Alex Steeves or Pontus Holmberg likely get the job done here.
That about does it for the first installment of the summer trade watch in Toronto. The Jets have several pieces which would fit in with the Maple Leafs and it's all going to come down to what type of player Treliving is looking to target. If there's a Vezina trophy winner available, who is open to staying long-term in Toronto, the Leafs GM may want to start there.