Maple Leafs announce 2023 Traverse City Prospects Tournament roster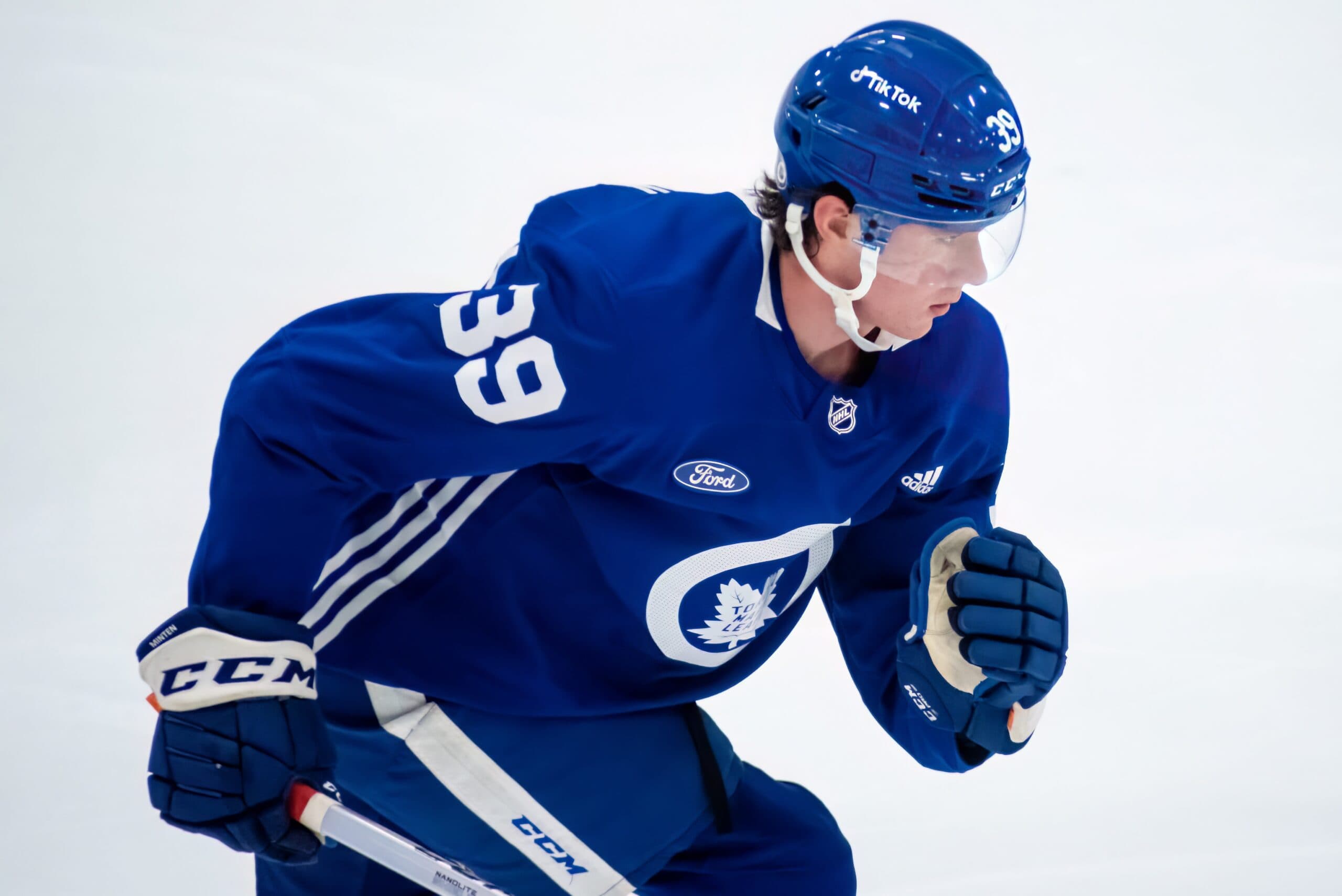 Photo credit:(Photo by Steven Ellis/Daily Faceoff)
September 14th marks the return of the annual Traverse City Rookie Tournament for the Maple Leafs, who just announced their roster today. It features 14 forwards, nine defencemen, and three goalies, with some names you've likely never heard of to go along with the household names. It's the time of year when fans are officially reminded that hockey is on its way back and get the opportunity to watch some of tomorrow's Leafs compete against each other.
Starting with the forwards, there's one glaringly obvious name on the list, and it's arguably the most surprising one too; Matthew Knies. The 2021 second-round pick seems destined for a full-time roster spot with the Maple Leafs this season, already proving his worth and ability to hang with the big boys when the stakes are highest. He's a bit of a man amongst boys on that list but is technically still a prospect and will surely be one of the leaders among that group. 
2023 first-round pick Easton Cowan and 2022 second-round pick Fraser Minten will both be in attendance as well. Cowan is getting set for what will be only his second OHL season with the London Knights, while Minten is ready to join his Kamloops Blazers for one last hurrah in the WHL. It will be Minten's second tournament with the team, while Cowan will be making his debut skating in a Leafs jersey for the first time. 
Among Cowan's fellow OHL counterparts are the Sarnia Sting's Ty Voit, a fifth-round pick of the team in 2021 who exploded for 81 assists and 105 points in 67 games, and Braeden Kressler, an undrafted prospect who last played for the Flint Firebirds in 2022-23. Both of these players are set to turn pro this season, with Voit almost certainly reporting to the Toronto Marlies and Kressler likely falling somewhere between the AHL and the ECHL, depending on performance and where he's needed more. Joining Minten from the WHL is Brandon Lisowsky, a small shoot-first forward for the Brandon Wheat Kings who was selected in the seventh round of the 2022 draft by the Maple Leafs.
They also have a couple of prospects coming from overseas in 2020 second-rounder Roni Hirvonen and 2020 fifth-rounder Dmitry Ovchinnikov. Both players have good odds to start the season with the Marlies and each have experience playing against grown men already. Speaking of playing with grown men, 2020 seventh-round pick Ryan Tverberg and undrafted prospect Max Ellis are two players who made the roster. Both started in the NCAA before joining the Marlies towards the end of last season.
Rounding out the forward crop are a pair of AHL-signed prospects in former Arizona State forward Robert Mastrosimone, and former Colorado Avalanche prospect Tyler Weiss, who spent last season with the University of Omaha-Nebraska. They will also have a pair of camp invites up front in former Barrie Colts (OHL) forward Jacob Frasca and former Tri-City Americans (WHL) forward Tyson Greenway. 
On the back end, the most recognizable name is Topi Niemela, who the team selected in the third round of the 2020 draft. He rocketed up the prospect rankings after an outstanding 2021-22 season with Karpat that saw him register 32 points in 48 games, and although his offensive numbers took a bit of a step back this year, he's still without a doubt the most coveted name on the blueline.
Joining him is fellow 2020 draft pick William Villeneuve, who played his first AHL season last year with the Marlies and registered 25 points in 54 games along the way. There's also 2019 third-round pick Mikko Kokkonen, who's looking to bounce back after a tough first season in North America, and 2023 sixth-rounder Noah Chadwick, a strong defensive defenceman who stands at 6-foot-4 and 187 pounds.
Rounding out the defensive crop are a trio of AHL signings and a pair of tournament invitees. Making up the AHL signings are Nolan Dillingham, who made headlines after throwing a thunderous hit on fellow prospect Roni Hirvonen at development camp back in July, as well as former Ottawa Senators second-round pick Jonny Tychonick and Marlies sophomore Tommy Miller. In terms of tournament invitees, there's Mazden Leslie, an 18-year-old who went undrafted in his first year of eligibility despite a strong season with the WHL's Vancouver Giants, and Spencer Sova, a 19-year-old blueliner for the OHL's Erie Otters. 
In net for the Maple Leafs' prospects will be 2022 fourth-round pick Dennis Hildeby, 2021 sixth-round pick Vyacheslav Peksa, and Luke Cavallin, who spent the majority of last season with the ECHL's Newfoundland Growlers. Hildeby will be competing for the Marlies' starting job in 2023-24, while Peksa could find himself in that mix too after initial reports claimed he was heading back to Russia. 
The tournament kicks off on Thursday at 3:30 pm EST against the Columbus Blue Jackets prospects, with a showdown against Dallas Stars prospects on Friday, September 15th at 6:30 pm EST and a tilt with the Detroit Red Wings' prospects at 2:00 pm EST on Sunday, September 17th.