Maple Leafs announce Dairy Farmers of Ontario as official jersey sponsor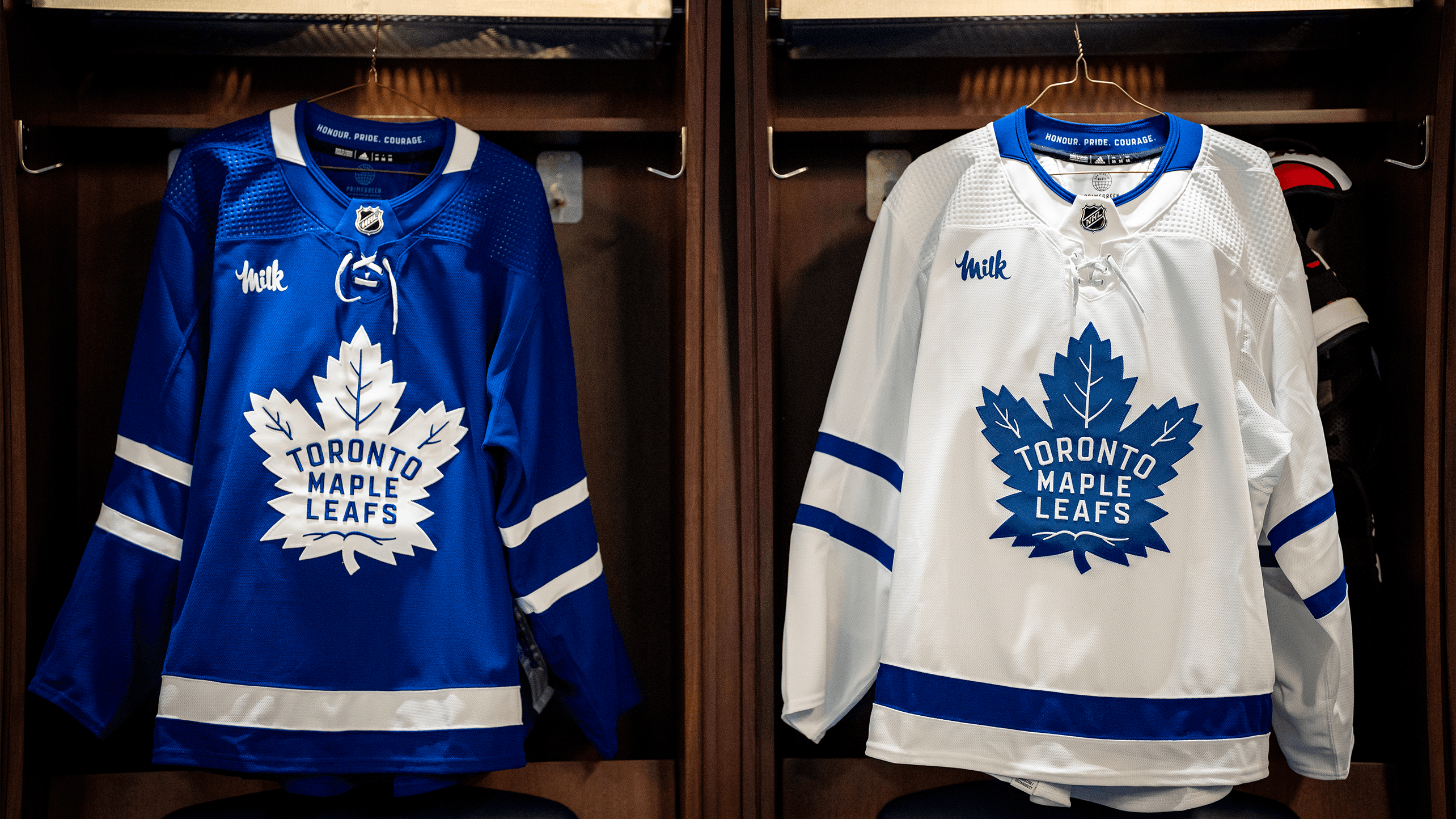 Photo credit:MapleLeafs.com
Finally, after a large number of NHL teams have announced their jersey sponsors for the 2022-23 season, the Maple Leafs have done the same.
Toronto will wear the patch on both their home and away jerseys, beginning on September 24th in their preseason double-header against the Ottawa Senators. Both games will be played at Scotiabank Arena — first at 1PM and the second at 7PM ET.
"Just as milk nourishes healthy bodies, Ontario's dairy farming families proudly nourish healthy communities, and that's been the focus of our ongoing partnership with the Toronto Maple Leafs," said Cheryl Smith, CEO of Dairy Farmers of Ontario, in a Maple Leafs release. "Placing our Milk logo on the Leafs' sweaters is a symbol of this shared commitment, and of milk's role in building strong bodies and healthy lives."
Along with being on both the home and away jerseys, the Maple Leafs have also said the logo will appear on specialty sweaters. It's said to be a "multi-year agreement" between the team and the Dairy Farmers of Ontario,
worth upwards of eight figures
.
"Given our pride in our partnership with Dairy Farmers of Ontario, and the immense benefits of milk to both elite and everyday athletes, it's a perfect fit to see the blue-and-white Milk logo on the Maple Leafs' iconic blue-and-white sweaters," said Jordan Vader, Senior Vice President, Global Partnerships, at MLSE in the Maple Leafs' press release. "Alongside MLSE and DFO's shared values of support for grassroots initiatives, we look forward to further grow our partnership to reach the next generation of fans and give back to communities across Ontario."
The Maple Leafs also announced in the press release that the Dairy Farmers of Ontario will provide 5000 tickets to the double-header to community youth groups, "providing more access to hockey for young fans who might not otherwise have the opportunity to attend a Maple Leafs game."
There was a lot of speculation surrounding who Toronto's jersey sponsor might be for this season. After a year which saw TikTok become the Maple Leafs' helmet sponsor, many thought Toronto might go a similar route to that. But as we know now, that isn't the case.
It's a new era within the NHL — teams will now carry both helmet and jersey sponsors entering the 2022-23 season. Although it may be a new direction for the league, this felt like it would be inevitable when the NBA introduced jersey sponsors back in 2017.
This move by Toronto also begs the question; should the Maple Leafs use these socks in-game?
Or maybe they could create a cow-inspired jersey?
Either way, similar to everything else the Maple Leafs have done, nobody really saw this coming. It's an interesting pick as a jersey sponsor, but one that sounds like it'll be a great partnership for the two in the future.
I do have to say — I was mooved by this jersey patch partner. Maybe we should call them the Toronto Moople Leafs from now on. Cow funny would that be?
Anyways, Got Milk? Because it's going to be an interesting season.