Maple Leafs confident Jake Muzzin will turn his game around 'when it counts'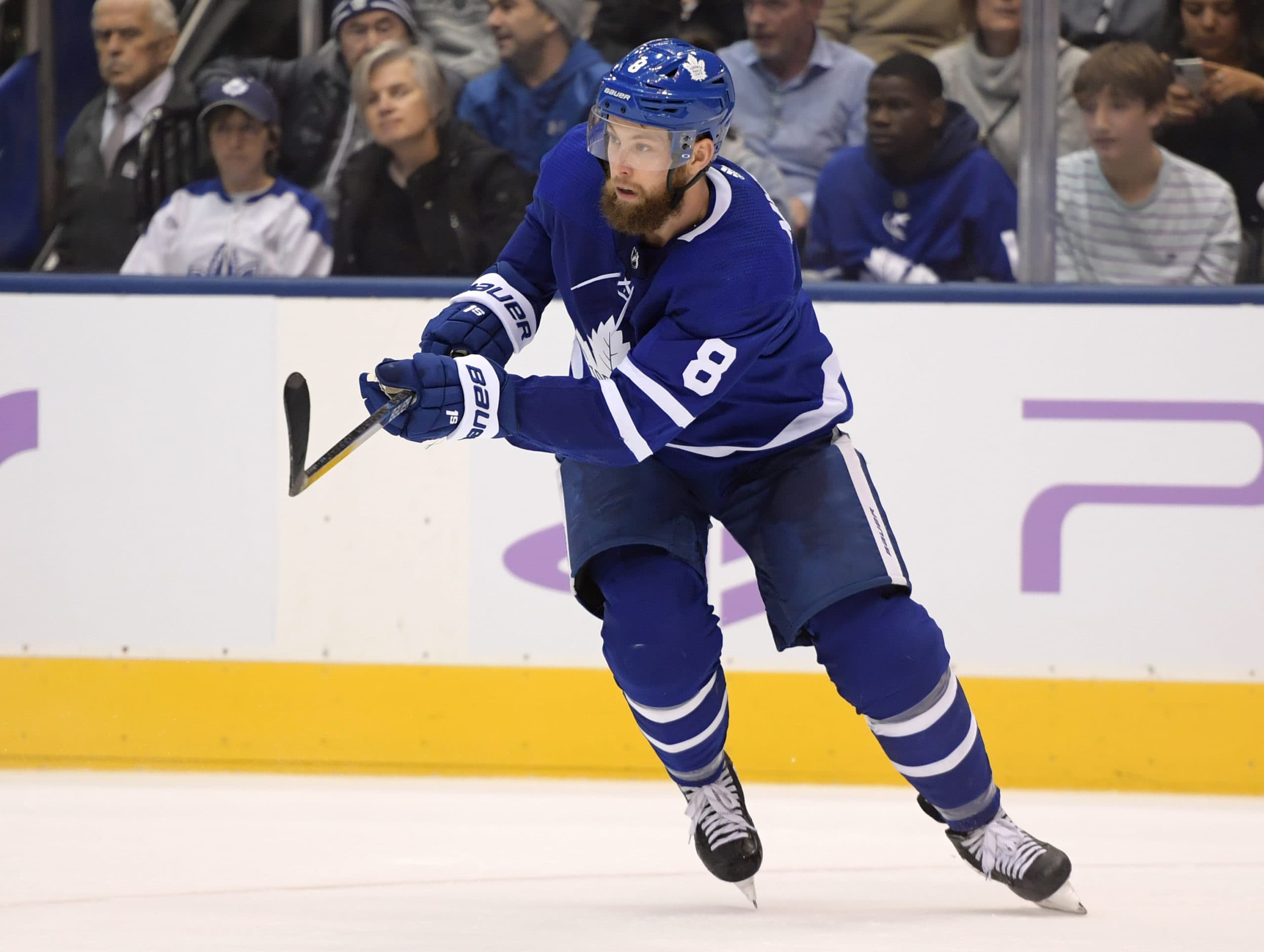 Photo credit:Dan Hamilton-USA TODAY Sports
SEATTLE — The Toronto Maple Leafs hoped that some time away from the game would help Jake Muzzin return to form.
Instead, it's been a bit of a rough ride for the veteran and his regular defensive partner Justin Holl.
"I thought that pairing had some tough moments in the game last night," Maple Leafs coach Sheldon Keefe said following the team's practice at Climate Pledge Arena on Sunday.
Muzzin missed seven games with a concussion before he made his return in a 5-2 loss against the Calgary Flames on Thursday. Both he and Holl were on the ice for three goals against. The troubling trend continued on Saturday when mistakes led to goals against while the duo was on the ice in the opening six minutes of the team's 3-2 loss to the Vancouver Canucks on Saturday.
Although Keefe liked how the two players performed while on the penalty kill, he explained that it could take some time before his most physical defenseman returns to form.
"Anytime
you're
coming
off
of
a head injury
,
it's
going to 
take
a
little
bit
of
time
before
you're
really
comfortable,
especially
for
a
guy [where a]
big
part
has
game
is
asserting
himself
physically, Keefe said. "It's going to take a little bit of time, but I'm confident Muzz is going to be there for us when it counts."
The Maple Leafs know all too well what it's like not to have the experienced defenseman when they need him most. During the 2021 NHL playoffs, Muzzin was injured in the second period of Game 6 of their first-round upset loss to the Montreal Canadiens. He also missed the last three games of the team's 2020 qualifying-round series against the Columbus Blue Jackets.
Not helping matters is the fact that some of Muzzin's underlying numbers were starting to dip before the head injury he sustained on Jan. 15 against the St. Louis Blues.
Some of that wasn't his fault.
Holl struggled earlier in the season and was forced to sit as a healthy scratch for five consecutive games. That move saw Muzzin play with different partners, including rookie defenceman Timothy Liljegren. When Holl returned, he began to show signs of the player that became an everyday dependable player during the 2020-'21 season.
"I
think
it's
just
as
you
get
more
comfortable
and
you
start
playing
better
you
kind
of
remember
the
things
that
you
do
that
make
you
effective," Holl said of what worked during his time away. "I
t
could
be
a
small
thing, l
ike
getting
a
stick
on
a
puck
before
a
guy
dumps
it
in,
so
you
don't
have
to
spend
your
shift
in
the
D-zone
,
small
things
that
make
a
big
difference
and
you
kind
of
have
to
focus
on
those."
When Maple Leafs general manager Kyle Dubas talked last week about how his team may approach the Mar. 21 NHL trade deadline, he was cautious and suggested that they would take a wait-and-see approach and that salary cap space may allow for "just one bullet in the chamber". It's become clear over the last little while that some depth on defence is likely the biggest need.
But a bottom-pair addition doesn't appear to be the play. Right now, it looks like they may need someone who can also play on the middle pair should that become a necessity.
Asking more from the second line
The Maple Leafs didn't make any changes to their lines at practice on Sunday.
There was a thought that Keefe might make a subtle tweak to the team's second line of Alex Kerfoot, William Nylander and John Tavares when he swapped Kerfoot for Ilya Mikheyev for a stretch of time in the third period against the Canucks on Saturday.
"You would recall not long ago I did have Mikheyev playing up with Tavares and I didn't think it went well, frankly," Keefe said of the possibility of trying it again.
Of course, this was part of the ill-fated experiment of balancing the Leafs' three lines by when he placed  Nylander on a line with Kerfoot and David Kampf.
Since switching back, Toronto's second-line has struggled to find the back of the net at even strength. In the last five games, Nylander and Tavares assisted on Rasmus Sandin's goal in Calgary on Thursday.
"I think last night was more where we should be in terms of chances," Nylander said of his line. "I think we were really dangerous last game, we just couldn't really score."
Although Auston Matthews, Mitch Marner and Michael Bunting have been lighting the lamp at the top, Keefe is looking for more secondary scoring across the other three lines.
Tavares is currently on a season-high, five-game goal drought.
"I feel like there's been some good opportunities and good looks so I don't worry about it as much," Tavares said. "I've got to do a better job without the puck."
The Maple Leafs' captain had a pair of passes against the Canucks. His primary assist on the power play to Matthews demonstrated excellent patience around the net. He also had an excellent outlet pass to Nylander, who had a partial breakaway, but just couldn't assert any control on the puck.
"I'm not really concerned about the production part of it," Keefe said about his second line. "Just looking in terms of controlling play and getting shifts on offence, there hasn't been as many here as of late and we'd like to get that going."
Campbell in goal
Jack Campbell will start in goal when the Maple Leafs take on the Seattle Kraken for the first time in franchise history. Both he and goaltender Petr Mrazek have split appearances since the All-Star break.
Earlier in the week, Keefe wouldn't commit to any sort of pattern for how he would deploy his goaltenders but did say Mrazek was going to play in more games.
Campbell is coming off an appearance in which he gave up five goals against the Flames, including two where he was beaten clean in one-on-one scoring chances. A difficult showing could lead to more starts for Mrazek than anticipated. But as for right now, the goalie deployment appears to be based on feel.