Maple Leafs defence for the playoffs likely to look different from game to game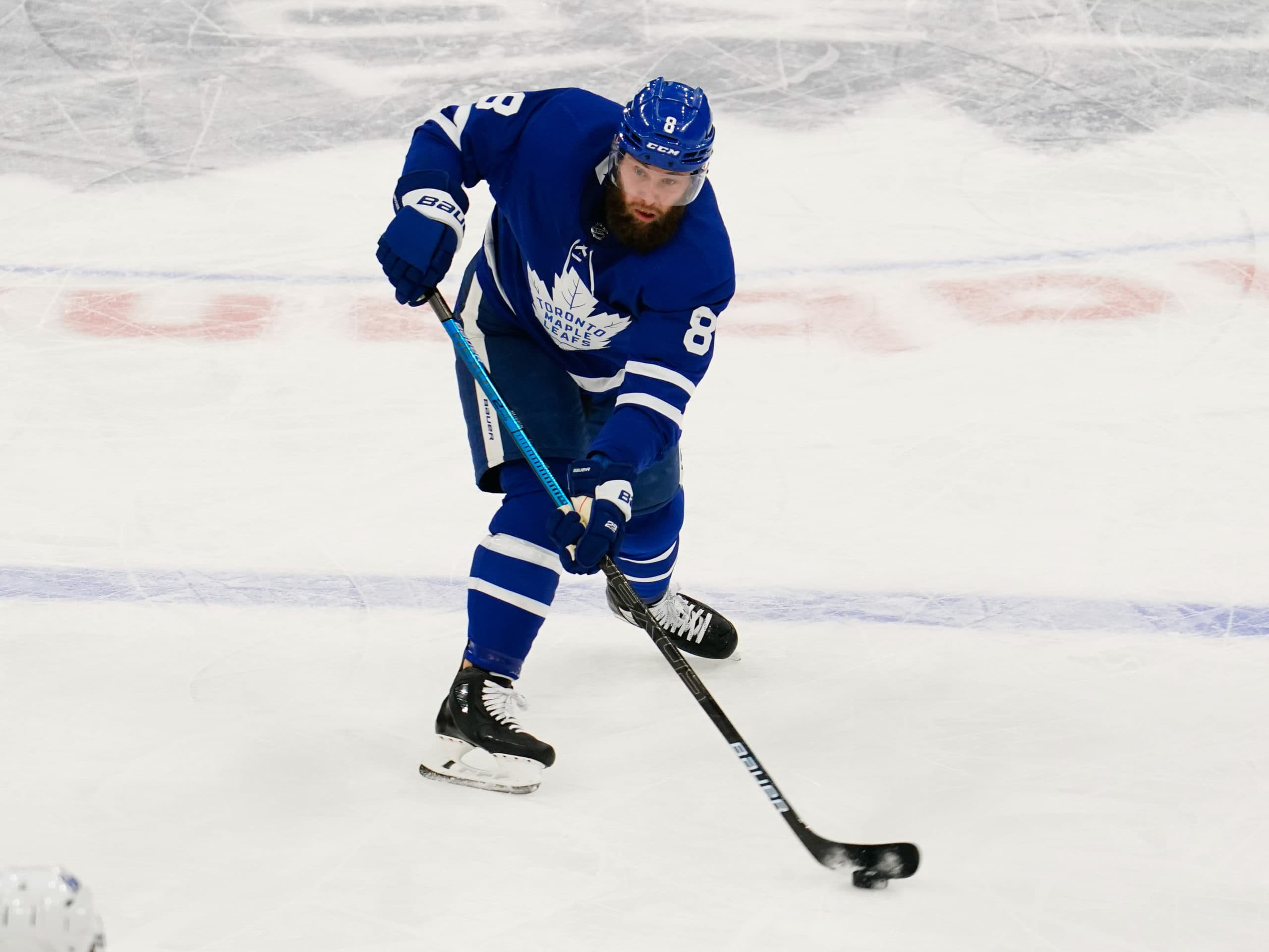 Photo credit:John E. Sokolowski-USA TODAY Sports
Toronto Maple Leafs head coach Sheldon Keefe admitted that it's been a bit of a debate as to what his team's top six defencemen are for the upcoming NHL playoffs.
"It's a daily discussion and I don't know that we ever reach a solution," Keefe said on Wednesday. "
When we finished the meeting we kind of push it to the next day, to be honest. That's where we're really at."
All season, the Maple Leafs have experimented with different pairs and combinations. They also acquired newcomers Mark Giordano and Ilya Lyubushkin, who have stepped into everyday roles with the club.
With one game to go in the regular season before the playoffs begin, it's unlikely that the final contest will bring any clarity to the matter. In fact, the look on defence is likely to change from Game 1 to Game 2 should it not yield a desired result.
"All of our guys will have to stay ready, Keefe said. "Getting (Jake) Muzzin and (Rasmus) Sandin healthy goes a long way to that. But these will continue to be daily discussions for us. I don't think they're going to end once the playoffs begin."
Sandin, who has been out of the lineup since Mar. 19 with a knee injury in not expected to play in the regular season finale this week, making it a stretch that he'll factor into the top-six conversation for Game 1.
Muzzin returned to the lineup on Tuesday after missing the last six games with an undisclosed injury. Although he felt good and is expected to play in the team's final regular season game on Friday against the Boston Bruins, the player is still dealing with the ailment, according to Keefe. And it's something he'll have to play through.
"That's the reality," Keefe said. "But he played last night, he got through the game and felt good. He feels good today to the point that on the optional day he was back out on the ice again and continues to get work in so that's very encouraging. That's what I'm most concerned with here now."
In his absence, the Leafs have found some looks with Morgan Rielly skating with Lyubushkin. TJ Brodie and Justin Holl have skated together while Giordano and Timothy Liljegren have made for another reliable duo.
Holl came out for Muzzin in the team's 3-0 win against the Detroit Red Wings on Tuesday. Skating with TJ Brodie has been a good fit for Muzzin as the Leafs attempt to find an effective role for him.
"He usually makes the guy beside him a little bit better," Muzzin said of Brodie. "He's very easy to play with position, calm with the puck. Lots of good stuff with 'Brodes'".
A former Stanley Cup champion, Muzzin has been an effective top-four defenceman for the Maple leafs since they acquired him in a trade with the Los Angeles Kings back in 2019. But this season has seen the veteran go through a pair of concussions. Before that time, he had his moments where he and defensive partner Holl were on the ice for more than their fare share of goals against.
But it's Muzzin's effectiveness in the playoffs that fuels the push to find an everyday role for the player.
Even if he isn't 100 per cent.
"The previous two seasons I've been here, we were in pretty good spots in the playoffs and then we lost Jake Muzzin and didn't recover," Keefe said. "There's other reasons that go into that, of course, but losing Muzz is one of those reasons. He means a lot to our team."
Although the Leafs have performed well, there is a physical element to Muzzin's game that the team hopes will make them better in the postseason. With the luxury of a left-handed Brodie playing on the right side, it leaves room for two more right-handed shots.
Timothy Liljegren's improved play alongside Giordano has made it difficult to assume that the rookie will sit.
"He's certainly taken steps to the point that he's absolutely a big factor in the conversation of what our six is gonna look like," Keefe said.
Two weeks ago, Keefe mentioned that the team had four left-handed shots that served as staples for the club. He didn't name them, but they are Rielly, Brodie, Giordano and Muzzin.
That left two right-handed shots to fill.
He cited the difficult minutes that Holl has played and they really like how he has played on the penalty kill, which improved this season.
"He brings great value to us there, yet you look at what Lyubushkin has brought and his physicality and the way he kills plays and covering defensively and Liljegren, the steps that he's taking to rounding out his game, we've got some difficult decisions that are good problems for you to have as a coach," Keefe said two weeks ago. "Obviously from a players' standpoint as we're trying to sort through things here and these games are really important for everybody to be at their best."
That brings us back to the opponent. If the Maple Leafs take on the Tampa Bay Lightning, maybe Holl's penalty-killing ability gets him in against a team with the eighth-best power play in the NHL. If it's the Boston Bruins, maybe they need more of a physical presence in the lineup.
Either way. There doesn't appear to be any clarity on defence from a couple of weeks ago.
But if Muzzin doesn't find the form the team has come to expect from him, the decision could become an easy one.
POINTSBET IS LIVE IN ONTARIO
PointsBet Canada has officially launched in Ontario! Get a $25 free bet just for 
signing up right here!