Maple Leafs' depth confirmed, but lineup options remain as Marlies forwards look for opportunity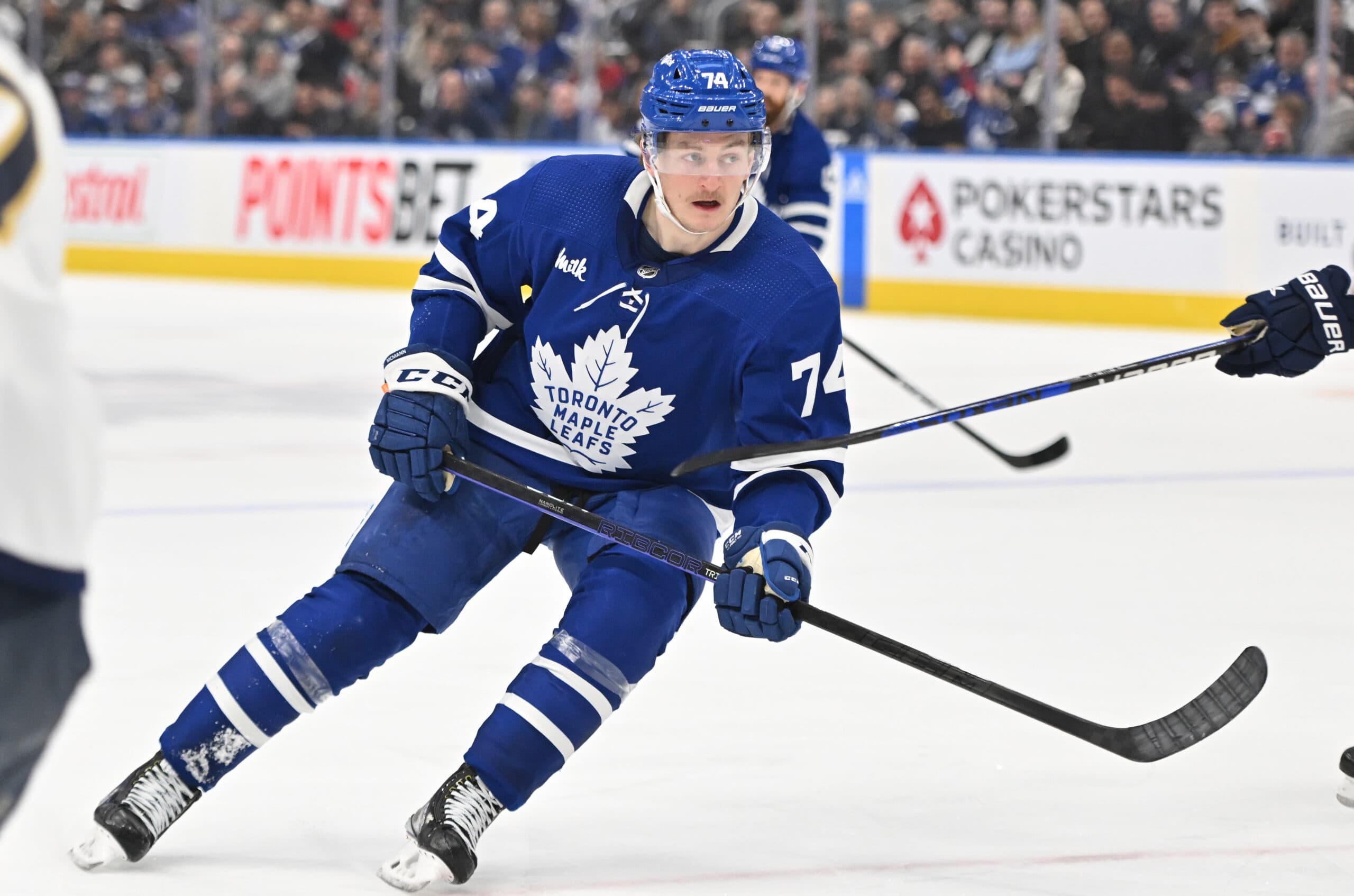 Photo credit:Dan Hamilton-USA TODAY Sports
The Maple Leafs made one minor move just an hour before the trade deadline, and the depth looks to have finally been decided.
The move — Maple Leafs GM Kyle Dubas said — was to do good on Hunt, who'll get more of an opportunity closer to home (plus remove a veteran from the Marlies' roster because of the rule), as well as bolster Toronto's depth down the middle.
"He'll (Zohorna) add to our centre depth, certainly he's a bigger body down the middle for us which we can add,"
Dubas told reporters on Friday after the 3PM ET trade deadline
. "For us, it was being able to add a centre to the mix, who's a non-veteran in the American League, because that'll help the Marlies as well."
So, with Hunt out of Toronto's mix, their forward depth now consists of Wayne Simmonds, Pontus Holmberg, Bobby McMann (once healthy), Alex Steeves, Kyle Clifford, Nick Abruzzese, Matthew Knies (if he signs), and Zohorna.
It seems as though
Joseph Woll will likely return to the Marlies
in the coming days, once Matt Murray is activated from LTIR. Dubas did also mention that, with the depth solidified, Toronto could call up a forward giving the Maple Leafs a 13th man up front.
With that being said, it's also worth noting that after the NHL trade deadline, teams only have four non-emergency call-ups remaining until the playoffs. Meaning, we could see Holmberg, McMann, and Steeves get another look at the NHL level before Knies is signed.
The fourth call-up might be more interesting, as the chances are it being one of Simmonds or Jordie Benn, if they in fact go down that route. If I had to guess who the final recall would be, I'd put my money on it being Simmonds over Benn.
But maybe, they don't use that fourth call-up at all.
Toronto has nine defenceman on their roster as the clock struck 3PM on Friday. With the additions of Luke Schenn and Erik Gustafsson, I cannot see Benn getting called up to the NHL unless there are countless injuries on the back end.
Once they activate Murray and send Woll back to the Marlies, the Maple Leafs would have just over $900,000 left in cap space, according to CapFriendly. That space will likely be used to sign Knies once his season at the University of Minnesota has concluded.
Toronto won't have any cap space after the 20-year-old has signed with the Maple Leafs, so it might be best to get another look at the forward depth now. All three of Holmberg, McMann, and Steeves have impressed as of late with the Marlies, and have earned another crack at the NHL.
The countdown on the playoffs begins, as does the countdown on Toronto's recalls. It'll be fascinating to see who Maple Leafs head coach Sheldon Keefe elects to go with on the fourth line, and everywhere else, ahead of their looming playoff matchup with the Tampa Bay Lightning.
45 days remain to figure it all out.