Maple Leafs fall 4-2 to Penguins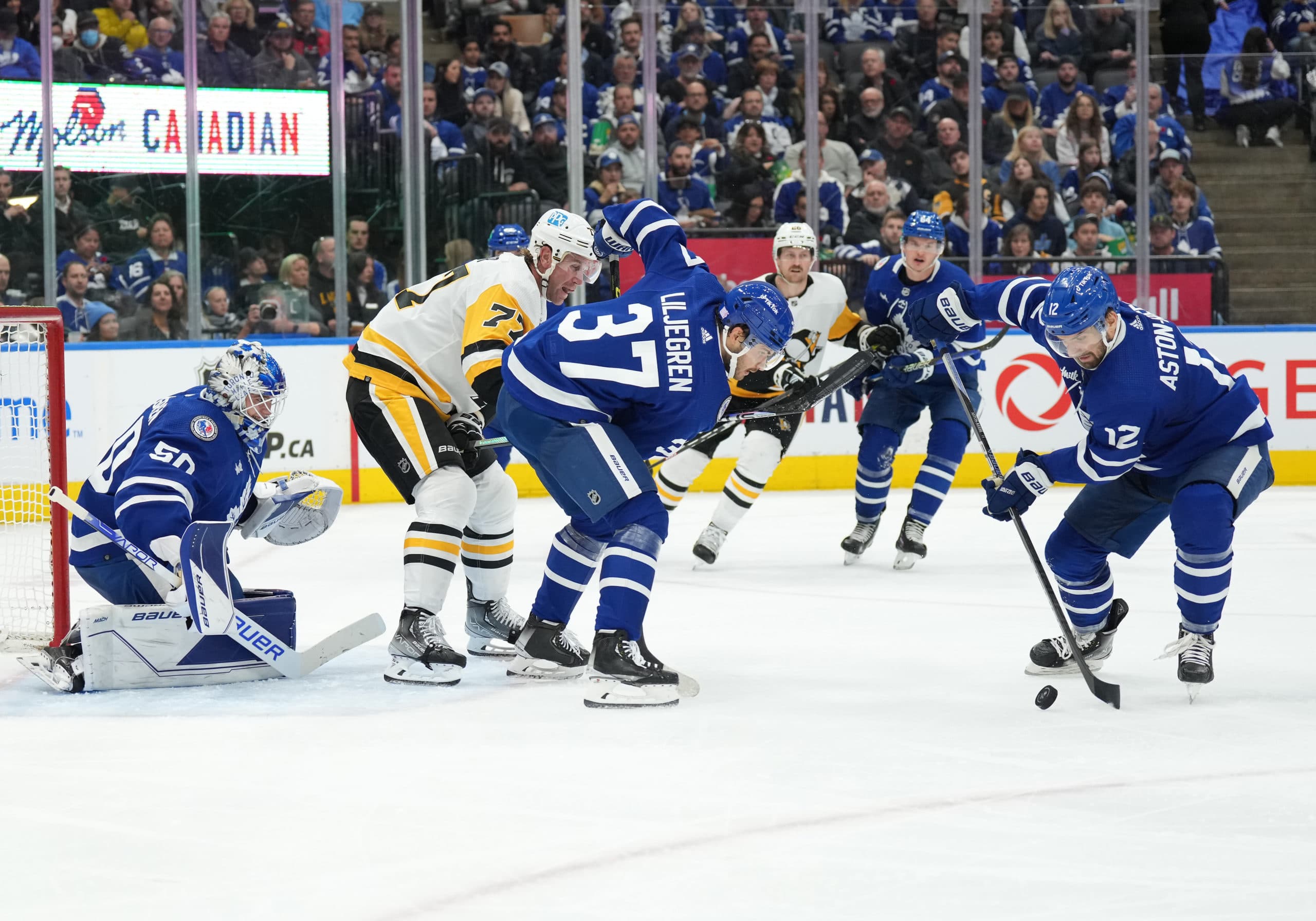 Photo credit:Nick Turchiaro-USA TODAY Sports
Evgeni Malkin led the way with two points as the Pittsburgh Penguins defeated the Toronto Maple Leafs 4-2 Friday night at Scotiabank Arena.
The stage was set by a beautiful ceremony honouring veterans and the newest HHOF inductees. Leafs legend Borje Salming, currently battling ALS, was given a thunderous cheer by the crowd when he was introduced alongside former captains Darryl Sittler and Mats Sundin.
The Maple Leafs struggled to produce much offence in the third period, only mustering four shots on goal in a period where the desperation level should be at an all-time high. William Nylander and former Penguin Zach Aston-Reese were the goal scorers for the Maple Leafs, while Erik Kallgren made 19 saves on 22 shots.
This was the Maple Leafs first regulation loss since lossing 4-2 to the Los Angeles Kings back on October 29th, and they now stand 7-5-3 on the season.
Keefe juggles the lines
Sometimes you can tell when it's going to be a game where Keefe tries multiple different combinations to see what works. That wasn't obvious in the first two periods, but it was in the third. We saw Jarnkrok play a bit with Tavares and Nylander and even saw him load up the top line late with Nylander alongside Matthews and Marner in an attempt to tie the game. It will be interesting to see if he gives Jarnkrok a longer look on the second line moving forward.
Nylander was buzzing
On a night when so many tremendous Swedish hockey players were honoured, the Maple Leafs super-swede was dominant with the puck on his stick. He had a few fantastic scoring chances, with none better than when he faked a shot and slid the puck right across the crease and off the post before finally scoring a few minutes later to tie the game. He has the talent to be this dominant each and every night.
High-danger chances against
The Maple Leafs might have outshot the Penguins 30-23, but that certainly doesn't tell the whole story. Once again, Toronto gave up too-many high danger chances against and put too much pressure on Erik Kallgren. Jason Zucker was left all alone to fire home a one-timer home just over a minute into the second period, and a giveaway by Denis Malgin led to Brock McGinn giving the Penguins the lead in the third. Odd-man rushes and giveaways cost them on Tuesday against the Golden Knights, and it cost them again tonight against the Penguins
Next Matchup
Toronto will be right back in action tomorrow night at Scotiabank arena as they host the Vancouver Canucks. The big question will be if Matt Murray will be ready to go or will the net be given to rookie Keith Petruzzelli for his first-ever NHL game.
Recent articles from Justin Walters