Maple Leafs fall on penalties as the real Lightning step up to even the series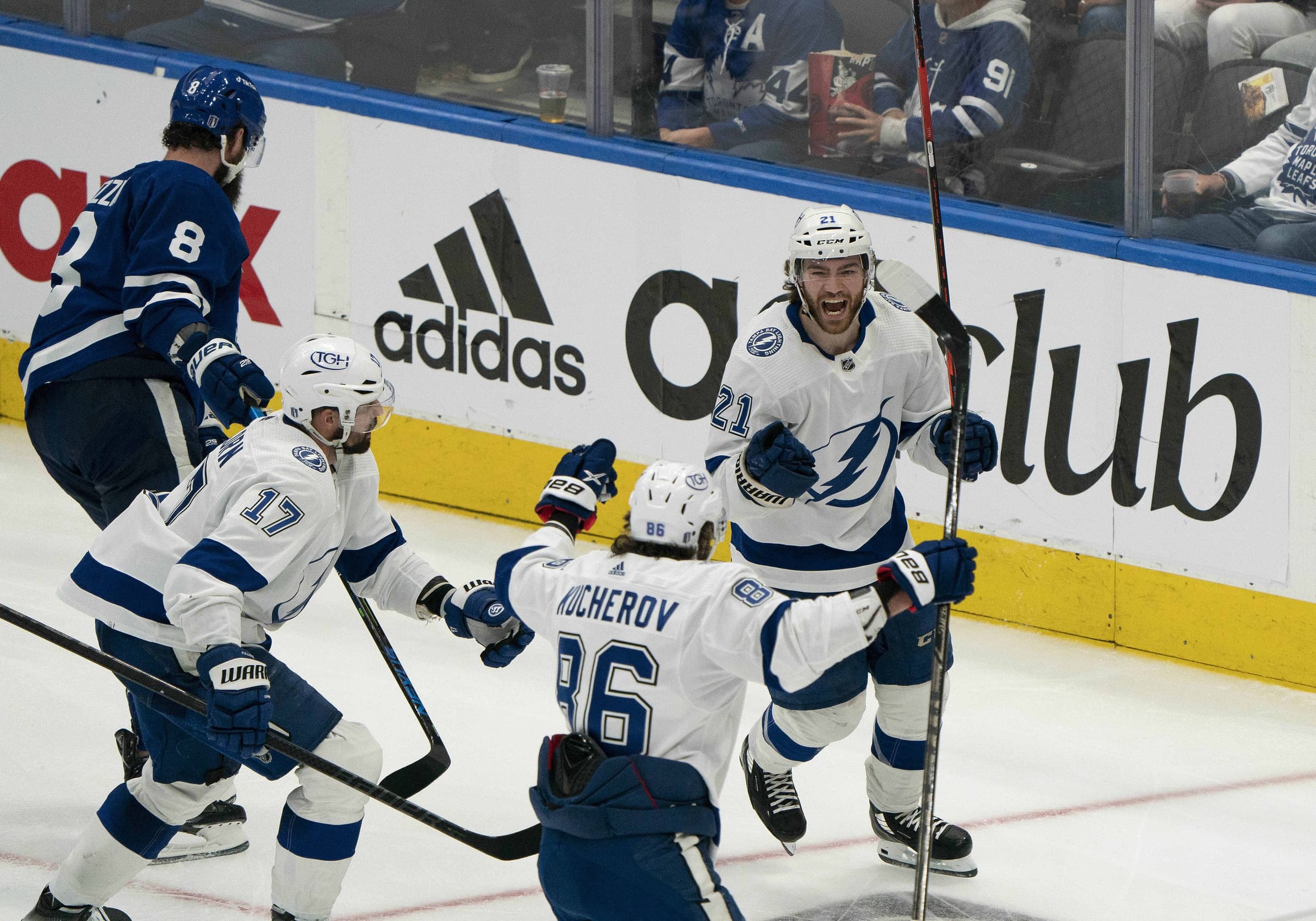 Photo credit:Nick Turchiaro-USA TODAY Sports
It was never going to be like Game 1 the whole way through, nut for 19 minutes and 57 seconds of Game 2, it looked as though the Toronto Maple Leafs had picked up where they left off.
That was until Tampa Bay Lightning defenceman Victor Hedman picked up a loose puck after a failed clearing attempt and beat Jack Campbell for a deflating end to the opening 20 minutes.
That was the first of four points Hedman recorded as the Lightning defeated the Maple Leafs 5-3 to even up their first-round series at a game apiece.
A simple power-play goal against shouldn't have let the air out of the Leafs as badly as it did, but it was the beginning of a sequence of plays where Toronto ended up on the wrong side of things.
Andrei Vasilevskiy returned to his dominant form. The Tampa goaltender made 13 of his 31 saves in the opening period, stifling the Leafs on their two power-play chances in the frame.
Over a minute into the second period, the Maple Leafs had some sustained pressure at Tampa's net, capped by a chance in the slot for Timothy Liljegren, but Vasilevskiy flashed the leather with a highlight-reel save to limit the damage.
Less than a minute later, Hedman recorded his second point of the night, a stretch pass to Corey Perry who beat Campbell on a breakaway to put Tampa up 2-0.
"That's what we have to overcome to get to where we want to get to," Maple Leafs captain John Tavares said.
The Leafs managed to come back and make a game of it. Michael Bunting, who returned from an undisclosed injury, scored his first-career playoff goal later in the period when he finished off a play at the net from Mitch Marner and Auston Matthews.
With the lead cut down to one, the Maple Leafs took undisciplined penalties. Unlike the disaster of Tampa's power-play in Game 1, the defending champs were organized and Nikita Kucherov scored another power-play goal to restore Tampa's two goal lead.
"Iwas the culprit of that," Wayne Simmonds said of the penalties. "I took two, they scored two and we lost by two.
"I'm a man, I can admit that I'm wrong. I was wrong twice tonight and we paid for it."
In the third period, Brandon Hagel scored early to put Tampa up 4-1 and Brayden Point capped the Lightning scoring with the team's third power-play goal of the evening.
The Maple Leafs pushed back at the end of the period.
Mitch Marner scored his second goal in as many games and Alex Kerfoot scored a shorthanded goal as Leafs brough it back to a two-goal game with just over four minutes to play, but it was clear the damage had been done.
On Tuesday, Lighting coach Jon Cooper felt his team gave the Maple Leafs a "freebie" in Game 1 and it was hard to argue with him. As dominant as Toronto was in the series opener, the Lightning seemed disjointed and unorganized.
"I felt they played better (than in Game 1)," Maple Leafs coach Sheldon Keefe said. "That's more of the team we prepared to play."
There was a stretch where Toronto's power play looked as bad as Tampa's Game 1 effort. Their lone power-play of the second period yielded a 0 per cent xGF%, per NaturalStatTrick.com
On Wednesday, the Lighting had the better goaltending. That's not to say Jack Campbell had a poor performance for the Maple Leafs, but Vasilevskiy had the swagger going, a goaltender capable of stealing a game or two, if needed.
The Leafs performed well at even strength, winning the expected-goal battle at 55 per cent. But it's the goaltending and special teams that dictated the victory for Tampa.
Now the Leafs have a taste of what this series is going to be like. Expectations that Tampa wouldn't find their game at some point seemed unrealistic. They improved to 15-0 in the playoffs following a loss since 2020.
Tampa gave Toronto a taste of what happens if you allow their players to get into the game and they took advantage of it. Now the Leafs need at least one road win to take the series and that won't be an easy task.
POINTSBET IS LIVE IN ONTARIO
PointsBet Canada has officially launched in Ontario! Get a $25 free bet just for 
signing up right here!