Maple Leafs forward Nick Robertson is approaching make-or-break territory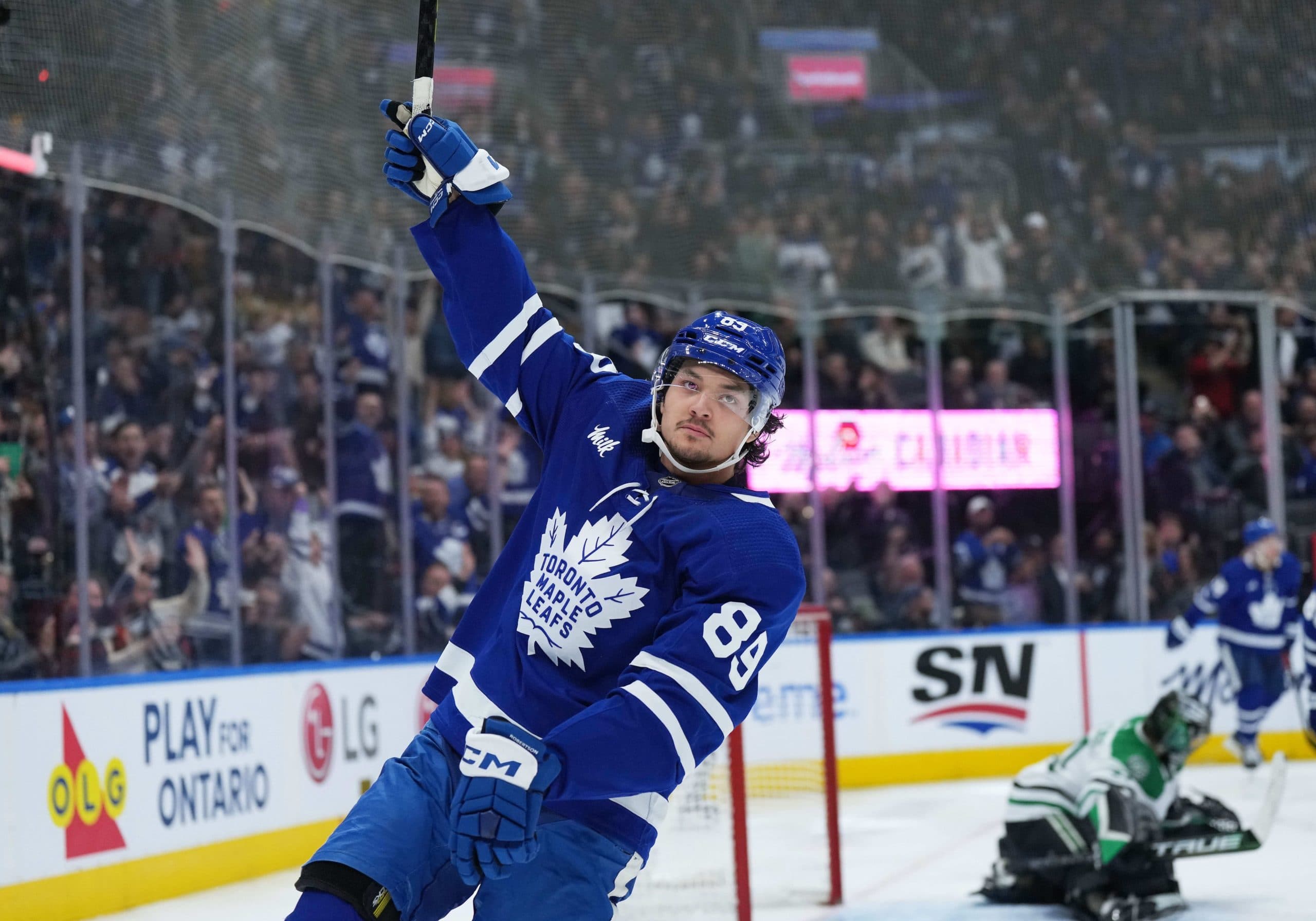 Photo credit:© Nick Turchiaro-USA TODAY Sports
The Toronto Maple Leafs have internal competition among their bottom-six forwards and youngster
Nick Robertson is smack dab in the middle
of the mix. Robertson, still just 21 years old is set for another training camp in Toronto, and he needs to make this one count.
An early few seasons littered with injury troubles, the former second-round pick is entering the final season of his entry-level contract and the stakes have risen a touch. Robertson was lights out during the 2022-23 preseason and unfortunately, due to the Leafs cap situation, he started the season off the NHL roster. Once he got his season off the ground, things were derailed by another shoulder injury.
Sounds like it's onwards and upwards heading into this season though as Robertson recently caught up to
Mark Master's of TSN
and confirmed he's ready to go to work this September – "it's been frustrating, this has been the longest duration of injury for me. Obviously, it's not the start to my career (that I wanted). But it is what it is. The show goes on, and I have to do my part to get ready for the season."
The California native has all the tools. His shot is elite, his motor is insane and he's fearless, which honestly, is a little bit of the reason he's had some injuries early on. Robertson's only 5-foot-9, and while he's put on some muscle the past couple of years, he's taken some big blows early on in his career. With more security on the roster this upcoming season, let's hope Robertson can manage to avoid trouble.
Considering the Maple Leafs' financial structure, they need young forwards on cheap deals to make an impact and stick for the full season.
Matthew Knies has a golden opportunity
to set his name in stone among the top six and it's going to be up to Robertson to make the third-line left-wing slot his. He'll need to light the lamp and be effective with his skillset. His shot is the best on the team, ask Auston Matthews, and if he's able to get some consistent second power-play time, 15-20 goals is reachable. It's time to stop knocking, and just kick the door down instead.
Leafs Centre Depth Impacts Robertson
One thing to keep an eye on come training camp is where Max Domi is slotted in. If he's playing centre, it's a great sign for Robertson, as it opens up some more ice time on the wing and he's likely to be ahead of the likes of Pontus Holmberg and Dylan Gambrell on the Leafs' depth chart.
If Domi plays the wing, it's likely because head coach Sheldon Keefe is liking what he's seeing from Holmberg, which then results in David Kampf playing third-line centre. Holmberg vs Robertson will be a camp competition to keep an eye on.
With a
$796,667 salary,
Leafs general manager Brad Treliving is hopeful Robertson is ready to stick around. It's worth noting Treliving didn't draft Robertson so with a potential qualifying offer hanging in the balance, he's going to want to stay on the ice to impress the new GM.
Sticking on the third line will help a ton as far as the salary cap goes and if he's able to break through and tap into some of his potential, Robertson can kick start a long career. In a few weeks, he'll have another shot to prove himself as an NHL regular. Healthy, hungry and ready to go. Don't bet against, Nick Robertson. If you do, make sure you tell him. He'd love to hear it.