Maple Leafs' Fraser Minten looks to keep exceeding expectations ahead of NHL debut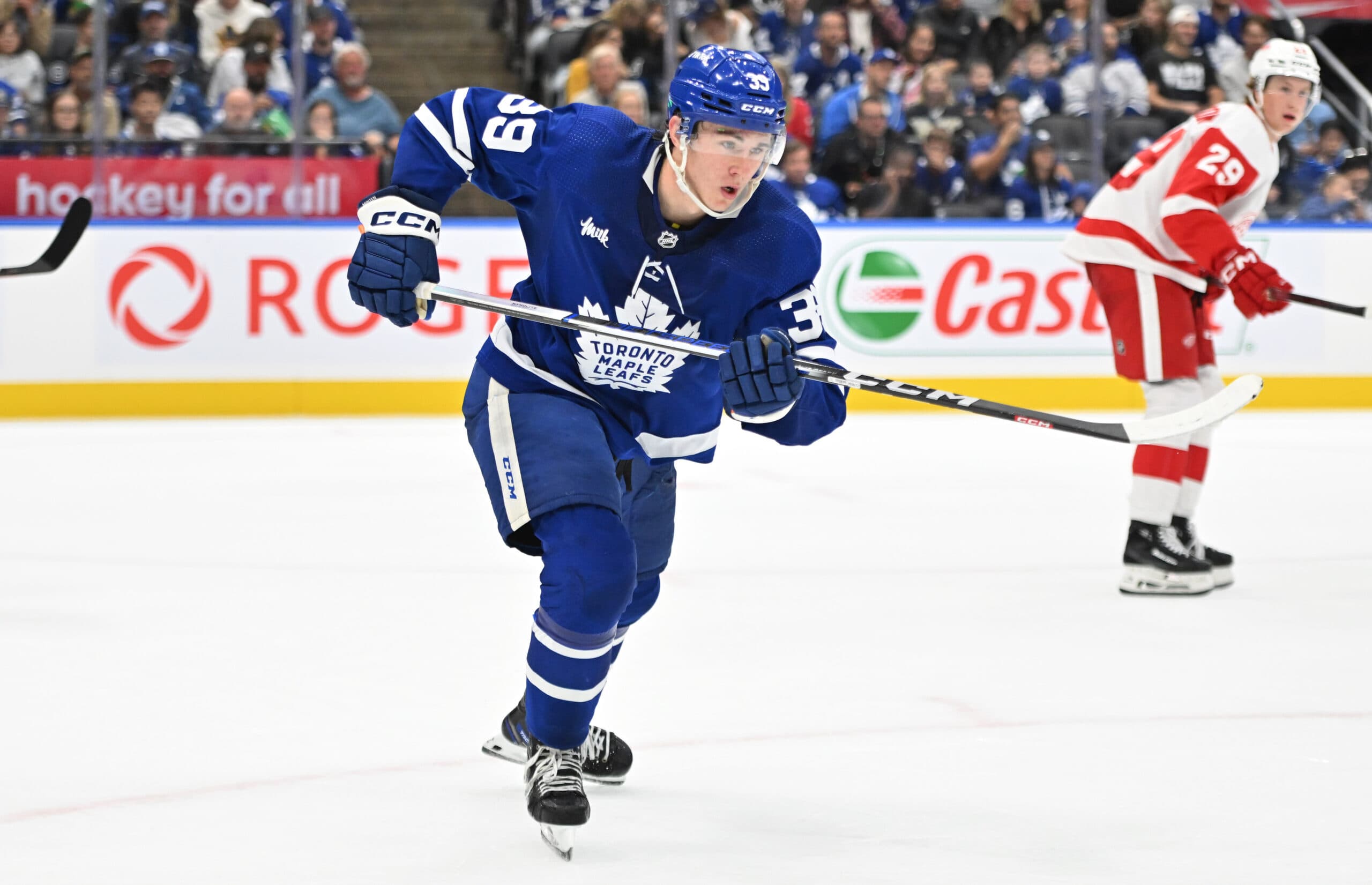 Photo credit:Dan Hamilton-USA TODAY Sports
When it comes to young players looking to crack the Toronto Maple Leafs' roster for the 2023-24 season, nobody expected anybody but Matthew Knies to be the talk of the town. After joining the club for the final three games of the 2022-23 season and impressing during the Maple Leafs' playoff run, Knies was, and still is, surrounded by hype heading into his first full NHL season. Not only does he have the size and smarts to keep up with today's NHL, he looked like he belonged regardless who he was playing with, whether it was on the first line with Auston Matthews or the third line with Calle Jarnkrok. 
Having said all of this, most people expected Knies to make some noise at training camp considering his performance at the end of last season. What I don't think people expected, was for 2022 second round pick Fraser Minten to find instant chemistry with Knies, and eventually force his way onto the roster. 
The plan for Minten this season seemed clear. With a wealth of players set to compete for jobs at Maple Leafs training camp, Minten's focus would remain on development. He was set to return to the WHL's Kamloops Blazers, this time without the talent of last year's teammates like Dallas Stars prospect Logan Stankoven, and assume a veteran role for the club with aspirations of perhaps making the Maple Leafs in 2024-25. 
Minten showed up to development camp and looked like he had taken a step forward. Then, two months later, he excelled at the Traverse City Rookie Tournament. Okay, positive signs, but could he do it against NHL players? Short answer, yes – Minten found a home playing with Knies on his wing, and finished preseason with three points in five games. Sure, not the eye-popping numbers you might expect from somebody for a story like this, but being an offensive dynamo is not how he caught the Maple Leafs' eye. 
You see, this isn't your standard case of a rookie on the cusp of being a full-time NHLer scoring some flashy goals against AHL competition. Minten's WHL numbers last season, 30 goals and 67 points in 55 games, were good and indicated a step forward in his development. But, those numbers aren't going to give you an extended look in training camp by default. In fact, a third season with the Blazers along with a World Juniors appearance in December would have made for an ideal campaign in terms of the Maple Leafs' long-term plans for him. 
But, Minten is looking to fast track that long-term journey to the NHL. 
Speaking to reporters following practice on Monday, Minten talked about how it was a dream of his to play in the NHL as long as he'd been alive. And the reality is, he deserves it. 
When you look at the situation out of context, most people would agree that Minten heading back to junior hockey for another year of proper development is the smart play. But we have context, and that's the fact that he forced not only head coach Sheldon Keefe's hand, but general manager Brad Treliving's hand as well. 
It's important to remember just how much competition there was for depth spots on the Maple Leafs. Forget about the usual suspects like Nick Robertson, Pontus Holmberg, and Bobby McMann, all of whom are older and more experienced than Minten, they even traded one of their better depth forwards in Sam Lafferty in order to make room for him. 
I'm not in the dressing room, but one thing I can guarantee is that nobody had a hand in Minten's surge except for Minten himself. The Leafs are a team looking to ice the best possible team and pursue a Stanley Cup this season. They didn't have to make all these moves so that they could shoehorn one of their 19 year-old second round draft picks onto the roster, but that's the way it played out, and for no reason other than he earned it. 
Outside of his chemistry with Knies and his stellar preseason, another reason Minten fit the bill for the NHL this season is because his body and mind are ready for it. Despite only being 19 years old, he effectively used his frame at 6-foot-2 and 192 pounds to play the body, and from a hockey IQ standpoint, he's well ahead of the game. We caught a glimpse of his IQ when he set up Knies for a shorthanded goal against the Canadiens in September, and although one play doesn't define a whole preseason, it sums up what helped him catch the team's collective eye. 
So what's next for Minten? Well, as he said to reporters the other day, it's hard to make it and it's going to be harder for him to stay. The Maple Leafs are rightfully going to consider whether keeping him beyond his nine-game tryout is worth burning off a year of his entry-level contract. And if the Vancouver native starts to show signs of inexperience, there's nothing wrong with sending him back and moving forward with the original plan. I don't think a single person would have expected him to make the impact that he did in preseason. 
But, if he fits in, turns that third line into a threat with Knies, and proves he belongs in the NHL, the Leafs should keep him there. Sure, that extra year of his entry-level deal would be nice to have, but so would a cost-effective, young third line centre with strong defensive instincts and an ability to chip in offensively as well. 
Leafs fans shouldn't pin any unfair expectations on him, but at this point, they should know better than to doubt his ability to surprise.