Maple Leafs get more of the same from Mrazek in Heritage Classic loss to Sabres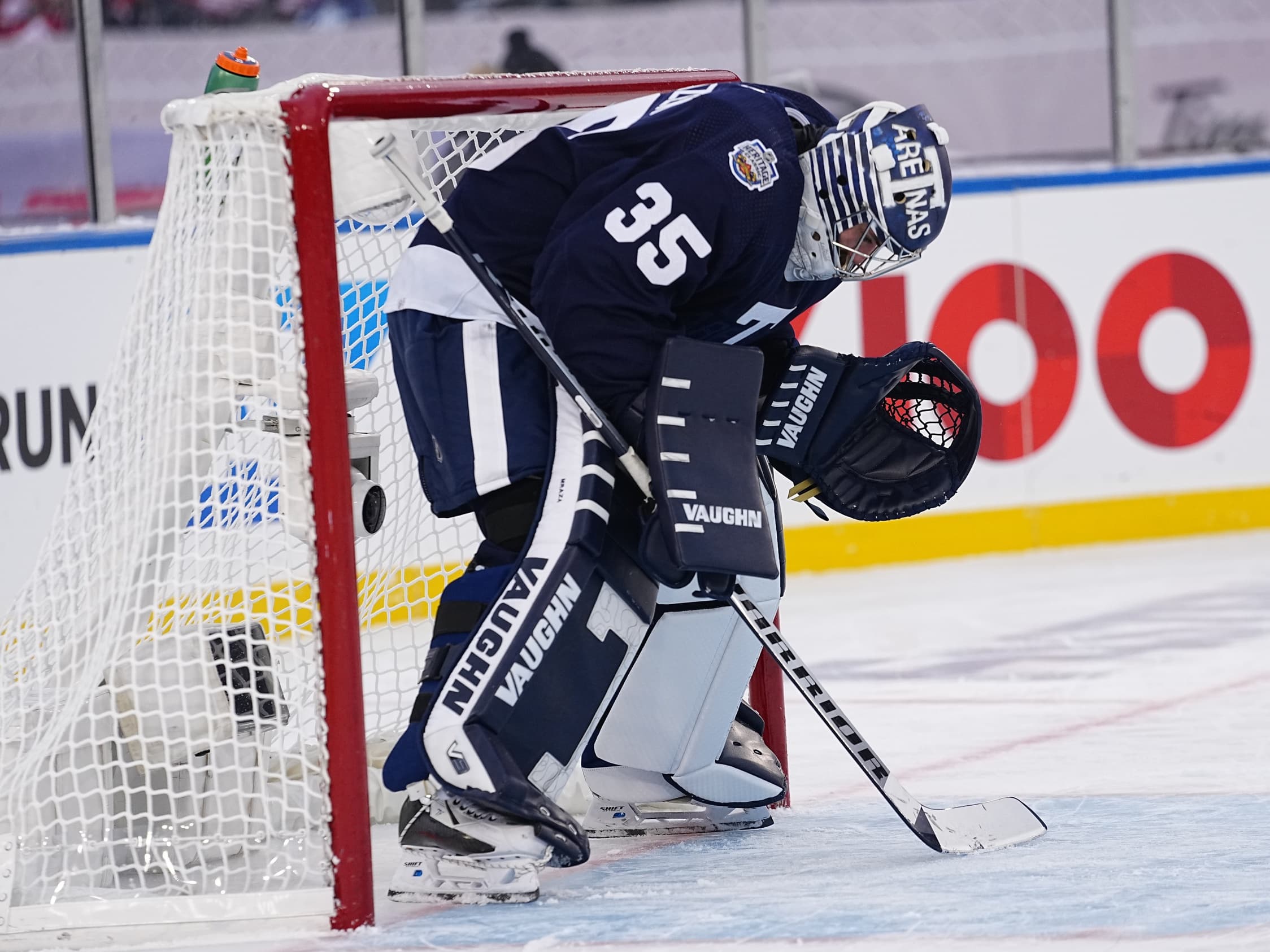 Photo credit:John E. Sokolowski-USA TODAY Sports
HAMILTON, ON – Toronto Maple Leafs head coach Sheldon Keefe elected to give Petr Mrazek another shot in goal after a disastrous performance on Thursday against the Arizona Coyotes. And for 45 minutes and 16 seconds, it looked like the goaltender was about to do right by his coach's decision.
But it all came undone when Vinne Hinostroza scored his second goal of the game after his sharp-angle shot went right through the goaltender to give the Buffalo Sabres a lead they wouldn't relinquish.
"He just put it down and it squeezed through my arm," Mrazek said of the goal. "I knew he was going to shoot it, I think I was just too high up and went down on the shot."
The Maple Leafs fell to the Sabres 5-2 in the 2022 NHL Heritage Classic at Tim Horton's Field on Sunday. Mrazek was given the start in goal after he was pulled on Thursday in favour of rookie goaltender Erik Kallgren, who ended up making his unexpected NHL debut.
Given the Swede's impressive performance in relief, there was much debate as to which goaltender should go in net on Sunday. With Jack Campbell out with a rib injury, and Kallgren still inexperienced, Keefe chose to go back to Mrazek. He cited his experience with outdoor games and his determination t bounce back following a difficult performance.
Early on Mrazek was solid.
Buffalo, playing with the wind at their backs, fired 14 shots on goal as Toronto struggled to skate out of their zone.
Included in the chances by Buffalo was a pair of breakawayss by Rasmus Dahlin. The Czech goaltender turned both of them aside.
The Leafs had difficulty finding a rhythm. It was evident when the Leafs had the lone power-play chance of the opening frame. Mitch Marner had the puck in Buffalo's zone when he just inexplicably lost control of the puck.
"It was just the adaptation to the elements and just trying to adjust to everything," Matthews said. "The first period was kind of a feel-out process and in the second (period) we kind of got going a little bit."
In the second period, Ondrej Kase opened the scoring for Toronto.
After John Tavares won an offensive zone draw, Kase went to the net to pick up the rebound from William Nylander's shot and beat Craig Anderson just 40 seconds in.
The Sabres replied 41 seconds later when Peyton Krebs finished off a one-timer from Hinostroza that beat Mrazek at 1:21.
Auston Matthews scored his NHL-leading 45th goal of the season when he took a pass from Alex Kerfoot and beat Anderson with a wrister at 2:57, but his game will be most remembered for an exchange at the net with Dahlin that resulted in Matthews crosschecking the Swedish defenceman in the face.,
"I felt like it rode up his shoulder," Matthews said of the play. "But I haven't really seen a replay of it."
TJ Brodie picked up his 300th NHL point his career with the secondary assist on Matthews' goal, but he was on the wrong end of a scoring play when Buffalo's Tage Thompson fired a centreing pass to the net that went off Brodie's skate and into the net at 10:53.
As the winds settled down, Toronto played better and fired 18 shots on goal in the second period compared to nine by Buffalo.
In the third, Mrazek looked set to have his best game in quite some time. He came up with an excellent glove save on Dylan Cozens' shot from the slot that made the over 26,119 fans in attendance gasp in awe at 2:37.  But it was short-lived after Hinnestroza's game-winner.
The goal, and the fashion in which it went in, served as a reminder of some of the flaws in Mrazek's game that has fans concerned about the state of the team's goaltending.
"I thought Petr was good and made some saves today," Keefe said. "It's not an easy environment to play in, especially for a goalie."
"Obviously the third goal is a tough one for us."
That last sentence is all too familiar over the last few months for the Leafs.
Buffalo made it 4-2 when Mrazek was beaten by Krebs for his second goal of the game.
Tempers flared later in the third period when Matthews and Dahlin exchanged cross-checks in front of Buffalo's net. There's no doubt the NHL will at least take a closer look at Matthews, who has never received any supplemental discipline in his six-year NHL career.
Anderson got in the middle of the exchange and perhaps prevented the situation from getting worse
Maybe Anderson is protecting a future teammate?
Toronto's goaltending situation continues to be an area of concern and without Mrazek had a chance to diffuse the tension behind it, but was roughly 15 minutes short of getting the job done.
Toronto has allowed four or more goals in six consecutive games (39 in that span). Those six games came against teams either far down in the standings or on the edge of the NHL playoffs bubble.
With the trade deadline just over a week away, the alarm to address the situation is ringing louder.
As for who will start in goal on Tuesday when the Maple Leafs host the Dallas Stars?
"We'll see, I'm not going to take too objectives from our goaltending on today's game, good or bad," Keefe said. "I don't think it would be fair to do that."
Kallgren helped Mrazek get out of what was sure to be another loss on his record. It may be time to see what the rookie can do with a full 60 minutes.