Maple Leafs goaltending pipeline is not as grim as it might seem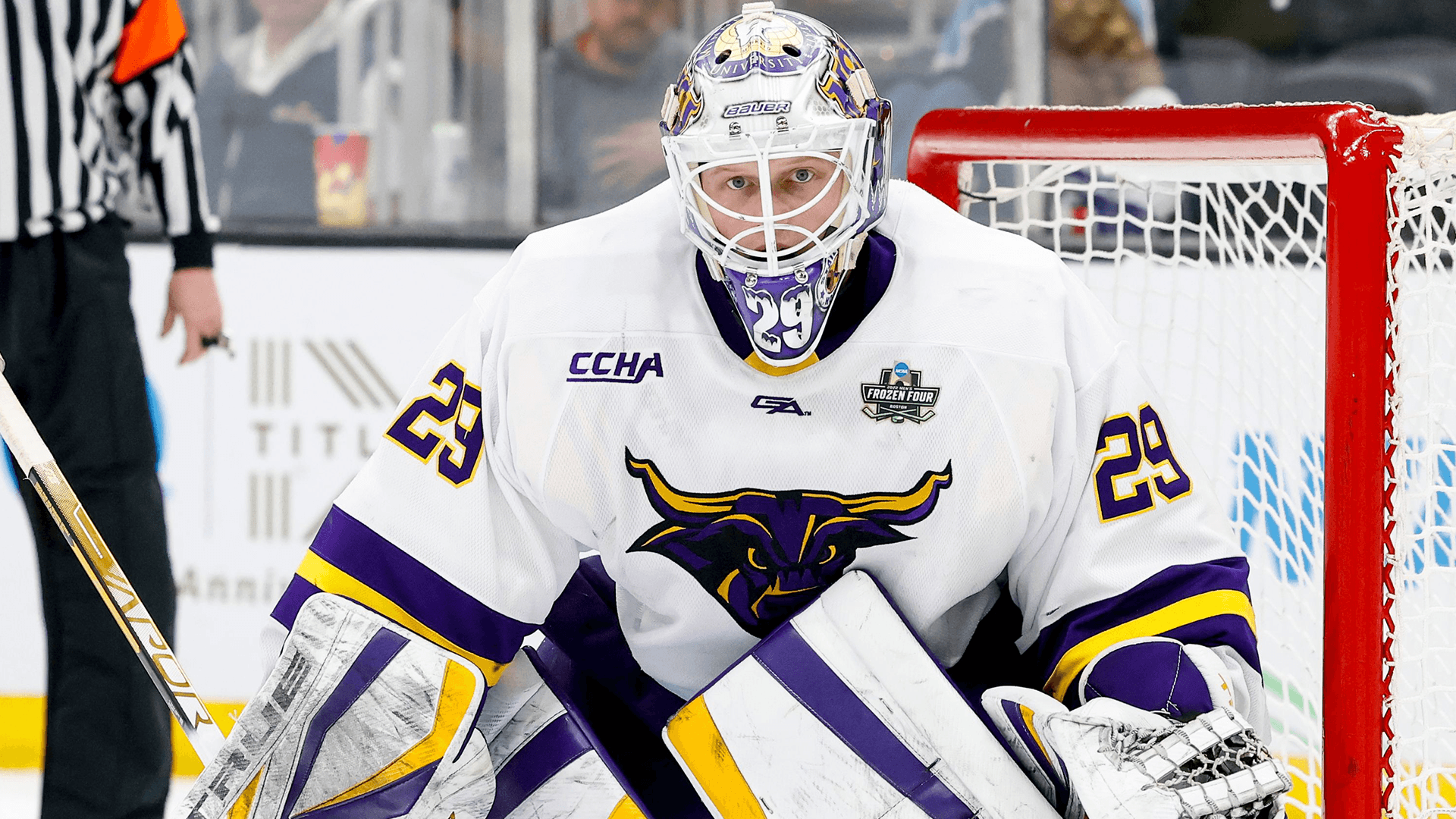 Photo credit:Matt Dewkett/Minn State Athletics
The Maple Leafs have an interesting future with goaltending and we're going to try to get to the bottom of it.
While everyone discusses the possibility of Jack Campbell returning and whether or not Toronto will move on from Petr Mrazek, the bigger mystery is their prospects.
At the moment, the Maple Leafs have a total of four goalie prospects in their system — Erik Kallgren, Joseph Woll, Keith Petruzzelli, and Dryden McKay. Two of these four netminders are signed to NHL deals, yet it's clear that if the other two show good signs, they'd get a contract too.
Heading into last season, it was much easier to dissect which goaltenders had improved and which did not. It was clear after last season that Woll deserved a shot at the NHL level, to which he did. The 23-year-old played four games, finishing with a 3-1 record and a .911 save percentage.
Kallgren was always a mystery because many of us haven't watched a game of his before. However, it was evident very early on with the Marlies that he could turn into a very good netminder in the future.
But while it's always nice to take a glimpse into the future with these two as NHL goaltenders, they still have some flaws that AHL games might fix.
For Kallgren, he plays a very quiet and calm game, always finding himself in the right positions to make saves. The problem for me is that when there's a loss, it's fairly likely he's allowed three or more goals in that game.
In his four losses at the NHL level this season, Kallgren has allowed 20 goals and none of those games were under three goals against. The 25-year-old has his good moments too, but it feels like when the bad moments come, they turn into situations worse than expected.
If he can continue to find his calm presence in net, there could be big things coming his way very soon.
Woll is the clear-cut opposite of Kallgren. A very extravagant goalie who loves to use his athleticism to stretch out and make big saves. In this past season, the 23-year-old looked to have found much better positioning, not needing to use his athleticism that much which is a plus.
We did see some NHL games from him as well, and while some were good, there were others that weren't. Woll had an injury-riddled season, so it's difficult to tell where he might be at developmental wise, but there's an interesting future there as well.
The AHL contract goalies
Starting with Petruzzelli, let's just say he had an fascinating season.
The 23-year-old bounced between the Newfoundland Growlers and Toronto Marlies. He only found five AHL games this season but it felt like he was with the team for half of the year.
Petruzzelli had an great regular season in the ECHL where he posted a 16-6-1 record and a .927 save percentage. That was good enough to land him on the 2021-22 ECHL All-Rookie team. The playoffs, though, were a different beast for the 23-year-old.
Over the span of 19 games, the 23-year-old had a 9-7-2 record with an .895 save percentage. Obviously it's not a good number, but I wouldn't put too much stock into it being a trend that continues.
Petruzzelli is a hybrid between Woll and Kallgren while also sporting a six-foot-five frame. He can be very calm in the net, but when he needs to, will make an incredible save leaving you thinking how he did that. He's also very good positionally, so he doesn't find himelf using his athleticism a lot.
Give the 23-year-old a few more seasons and he might turn into a goaltender the Maple Leafs use in the future. Petruzzelli does though only have one year remaining on his AHL contract he signed back in August of 2021. It's going to be a big season for him.
And now, to the mystery of them all, the Hobey Baker-winning netminder McKay, who's signed to a two-year AHL contract.
If you'd like to see some eye-popping statistics, the 24-year-old has them throughout his time in college. McKay played a total of 140 games in the NCAA and only lost 20 times. What's most mind-boggling is that he had 34 shutouts throughout his time at college.
That's more shutouts than losses, but it's also the most shutouts of any goaltender in the NCAA. Ever.
It's more than Jake Oettinger (13),Thatcher Demko (13), Matt Murray (14), Cory Schneider (15), Jimmy Howard (15), and Ryan Miller, who McKay breezed by at 26 shutouts.
The 24-year-old is currently serving a six-month suspension after testing positive for a banned substance called Ostarine, which was in a
supplement that was incorrectly marked
. He will, though, be a full participant in Marlies training camp in the fall.
While the other three goaltenders have an interesting future, I'm most intrigued to see what McKay does in his first year of pro hockey. Can he live up to his numbers sustained in college?
Each of these goaltenders can provide a very good future for the Maple Leafs. They all have the capabilities to do so, in my opinion. It's just a matter of who proves they have it when getting an opportunity.
But it's a reach to say Toronto's goaltending prospect pool is slim. With only three picks in the upcoming draft, I doubt they go for a goalie. The Maple Leafs have ultimately chosen their path for goalie prospects in the foreseeable future and they'll come in by signings.
Many would like to see the team draft a young goaltender, but they don't have the resources to do so. A forward or a defenceman are much more important at the moment, and the Maple Leafs have four good goalie prospects already.
One of these four will likely be a hit of some kind, but at this point it's just waiting it out and seeing who it might be.
The biggest challenge of them all, though, is figuring out who stays in the AHL and who goes down to the ECHL. It's going to be fun to figure that out in the fall.
(Statistics via EliteProspects.com and CollegeHockeyNews.com)
POINTSBET IS LIVE IN ONTARIO
PointsBet Canada has officially launched in Ontario! Get a $25 free bet just for 
signing up right here!