Maple Leafs hope to unlock more out of Ilya Lyubushkin in effort to improve team defence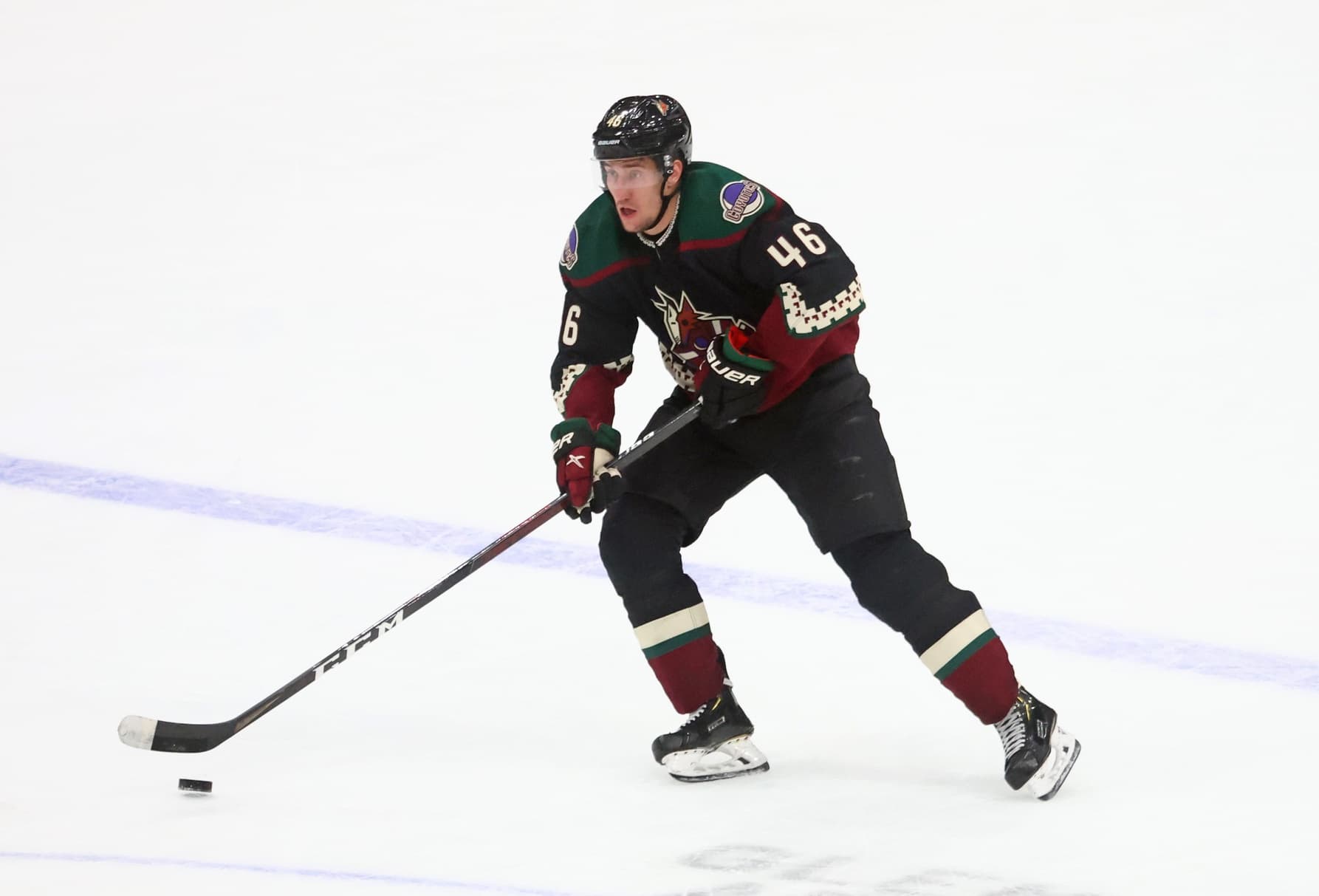 Photo credit:Mark J. Rebilas-USA TODAY Sports
Toronto Maple Leafs general manager Kyle Dubas hopes defenceman Ilya Lyubushkin can not only provide the club with depth on the back end, but can bring a physical element that his club has lacked.
"We don't have a lot of guys that have his utility, Dubas said. "A big strong right-shot defenceman, able to kill penalties and play with a little bit more physicality than we may have."
The Maple Leafs acquired the defenceman nicknamed the 'Russian Bear' late Saturday along with veteran forward Ryan Dzingel from the Arizona Coyotes in exchange for cast-off forward Nick Ritchie and a conditional second-round pick.
In executing the trade, the Leafs were able to remove the $1.375 million of Ritchie's $2.5 million cap hit off the books, while simultaneously improving their depth on defence.
Lyubushkin doesn't rank among the top targets out there for depth defencemen ahead of the Mar. 21 NHL trade deadline. But with limited cap space and more established names coming in with much higher price tags, Dubas is aiming for another buy-low opportunity to help out a back end that has been a point of weakness as of the late.
"He's kind of gone under the radar in Arizona and we thought that, compared to the market on other types of guys, that it was a good bet for us and get him to work with our coaching staff and work with our development staff and see if we can continue to build on the job that Arizona did with him," Dubas said. "(Arizona) brought him over from Russia and did a very good job getting him to this point, playing him more this year and playing against better players this year and doing so fairly well."
Lyubushkin has nine assists in 46 games with the Coyotes this season. He most recently saw regular ice time on the club's second pair of defence alongside Jakob Chychrun.
In four seasons, the physical defender saw his ice time rise. He's averaged 18:06 this season.
"Lyubushkin's a hard simple physical defender that we like," Maple Leafs coach Sheldon Keefe said following the team's practice on Sunday.
Jake Muzzin has been the Maple Leafs' most physical throughout his tenure in Toronto. But his play has struggled at various stretches of the season. Before the team's 6-3 loss to the St. Louis Blues on Saturday, Muzzin admitted he was still finding his way following a concussion that forced him to miss seven games.
"For me, I have to be physical or I'm not as effective," Muzzin said.
On the ice for a lot of goals against since his return, the Leafs split up the regular second pair of Muzzin and Justin Holl. On Thursday, they put Rasmus Sandin on his off side against the Pittsburgh Penguins, while rookie Timothy Liljegren took a turn with Muzzin in that spot on Saturday.
Both games yielded mixed results.
The Leafs have seen some success this season with buy-low additions that have worked out well.
They bought low on free-agent defensive forward David Kampf (two-years, $3 million contract) this summer and he's worked out well as an everyday third-line centre for the club. The same goes for Michael Bunting, who signed a two-year commitment at a cap-friendly $1.9 million over two seasons.
"Boosh is a great guy off the ice, on the ice he works hard every single night," Bunting said of Lybushkin, who were teammates together in Arizona before this season. "He's willing to block shots and put his body on the line, plays hard out there, a great addition for us, I'm really excited to have him over here."
Is the addition of Lyubushkin enough to fix the club's problems on the defensive end? It's hard to say. But the 27-year-old Russian becomes an unrestricted free agent after this season, and the cost of his acquisition was inexpensive, given that Dubas was able to offload one of his bets that didn't work, forward Nick Ritchie in addition to a conditional second-round draft choice.
"When we signed him, I think everybody wished it was going to play out differently than it did," Dubas said of Ritchie. "He had a lot of chances earlier in the year, they don't go in. The impact of that on confidence and chemistry is massive."
The other piece in the deal, Dzingel, was placed on waivers on Sunday. They like the depth that he provides, but cap constraints are such that having the flexibility to have him sent down to the minors is more valuable to the Leafs than playing him and keeping him on the everyday roster.
For the Leafs, this is all about Lyubushkin. They needed depth and have someone who can at least attempt to plug the hole they have with Muzzin not playing to the level he has shown in previous seasons.
Keefe said at times that Muzzin has had to deal with different partners and his recovery from a concussion has led to the veteran taking on more than he should as of late. The coach was blunt about how to fix that.
"Improve the team around him," Keefe said.
Time will tell if Lyubushkin is the answer to that.
Are the Leafs done making moves?
The Leafs are right up against the salary cap and had to move Sandin off the roster at practice to accommodate the trade made last night. Once Dzingel clears, the Leafs should have the defenceman available for their game against the Montreal Canadiens on Monday.
But after all of these moves, there isn't a lot of room to add. Dubas didn't dismiss the possibility of adding to their club between now and Mar. 21, but unless salary cap room magically appears due to injury between now and the deadline, it's hard to see what else the Leafs can do outside of a trade that involves players on their current roster.