Maple Leafs' Jack Campbell out minimum of two weeks with rib injury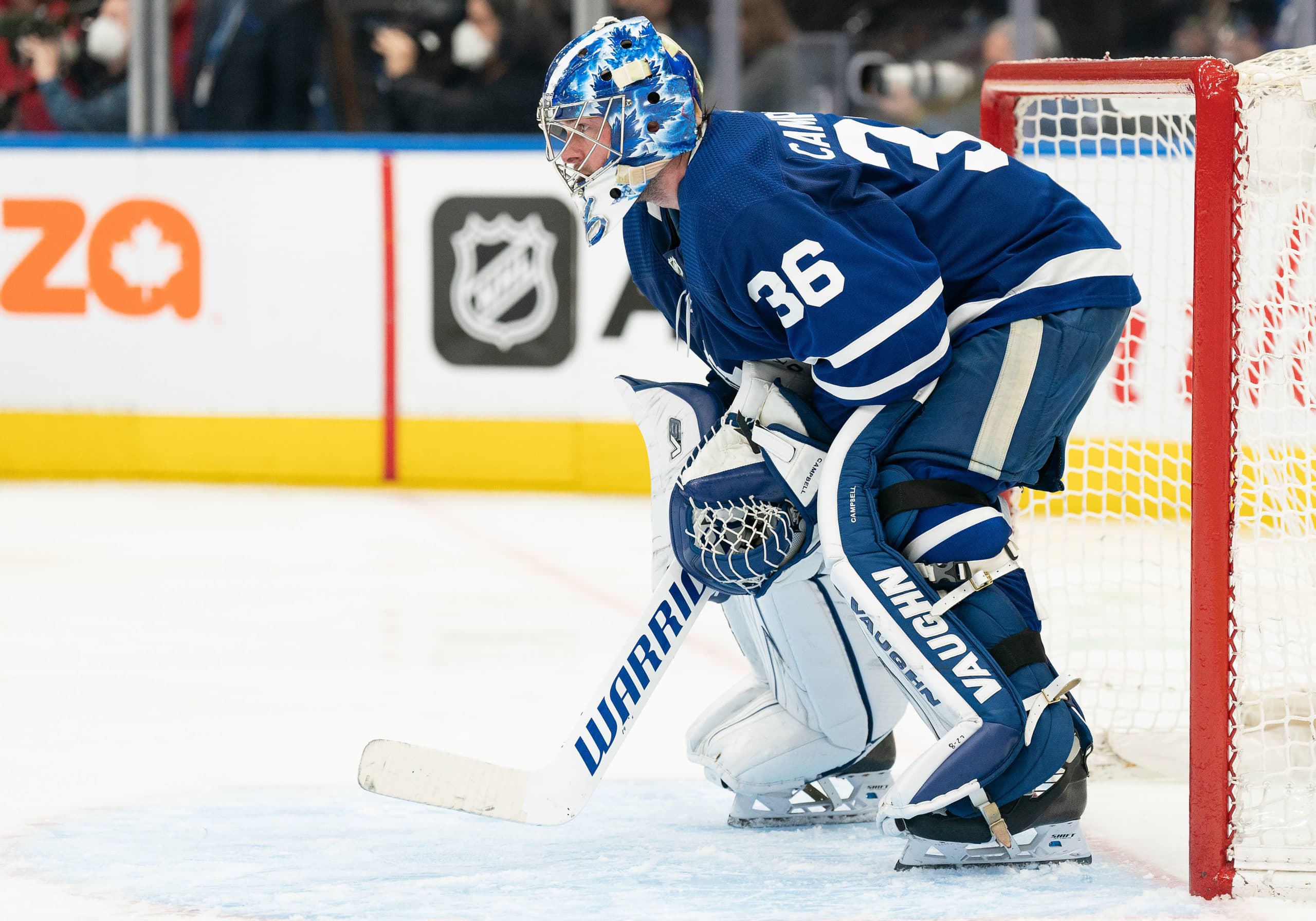 Photo credit:Nick Turchiaro-USA TODAY Sports
Toronto Maple Leafs goaltender Jack Campbell tweaked something "a week or so ago," according to Sheldon Keefe, but the head coach was insistent that a rib injury didn't have anything to do with the goaltender's struggles as of late.
"I don't think it's been around that long, I don't think that's anything in play, Keefe said. "In fact, he himself was feeling quite comfortable with where he's at. He just aggravated it the other night, went for some testing and now going to need some time."
Campbell will miss a minimum of two weeks with a rib injury, the team announced shortly before their morning skate on Thursday.
Campbell made 26 saves on 30 shots in a 6-4 win against the Seattle Kraken on Tuesday. Toronto's starting goaltender has struggled since getting off to a hot start for the first couple of months.
Although there was a plan to start using goaltender Petr Mrazek in more games, the underperformance of Campbell over the last several months forced Keefe to start splitting reps in goal between Campbell and Petr Mrazek.
Battling through injuries of his own this season, Mrazek saw his first string of back-to-back starts this season — while Campbell was an option — for games against the Washington Capitals on Feb. 28 and Buffalo Sabres on Mar. 2.
With Campbell on the shelf, this is an additional chance for Mrazek to prove himself with the club.
"He's been a great pro," Leafs defenceman Morgan Rielly said of Mrazek. "Him and Jack have been a great tandem. He works hard and is obviously extremely skilled and we expect him to play hard for us, play well and as a group we have to play well in front of him."
The Leafs have struggled defensively as of late and that has contributed to some of the team's malaise in goal, but goaltending has been a lingering issue since December.
Toronto has allowed 29 goals in their last six games (4.83 average per game).
Mrazek missed long stretches this season with a groin injury suffered in his first start of the season against the Ottawa Senators back in October. He returned for one game on Oct. 30 before reinjuring it and missing the next six weeks. The 30-year-old netminder is 10-5-0 this season and has posted an .890 save percentage.
The Leafs signed Mrazek to a three-year, $11.4 million contract this past summer.
Knowing he will now be 'the starter' for at least the next couple of weeks should be a true indicator of where Mrazek fits with the Maple Leafs and if he can fulfil the return on investment the club in him back in July.
"This situation right here is an exact reason why you sign a guy like Petr to partner with Jack," Keefe said. "This will certainly be an opportunity for Petr to run with it here."
The Leafs called up Swedish goaltender Erik Kallgren on an emergency basis and he will back up Mrazek against the Arizona Coyotes on Thursday.
Kallgren is 15-8-1-1 with a .904 save percentage this season with the Toronto Marlies this season. The Maple Leafs signed Kallgren to a two-year, two-way contract in May, after he spent last season with Vaxjo HC of the Swedish Hockey League.
"I just know that they really like him down with the Marlies," Keefe said of the decision to callup Kallgren. "His play has been good but they really like him as a leader, his work ethic and all of those kinds of things."
Toronto also has Joseph Woll in their system and could be an option as well. He has a 3-1-0 record in four games with the Leafs this season and recorded his first career NHL shutout against the New York Islanders on Nov. 21.
The Maple Leafs don't have a string of back-to-back starts until the end of the month, so it's possible we don't see another goaltender take the net other than Mrazek if Campbell is able to return on the lower end of his 'minimum of two weeks' diagnosis.
But with the team's goaltending issues a topic of concern lately, chatter is going to increase with the NHL trade deadline just 11 days away.