The Maple Leafs lineup card contained more surprises than expected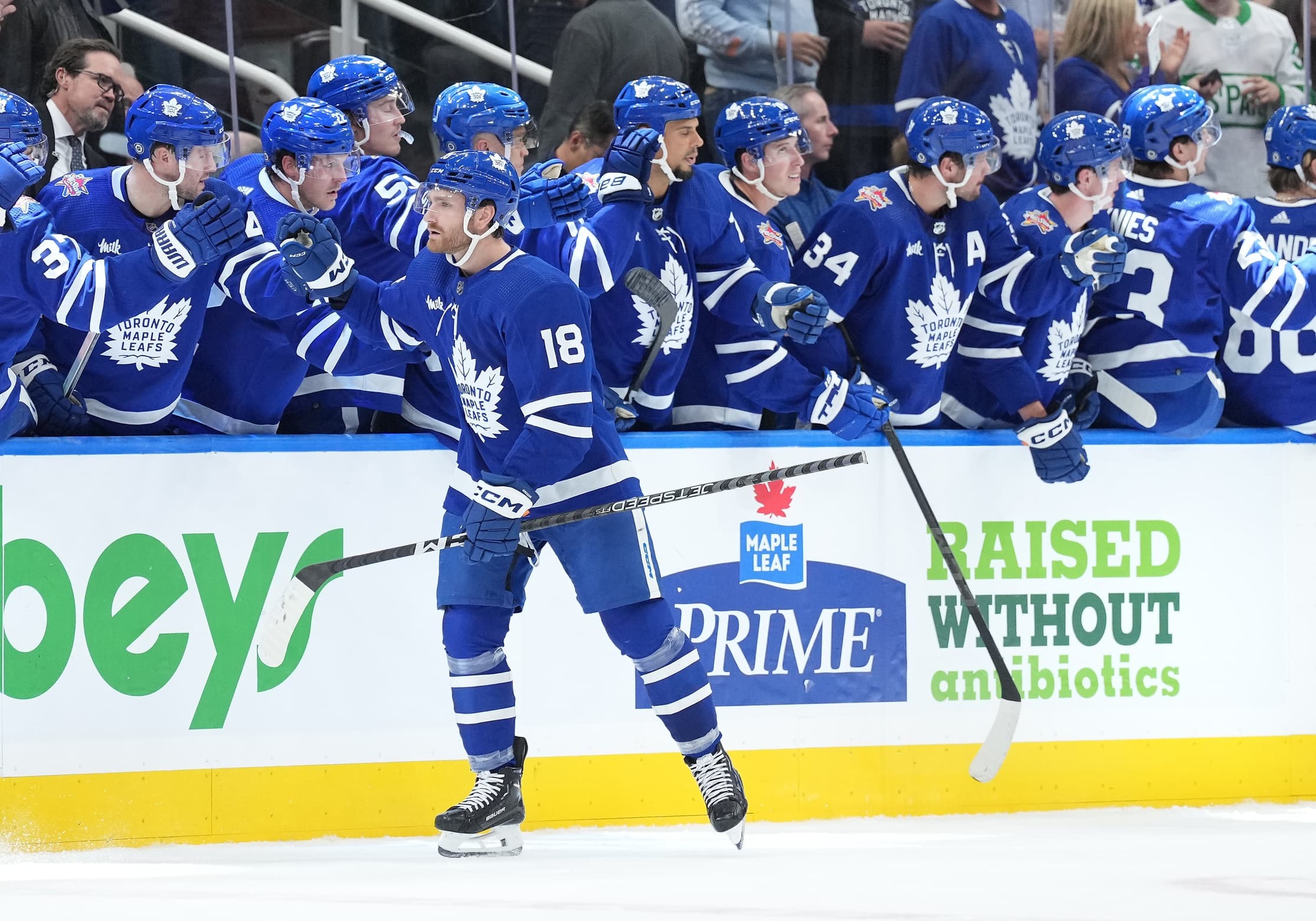 Photo credit:© Nick Turchiaro-USA TODAY Sports
Opening night has come and gone, with this year's rendition kicking off on the right foot for the Leafs.
The game itself was not their finest hour as it had sloppy mistakes, some preseason jitters, and the new lines finding their rhythm. But in the end, Toronto's stars came to play and an Auston Matthews hat trick helped propel the team to a shootout win against their forever rivals. It also kick-started a new debate about their new goal song which has once again divided the fan base on whether or not they like it.
Wednesday's contest got me thinking of
the projections I made back in August
of what their lineup might look like. This article is a follow-up to analyze what was actually used and compare it to my guesses to determine how accurate my thoughts from nearly two months ago were.
Let's see how close I was to Sheldon Keefe's choices.
Forwards
Projections:
Bertuzzi-Matthews-Marner
Knies-Tavares-Nylander
Robertson-Domi-Jarnkrok
Lafferty-Kampf-Reaves
Extras: Holmberg
Actual Lines:
Bertuzzi-Matthews-Marner
Domi-Tavares-Nylander
Knies-Minten-Jarnkrok
Gregor-Kampf-Reaves
The only line that I correctly guessed was the top line, as it is what many suspected would be the case from the moment Tyler Bertuzzi signed with the Leafs. The trio had some moments where they were still getting accustomed to each other, but there were flashes of the offensive potential as the game went along with some great feeds and quality scoring chances. Health permitting, I think this should remain the first line for the majority of the season.
One thing I did not foresee back in August was Fraser Minten forcing his way onto the team which would result in the entire bottom nine being completely altered and that results in my other guesses being off the mark. While it is true that Matthew Knies did get some time with John Tavares and William Nylander in the latter stages of the game, Max Domi got the bulk of the minutes during the game. The actual third line was a carryover from the preseason which saw Knies and Minten develop some promising on-ice chemistry, and I think Keefe will continue to roll with it for at least the first nine games before upper management decides on where Minten should play this season.
Sam Lafferty was not present in the actual lineup because he was traded to the Canucks prior to the start of the campaign and taking his place was Noah Gregor, who earned a one-year deal after initially joining on a PTO. This iteration certainly brought some energy and kept up the momentum all game long, with a Gregor goal and a Ryan Reaves fight against Arber Xhekaj.
An unexpected development at training camp resulted in my projections not being accurate, but I think I was on the right track when it came to the forward lines. Let's hope this is the last time Nick Robertson is not present to begin the year.
Defence
Projections:
Rielly-Liljegren
McCabe-Brodie
Giordano-Klingberg
Extras: Timmins
Actual Lines:
Rielly-Brodie
McCabe-Klingberg
Giordano-Liljegren
Extras: Benoit
I was 0-3 on my guesses for the defensive pairings, even though I still have a good feeling the combinations I thought of may still be used at some point.
What I will give myself credit for was anticipating a few months back of the possibility that Keefe would reunite Morgan Rielly with TJ Brodie and that is exactly what transpired. Brodie did not have a stellar game by his standards due to two miscues by him resulting in goals against, but it's not realistic to envision that one bad night at the office will result in this pair never again being used.
Jake McCabe and John Klingberg had quite the adventurous game as well, with them too being dinged for a minus because of some mistakes they made at either end of the rink. I understand philosophically why Keefe opted for this because you have one player who can rover around the ice while the other is more steady and will usually be the first man back. They will need some more time together to work out the kinks because their Game 1 performance was not pretty.
Timothy Liljegren had a fanned pass that resulted in the puck ending up in the back of the net, but he and Mark Giordano did not look completely inept. I can't imagine that Giordano plays more than 60 games given his advanced age and the importance of keeping him fresh down the stretch, but I think this could be a pairing worth using throughout the year.
In a perfect world, Conor Timmins would have remained the seventh defenceman because he had a solid camp and had the leg up over the majority of the other blueliners in the system. Due to an injury he suffered in Montreal, he will now be missing the start of the year and Simon Benoit took his place as the spare blueliner.
Goalies
Projections:
Samsonov
Woll
Jones
Actual Lines:
Samsonov
Woll
Jones
I won't spend too much time on this section since I nailed the guesses on the goaltending tandem for the Leafs, but there are a few things worth noting.
Throughout the preseason, there were plenty of Leafs fans convinced that Martin Jones was going to get claimed when he would inevitably be placed on waivers before the start of the campaign. The fact he cleared is certainly a good sign that Toronto will have a decent option to come up in a pinch should the two primary goalies get hurt since Jones has plenty of NHL experience and is fresh off a 27-win season last year.
Ilya Samsonov did not look great in the season opener and the Leafs won in spite of him and not because. A weak showing on opening night will not make or break your year, but Toronto will certainly need more from their starter given the defence in front of him did not do him any favours. If not, then they will have to turn to the promising Joseph Woll who is in his first full season at the NHL level.
Special Teams
Power-Play Lines Projections:
Matthews-Tavares-Nylander
Rielly-Marner
Knies-Domi-Bertuzzi
Klingberg-Giordano
Actual Power-Play Lines: 
Nylander-Tavares-Matthews
Klingberg-Marner
Jarnkrok-Domi-Bertuzzi
Rielly-Liljegren
This is one of the few times where I am happy to have been dead wrong in my projections. Good on Keefe for not repeating the mistakes Mike Babcock made with Tyson Barrie during the 2019-20 season where the offensive defenceman was not put in a position to succeed.
Klingberg's presence on the man advantage was a godsend and changes the dynamic of the top unit in a big way. He was moving the puck well, made crisp passes, and felt comfortable letting it rip on occasion. That high offensive IQ was on full display when he set up a William Nylander power-play tally late in the second period, showing the potential for what the unit can do once the chemistry is worked out.
Rielly is certainly going to have a less productive season as a result of his demotion to the second unit but I still think there will be times throughout the season where he ends up back with the big four. At the very least, he should help elevate the unit even if it will have a revolving cast of players utilized there.
The power-play has long been a strength of this iteration of the team and early indications show that this will continue to be the case in 2023-24.
Penalty Kill Lines Projections:
Kampf-Marner
McCabe-Brodie
Lafferty-Jarnkrok
Giordano-Rielly
Actual Penalty Kill Lines:
Kampf-Gregor
Giordano-Brodie
Matthews-Marner
McCabe-Liljegren
I was on the right track for how the penalty kill units might stack up, but once again I was not accurate with my guesses.
Matthews getting
proper reps shorthanded
is a recent revelation that the Leafs are trying in an effort to fully round out his game since he has a good stick, can take the puck away, and has the added benefit of turning the unit into a power kill alongside Mitch Marner. It's about time that they experimented with him there and could result in a few more shorthanded tallies.
It is worth noting that Minten and Calle Jarnkrok did get some penalty-killing minutes later in the game when David Kampf got an infraction. Also, Liljegren is once again getting an opportunity to establish himself as a legitimate top-four defender as he did not look out of place when killing a penalty.
Going 1/4 on the kill is not exactly a stellar showing, especially since there was a second goal allowed that was only called back due to a coach's challenge, but this section of the special teams helped keep the Leafs in it at the very least.
Summary
The risk of making lineup projections so far in advance is that there is a pretty good chance that they will not come close to matching reality and that is precisely what happened here. I may have nailed the first line and the goaltending tandem, but the rest of the guesses across the board were not precise at all.
A lot of this has to do with the surprise emergence of Minten cracking the opening night lineup, which threw their plans out the window. Had things stayed as the Leafs initially envisioned, my projections would have still been wrong because they
experimented with Nylander at third line centre
and it very much could have happened had Minten gone back to the WHL as originally planned. It is also worth noting that the additions of Guy Boucher and Mike Van Ryan behind the bench also played a factor with the lines looking a bit different than what I envisioned.
Even though my projections ended up being off the mark, it was a fun exercise trying to make an educated guess on what Keefe might have gone with to kick off the new season. There were so many elements that impacted how things actually materialized as mentioned earlier, and that makes this a tricky thing to get 100% correct.
So is there anything to take away from this endeavour? Don't come to me if you want the lottery numbers.