Maple Leafs' Muzzin unlikely to return against Hurricanes on Monday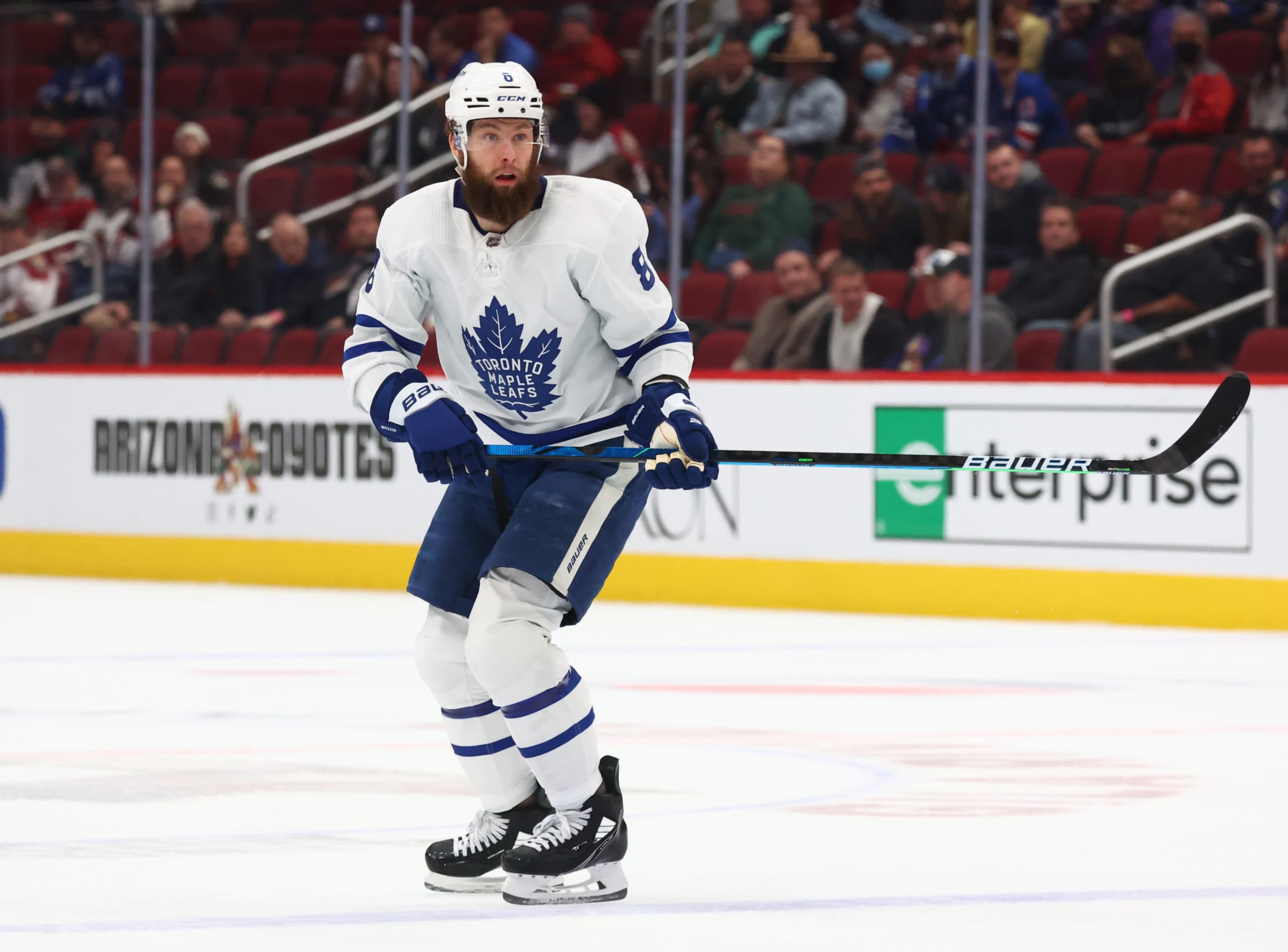 Photo credit:Mark J. Rebilas-USA TODAY Sports
Jake Muzzin was a full participant for the Toronto Maple Leafs in their first practice following the NHL All-Star break but it's unlikely the veteran defenseman will return from a concussion when the team hosts the Carolina Hurricanes on Monday.
"Given that it's only been one day here before game action, I don't know if that means he'll be available to play tomorrow," Maple Leafs head coach Sheldon Keefe said. "They [Leafs medical staff] will sort through that but regardless it's a good important step here."
Muzzin sustained a concussion stemming from a hit he received by St. Louis Blues forward Klim Kostin in the team's 6-5 victory on Jan. 15. Muzzin finished the game and took part in the team's next scheduled practice but said he didn't feel right after the session. He was diagnosed the following day with a concussion and has been out of action since.
The 32-year-old defenceman was the seventh D-man at practice, strongly indicating that the Leafs are preparing for Muzzin to miss his seventh straight game with a concussion.
"Concussions
or
head
injuries
are
a 
little
finicky
sometimes,
so
it's
been
challenging
but
it's
part
of
the
game," Muzzin said of his recovery. "It's
part
of
playing
a
physical
sport
so
hopefully,
you
know it's the
last
one."
Muzzin added he last had a head injury approximately 10 years ago but couldn't remember the exact incident.
The veteran has had to deal with a couple of interruptions this season. He was among a majority of players who had COVID-19 during an outbreak in December. When the team resumed its' season in January, Muzzin did not play the first game back on Jan. 1 vs the Ottawa Senators as both he and club worked on getting his conditioning up to speed.
The Leafs are 5-1-0 since Muzzin's injury stint, although the team's play hasn't been the smoothest during that time. Now three years removed from the trade that brought him over from the Los Angeles Kings, Muzzin's play has dropped off from previous seasons. He has a 47.1 per cent Corsi rating, a number that would mark his career-low if the season ended today.
"The
one
thing
about
Jake Muzzin is 
that,
especially
when
I
think
people
start
to
count
him
out,
or
people
think
that
he
looks
like
he's
starting
to
fade, is that h
e's
very
competitive
and
he
has
a
lot
of
pride and h
e's
able
to
find
his
way
back," Maple Leafs GM Kyle Dubas said of Muzzin. "I think the type of time off, getting himself healthy and resetting himself on the ice, I think you'll see him come back and

be

back closer what we all expect and the form that he's capable of."
Muzzin has a goal and 11 assists in 35 games this season.
Mrazek starts against Hurricanes
Petr Mrazek will get the nod in goal when the Maple Leafs take on the Hurricanes in what will likely be Frederik Andersen's homecoming (in front of only 500 fans).
With Jack Campbell coming off his first NHL All-Star appearance and taking the net in New Jersey on back-to-back nights after Mrazek was schedule to start the latter game, Mrazek will get an immediate chance to follow up on his relief win against the Devils in Toronto Jan. 31.
"It just made a lot of sense to commit to that with Petr to get him going," Keefe said. "And it gives us an opportunity to get Jack ready for Calgary (Thursday night).