Maple Leafs patience with Timothy Liljegren paying dividends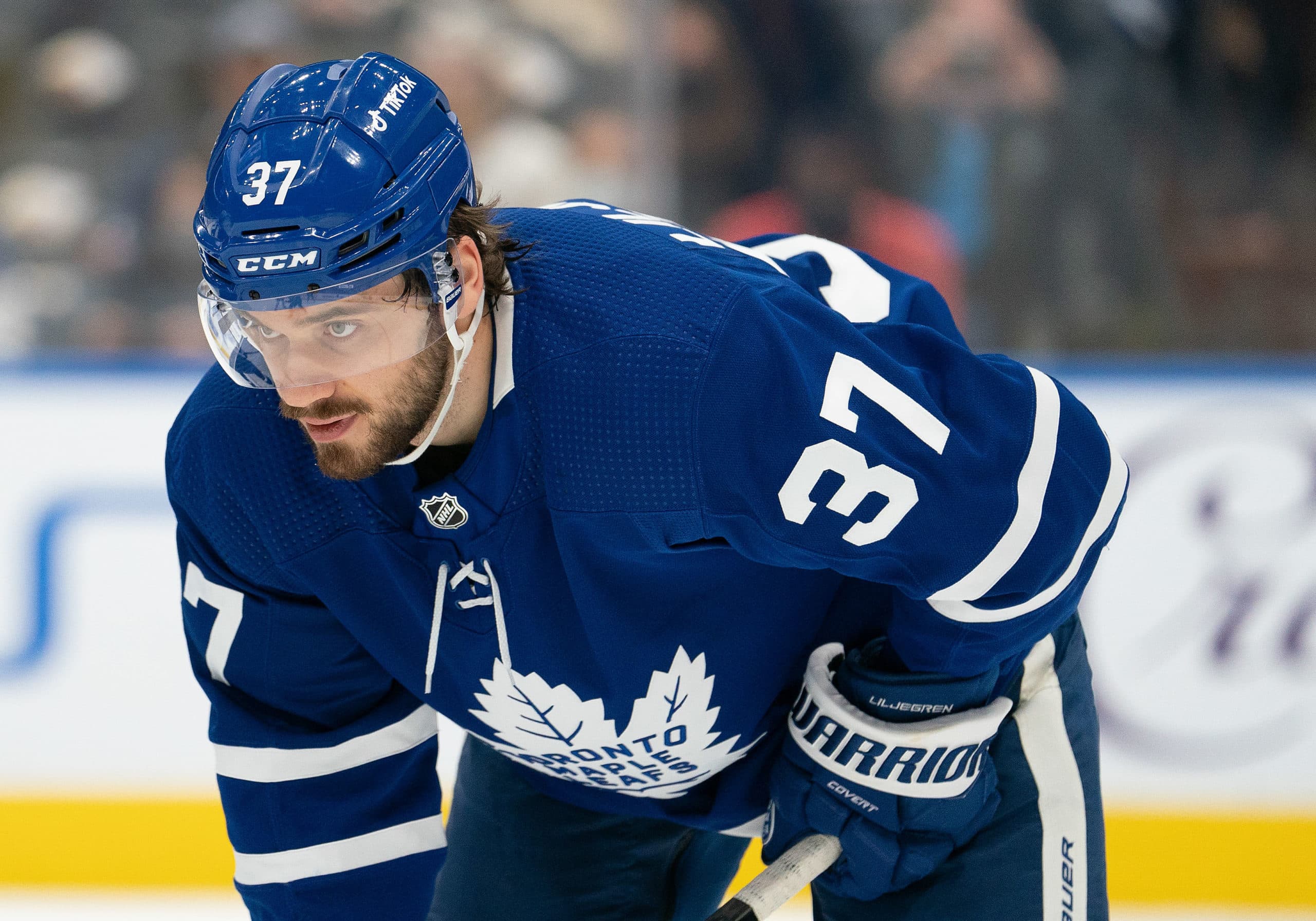 Photo credit:Nick Turchiaro-USA TODAY Sports
@Timothy Liljegren has been a revelation for the Toronto Maple Leafs this season.
After beginning the year as the seventh defenceman
, Liljegren is ending the 2021/22 campaign as the lone right-handed blueliner with a spot in the playoff lineup locked down. Five years after being drafted in the first round by the Maple Leafs, it was a step many thought Liljegren would eventually take back in 2017, but the path to doing so did not go as planned.
There's nothing quite like a classic case of prospect fatigue.
For those unfamiliar with the term, "prospect fatigue" is when a prospect has been in the limelight so long that they begin to lose their lustre and people begin to underrate or even give up on the player. There are many ways this can happen, such as a prospect that has been a focal point for such a long time that scouts begin to hyper-focus on their weaknesses rather than their many strengths (see @Jakob Chychrun in 2016) or in the case of Timothy Liljegren, a hyped prospect who takes longer to develop than anticipated and/or develops into a different style of player than originally expected.
Heading into the 2017 draft year, Liljegren was the top-rated defenceman in the draft class. To quote Bob McKenzie, "
it wasn't even close"
. In fact, Liljegren was one of just two prospects to be ranked in the top ten by all scouts that were a part of McKenzie's pre-season rankings, along with @Nolan Patrick.
After a draft year from hell in which Liljegren suffered from mononucleosis, a disappointing U18s, and a rough year with his club team, he had fallen from 2nd and a consensus top-ten pick down to 16th in McKenzie's rankings prior to the draft.
On draft day, Liljegren began to fall. The top ten picks came and went without his name called. Then the top 15 picks came and went with Liljegren yet to come off the board. Once the Calgary Flames selected @Juuso Valimaki at 16th, it was the Maple Leafs on the clock with seemingly the steal of the draft available at 17th overall. Then assistant general manager Mark Hunter announced what felt like a slam dunk selection, and Timothy Liljegren was a member of the Maple Leafs.
Crucially to the prospect fatigue that developed around Liljegren, Toronto at this time was both a fantastic landing spot in terms of their development staff to surround him with, but also a terrible destination for the lofty expectations placed on him immediately.
The Leafs were coming off of three consecutive first-round draft picks of @William Nylander, @Mitch Marner, and @Auston Matthews, a trio of picks that quickly made an impact at the NHL level. With Toronto's recent first-rounders playing an immediate role, Liljegren's previous hype as a top-two talent, and Toronto's desperate need for help on the right side of the defence, expectations for his arrival on the Maple Leafs roster got out of hand in short order.
As a pick out of Europe, Liljegren was eligible to immediately come to North America and play in the AHL, something CHL players cannot do until one or two years after they are drafted, depending on their birthday. Instead of playing two seasons in a junior league or overseas and making his AHL debut in 2019/20, Liljegren went straight to the Marlies.
Looking back, this was a great move for his development, but it also plays a major factor in the prospect fatigue so many people had with Liljegren during his four years with the Marlies. It just felt like he was so much older than he actually was because of how long he had been around.
During his time with the Marlies, his NHL projection began to change as well. Drafted as someone compared to @Erik Karlsson with expectations of being a dynamic offensive contributor and powerplay quarterback, Liljegren instead started to become a strong defensive player at the AHL level with skill in transition, but not the high octane offence that was once anticipated from him.
Without gaudy point totals in the AHL, on top of all the previous factors mentioned, it's easy to see why many got so low on Liljegren.
Going back to Toronto's acquisition of @Jake Muzzin in January 2019, a season and a half into Liljegren's time with the Marlies, it was reported by Elliotte Friedman that the Los Angeles Kings chose @Sean Durzi (who had a good offensive rookie season in 2021/22) over Liljegren in the deal,
a sentiment that was reiterated by several scouts that he spoke to.
The following year, Liljegren took a significant step with the Marlies and made his first foray into the NHL, which went less than ideal. In 11 games in 2019/20, he struggled mightily while trying to adapt to the NHL game while often paired with fellow inexperienced defenceman @Rasmus Sandin. His 43.7 per cent 5v5 Corsi-for was abysmal, as were his 36.0 per cent 5v5 expected goals-for and his -5 5v5 goal differential.
It looked like he was ready in 2019/20, but failed to perform when called upon in a smaller sample. Rather than trading him and trying to cash in on the value he had left as a prospect, the Leafs didn't give up on him. Instead, they remained patient and allowed another year with the Marlies to work on his game and build up to the NHL level.
By 2021/22, in his DY+5 season and a year away from waiver eligibility, it was time for Liljegren to put up or shut up as a member of the Leafs. And boy has he ever showed up. In 60 games this season, Liljegren has 22 points, but it's the underlying numbers that really paint the picture of his strong season.
At 5v5, he leads Toronto defencemen in Corsi-for at 55.3 per cent and has outscored opponents 55-42 for a 56.7 per cent goals-for rate which is second among Toronto defencemen.
Early in the year, Liljegren's strong results in third pair usage were sometimes dismissed due to the errors he would make every so often. Since the addition of @Mark Giordano, those errors have gone by the wayside and the duo of Giordano-Liljegren has crushed the opposition.
Looking back to the rest of the defencemen drafted in 2017, there were multiple that became NHLers faster than Liljegren, which again played into how many were down on him as a prospect. In 2020/21, there were 12 defencemen drafted in 2017 that spent a majority of the season in the NHL. Liljegren wasn't one of them.
And yet, Toronto's patience is paying dividends, as he's outperformed just about all of them in 2021/22. By Evolving Hockey's xGAR metric, Liljegren ranks third among 2017 draft class defencemen this season, only behind top five picks @Cale Makar and @Miro Heiskanen.
It took a couple of seasons longer than expected, but Timothy Liljegren is finally becoming the impact defencemen Leafs fans were hoping he would blossom into back in June 2017. Sheldon Keefe has begun to rely on Liljegren more and more as the season has gone along, to the point where an eventual spot in the top four feels much more like a "when" rather than an "if".
Prospect fatigue usually ends up in one of two ways. Either the player actually becomes a bust, or they eventually breakthrough, just with a different organization. Toronto played the long game with Timothy Liljegren, remained patient, eased him into the lineup, and they are reaping the benefits heading into a pivotal postseason.
POINTSBET IS LIVE IN ONTARIO
PointsBet Canada has officially launched in Ontario! Get a $25 free bet just for 
signing up right here!