Maple Leafs prospect Topi Niemelä signs contract extension with Kärpät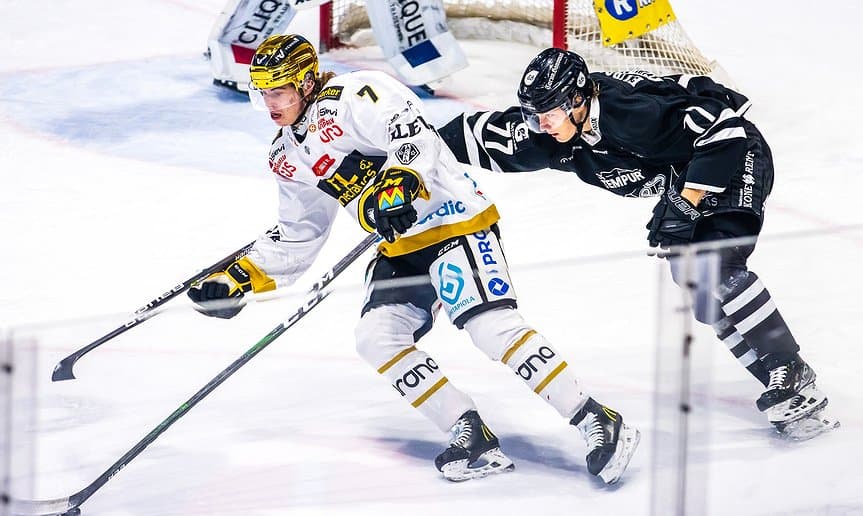 Photo credit:twitter.com/smliiga
Topi Niemelä has been steadily climbing the Leafs prospect rankings since being drafted in the third round of the 2020 NHL Draft, and with him currently suiting up for Finland in his second straight World Junior Championships in Edmonton, fans are growing increasingly excited to see him playing in North America full time. It looks as though we may be forced to wait a while longer before seeing Niemelä make the move across the Atlantic, however, with news emerging on Wednesday that he has signed a one-year contract extension with Kärpät.
Niemelä is in the midst of an outstanding season for Kärpät, currently leading all Liiga defencemen in scoring with 24 points through 31 games. He is also the league's highest-scoring U20 player, regardless of position. His exceptional play through the early part of the season has only added to the anticipation surrounding his eventual arrival in North America and though his contract extension with Kärpät pushes that arrival back a bit further, it shouldn't have much bearing on his NHL timeline.
Still just 19 years of age, Niemelä will likely suit up for the Marlies on an ATO to close out the season, depending on how deep of a run Kärpät makes in the Liiga playoffs. It is important to note that this contract extension does not prohibit Niemelä from signing an entry level contract with the Maple Leafs this offseason, which should still be considered a strong possibility. What it does mean, however, is that if Niemelä doesn't make the NHL roster out of camp next fall, he will be loaned back to Kärpät for the 2022-23 season rather than staying in North America to play for the Marlies.
Despite his stellar performance so far this season, Niemelä was always going to be a long shot at best to crack the Leafs' roster in 2022. While the Leafs would surely like to have him in their system and working with their development staff while he gains experience in the AHL, having Niemelä return to a prominent role on one of Liiga's best teams isn't a bad alternative. He already plays big minutes, including time on both special teams units, and continuing to gain experience against men in one of the top professional leagues in the world will only serve him well when he does make the transition to the AHL.
As promising as Niemelä is as a prospect, there are still areas for him to improve upon before he is a realistic candidate to play NHL games. One of the biggest things for him will be continuing to add strength as he matures physically. Niemelä is a gifted skater with great hockey sense all over the ice but he is still very raw physically and will need to bulk up in order to maximize his abilities while withstanding the rigors of North American pro hockey. He will only be 21-years-old when his new contract expires so time is still very much on the Leafs' side in terms of grooming Niemelä into an NHL defenceman and another season in Liiga was always the most likely path for Toronto's top defensive prospect.
For now, Niemelä is focused on helping guide Finland to a second straight medal at the World Juniors. Coming off Top Defenceman honors at last year's tournament and carrying that into an exceptional first half of the Liiga season, Niemelä has established himself as one of the game's brightest prospects. Leafs fans are being treated to a preview of what might be as he suits up for Finland but they'll have to wait a while longer to see Niemelä in their own Blue and White.
(Statistics from EliteProspects.com)