Maple Leafs, Reaves, Keefe drop the ball after Liljegren injury in Boston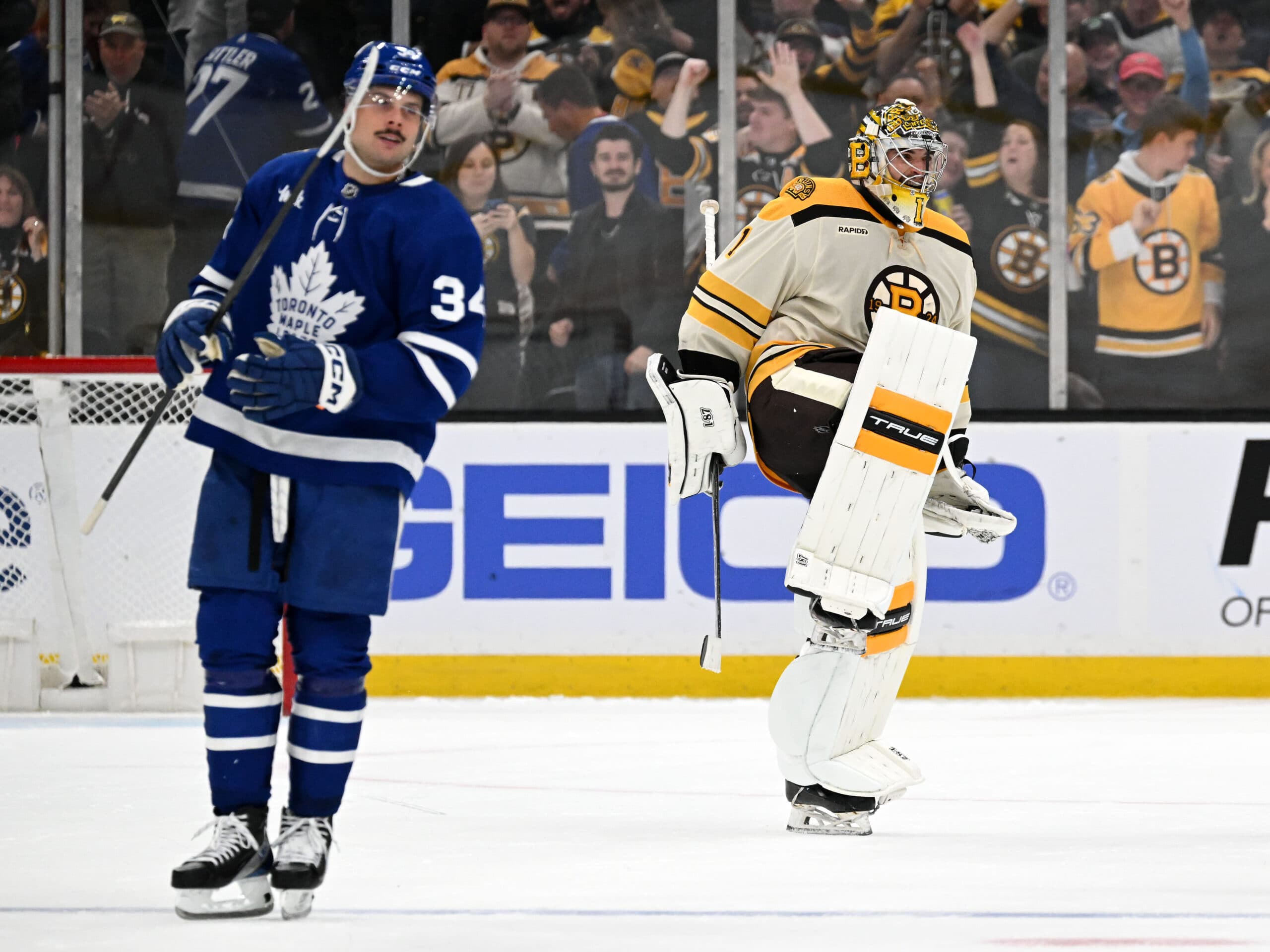 Photo credit:Brian Fluharty-USA TODAY Sports
Snot. Piss and vinegar. Team toughness. All words that we've heard thrown around as things the Toronto Maple Leafs need, and all far too much to ask for, apparently.  
When the Leafs signed Ryan Reaves to a three-year contract with an average annual value of $1.3 million, I wasn't too high on it. The role of the enforcer is slowly dying out, and we've seen the Maple Leafs run a multitude of players in that role (Matt Martin, Wayne Simmonds, Kyle Clifford to name a few). None of them single-handedly planted a seed of team toughness, so I wasn't confident that a 36-year-old Reaves was going to be the first to do so. 
That said, I was willing to give the signing a chance due to the sole fact that you nor I are in the Maple Leafs' dressing room, so it's impossible for us to know the full extent of his value. Hell, Minnesota Wild GM Bill Guerin said that he traded for Reaves almost because of his ability to bring a team together alone. He's had the respect of his teammates everywhere he's been, so who knows? Maybe he does have a leg up on the rest of those enforcers the Leafs previously tried.
I held this belief for the first two games, and that's about it. Of course, Reaves fought Montreal Canadiens' defenceman Arber Xhekaj in the home opener, and fought Marcus Foligno the following game against the Wild. Since then, there's been a lack of fights and a whole lot more getting caved in the defensive zone. And honestly? I didn't really think it was an issue until Thursday night in Boston. Anybody who expected him to fight every single night was going to be disappointed immediately.
Thursday was different though. Right at the end of the first period, Timothy Liljegren and Brad Marchand went into the corner to battle for a puck. Marchand, being the greasy player he's spent his career building his brand around, got his stick in between Liljegren's legs and took his left foot out from under him. The defenceman had to leave the game and didn't return, with his postgame prognosis on the injury being "significant".
And, to the surprise of nobody, none of the Leafs on the ice went after Marchand. 
Okay, whatever. Fast play, maybe it looked like an unfortunate collision at first. But upon watching the replay, you can clearly see Marchand hit Liljegren with the can-opener on their way into the boards. Now they can see what happened, and with one minute left in the period and Reaves on the bench chirping away at Marchand, there's a clear opportunity here for him to step up and show the Bruins that the Leafs are not to be messed around with. 
Nope, still nothing. But hey, 40 minutes left in the game, surely they can make a statement at some point? Spoiler: They didn't.
Actually, I lied. One player actually did do something, and it was John Klingberg of all players. Later in the game, he decked Marchand in the corner and jawed at him afterwards. As much as I appreciate that and I'm sure his teammates did too, the Leafs shouldn't be depending on the services of Klingberg to throw the body around and send a message.
Ask your common, everyday Leafs fan, and when it comes to the topic of toughness, nobody expects them to be the reincarnation of the Broad Street Bullies, dropping the gloves every game. All they want is for the players on their favourite hockey team to stand up for each other. In last year's playoffs, we saw Morgan Rielly lay a clean hit on Tampa Bay forward Brayden Point. Not a dirty play, but with Point in pain on the ice, all five Lightning players jumped into the scrum to defend their teammate. No, it wasn't a full on bench brawl, but it's not about the level of physical damage you do. It's about the message you send; don't mess with our guys. The Leafs had the opportunity to do that last night, and they didn't. 
With Brad Treliving coming in to replace Kyle Dubas, the need for the aforementioned snot, piss, and vinegar was one of the first things he cited. Heading into this season, Reaves had a reputation as one of the biggest tough guys in the NHL. I refuse to believe that he just lost that edge after game 2.
I understand that if you send Reaves after Marchand the shift after that play, you're asking for an instigator penalty, and with the Leafs down by one to a team that's yet to lose in regulation, you probably don't want to take that penalty. But they wound up scoring not long into the second period anyways, and it was only AFTER that shift when he came onto the ice. 
Here's the reality of the situation – if you're going to have Reaves signed to a three-year deal, knowing full well that the majority of the value is going to come in the form of energizing your locker room and standing up for your teammates, you need to be on the same page as the coach. Because, so far, it seems like the message has been lost.
The Leafs' fourth line has been awful all season, which is an issue, but a manageable one. Understandably, the fourth line doesn't get a lot of ice time, with Reaves specifically carrying an average time-on-ice (TOI) of 7:49. The answer here is not to play him more. But in his limited minutes, he should be used specifically in situations where he can make the impact he was brought in to make. The Leafs have a young and vibrant enough team that they can afford to lose him for five minutes at a time and run 11 forwards without getting fatigued. 
Right now, they're not doing that. They're using him for routine fourth line shifts every game, but that's it. He goes out, lays a few hits, and the line typically gets hemmed in their own zone. If they were looking to get that without the intimidation factor, they probably could have re-signed Zach Aston-Reese to a cheap deal. Or hung onto Sam Lafferty. 
I was willing to overlook the lack of physical action after those first two games. Creating drama for the sake of creating drama isn't the way to go. But when you're playing the best team in the league, who also happen to be a rival, and their star player injures your young defenceman, that's the time to step up. It's great that his teammates like him, but the Leafs can't be spending $1.3 million on vibes and vibes alone. That's the time to earn your contract, and send a message to a team that's handled you over the past decade that the days of being walked all over are done.
But alas, they didn't, and here we are again talking about what it'll take for the Leafs to give a damn about each other when stuff like that happens. 
I don't know if this is a Keefe issue, a Reaves issue, a Treliving issue, or a disconnect between some combination of those three. But, when you bring in an aging enforcer to do one specific job, you need to make sure he's being utilized to do that one specific thing. And so far, it's just been more of the same.