Maple Leafs making the right call by bringing back Sheldon Keefe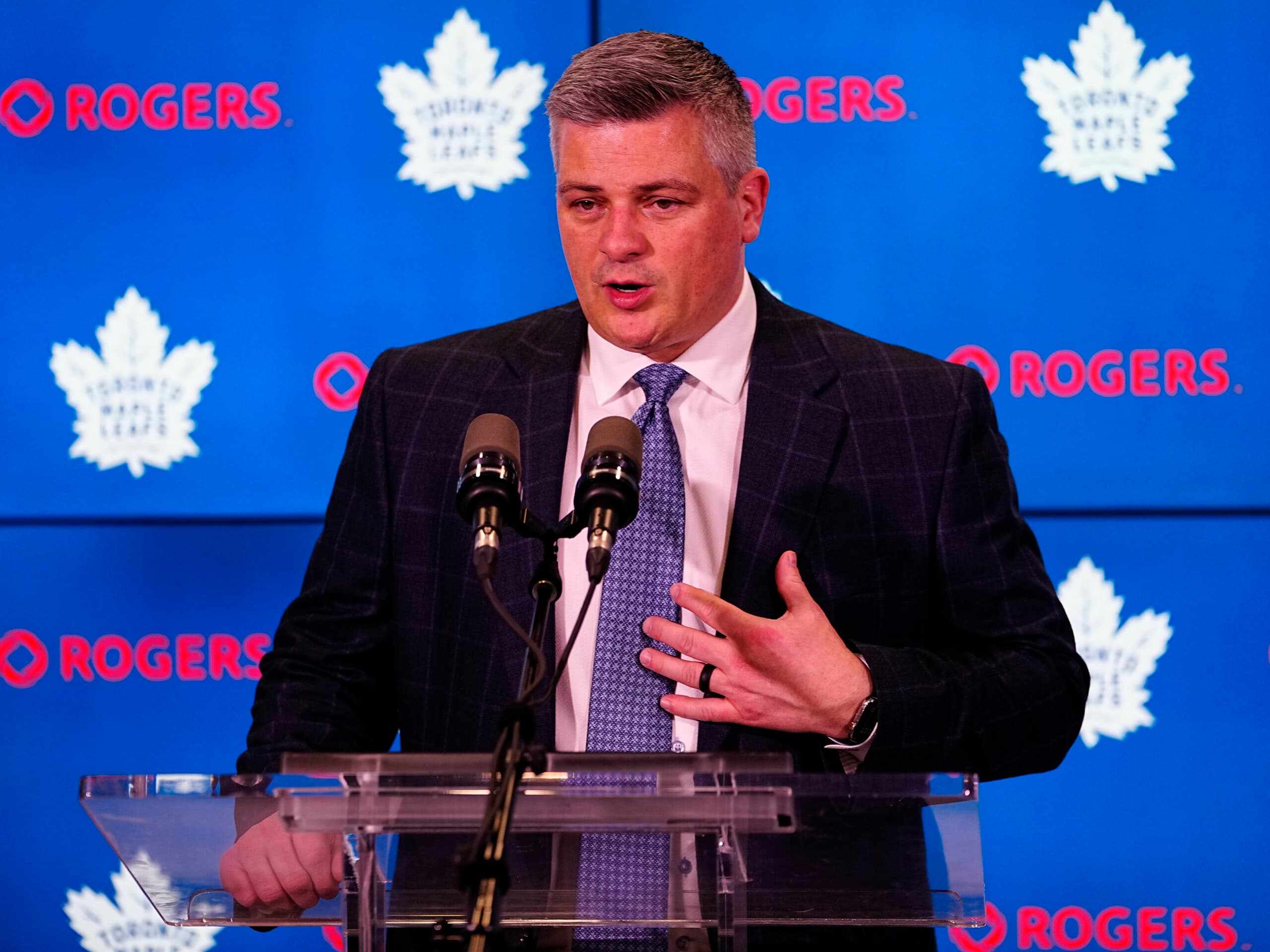 Photo credit:John E. Sokolowski-USA TODAY Sports
According to
Elliotte Friedman via 32 Thoughts podcast
, the Toronto Maple Leafs are bringing back Sheldon Keefe as head coach for the 2023-24 season. Keefe has been busy of late, working with new
general manager Brad Treliving
on the recruitment process for the team's vacant assistant coach position. While they work through the latest batch of interviews, it's great to see Treliving and company getting it right by having the team's bench boss return next season.
Keefe is a great coach who has a strong ability to connect to his players. Being an ex-NHL player, Keefe has the ability to relate and communicate very effectively to his group. He was an in-your-face grinder in the show after putting up monster numbers in junior and any of his coach's will tell you nobody on the ice wanted it more or worked harder. Keefe's shown since day one he's a winner and the start of his coaching career has brought historic success.
Since joining the Leafs, Keefe has posted a record of 166-71-30 (.678) in four seasons. Yes, just one playoff-series win to this point but the team proved last season they are making progress and getting close to being a Stanley Cup contender.
Keefe's Return Brings Needed Stability
Needless to say, the firing of Kyle Dubas this summer brought some shockwaves throughout the Maple Leafs' organization. The rumors went wild and it seemed like any and everything was happening at once, including some wild talk of trading one of
Auston Matthews
or Mitch Marner. Bringing Keefe back should help ease the tension of the unknown in the Maple Leafs' dressing room and while he'll be on a short leash, at least he's been given a crack to keep pushing this core forward.
Keefe Needs to Find Line Chemistry Early
One of the biggest faults of Keefe's coaching strategy is the fact he's open to changes. While switching things up before or during a game can spark some offense or get a couple of players going, last season the Maple Leafs coach got in his own way too many times with tweaks.
It's going to be important for Toronto's bench boss to find some trios that are working well and run with them. There's no way a team should be looking to find line chemistry in the middle of the second round of the Stanley Cup Playoffs. Keefe needs to look at the team's past and understand that
Mike Babcock was fired
, for a number of reasons, but one big one was how much he got in his own way. The team's second-round playoff loss thanks to the Florida Panthers needs to be a giant lesson for Keefe and the entire coaching staff next season.
For what it's worth, Matthews and Marner should play together on the team's top line and William Nylander and John Tavares should play together on the second line. Mix in Matthew Knies where you like there but it's going to be important for the Leafs to stick to the script a little bit more next season. Matthews prefers to play with Marner and Calle Jarnkrok, so why not start the three together and give them some head way? Remember back when Pittsburgh Penguins captain Sidney Crosby wanted to play with Chris Kunitz and Pascal Dupuis, so the Pens coach at the time let it happen? They went on to win the Stanley Cup. Sometimes listening to the wants and needs of the players can go a long way.
It's also worth noting the bottom six of the Maple Leafs will
look much different next season
. Again, training camp will be huge to create a new shut-down unit for the third line. Chemistry again, so important for success. The regular season is a marathon, not a sprint, it will be important for Toronto's coach to understand which lane he's supposed to be running in.
Contract Extension Likely Comes Next
One of the biggest reasons there was so much attention on Keefe returning to the hockey team this summer was because he's entering the final season of his contract. No coach likes to be a sitting-duck coach, just ask Bruce Boudreau.
Keefe and Treliving have appeared to hit it off from all accounts this offseason and expect to see a short-term contract extension coming the coach's way. Two or three years to create a security blanket for the Leafs' coach, who will no longer have to answer or address any questions regarding his future.
The Maple Leafs are 100% making the right call here. Of any NHL coach who has coached more than 250 career games, Keefe has the best winning percentage in league history. Better than Scotty Bowman, Jon Cooper and Bruce Cassidy, to name a few. He belongs in the league. And, he belongs behind the Maple Leafs' bench.