Maple Leafs "ROR back" to take series lead in Tampa Bay: Maple Leafs postgame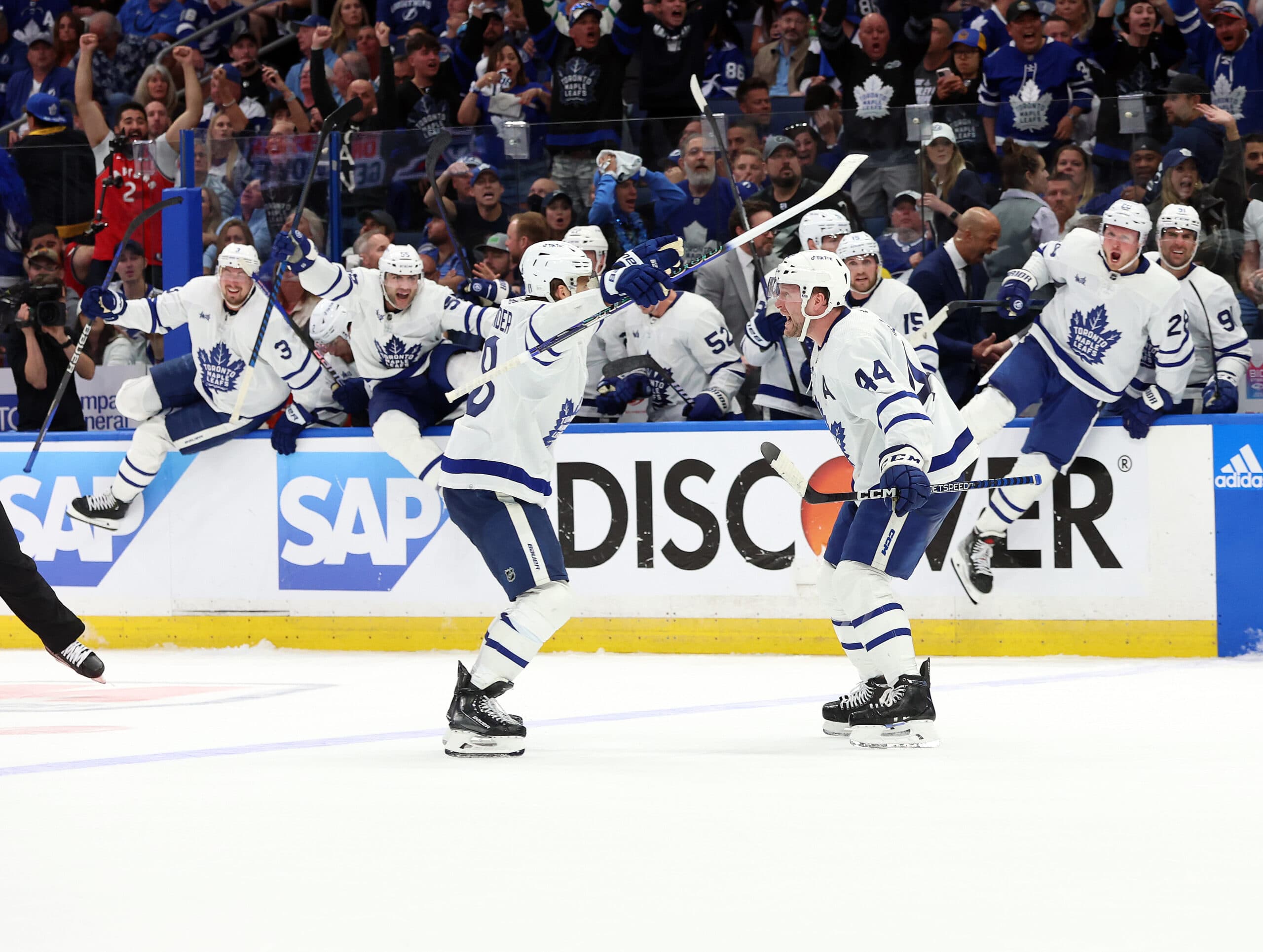 Photo credit:Kim Klement-USA TODAY Sports
After a very impressive bounce-back game for Toronto in game two, the series shifted down south to Tampa Bay for game three, and the Maple Leafs were looking to bring that momentum from game two into game three against a very good home team in the Tampa Bay Lightning.
Heading into game three, there was a strong chance defenseman Victor Hedman would return to the Lightning lineup after missing game two with an undisclosed injury, and that's exactly what he did. A much-needed addition to Tampa Bay's lineup after losing 7-2 without him in the lineup.
Anyways, let's talk about the game that went down last night.
First 20 minutes:
In games one and two, the opening goal was scored within the first minute and a half, and that same trend somewhat continued tonight as Toronto's third line opened the scoring just three and a half minutes into the first period. A 3 on 1 for Knies, O'Reilly and Acciari resulted in Acciari's first of the playoffs as he beat Vasilevskiy to give Toronto a 1-0 lead. Matthew Knies also registered his first career playoff point on the goal.
From there it was kind of a back-and-forth first period until the final buzzer went to end the first 20 minutes. Tampa Bay tied the game not long after with an Anthony Cirelli goal, Auston Matthews then tipped home his first of the series from a Mitch Marner one-timer and with just seconds remaining in the period, Tampa Bay, yet again, scored a late-period goal which tied the game at two.
Last 40 minutes:
The next goal didn't come until over halfway through the second period when Darren Raddysh beat Ilya Samsonov after absorbing a hit behind the net from Jake McCabe which gave the Lightning the 3-2 lead, and from that moment until almost the end of the third period, it honestly felt like Tampa Bay was going to take the 2-1 series lead.
However, that's when the Maple Leafs decided that they weren't going down without a fight. With Samsonov pulled, the Leafs had the extra attacker on the ice and with exactly a minute left on the clock, William Nylander threw the puck on the net and Ryan O'Reilly cleaned up the rebound in front to tie the game at three to force overtime.
That wasn't Toronto's cleanest final 40 minutes of play, but they stuck around and tied the game late to force overtime and once that puck drops in overtime, anything can happen, of course.
Overtime period:
In overtime, it was more so of the same stuff from the previous 40 minutes. The Lightning were outplaying the Maple Leafs and Toronto couldn't generate much, let alone anything. However, as they did in regulation, they bent but didn't break, and with an offensive zone face-off for the Maple Leafs, O'Reilly won it cleanly to Morgan Rielly who then fired it on the net and beat Vasilevskiy short side to give Toronto the comeback victory in overtime and the 2-1 series lead!
What went right:
Not a lot went right for the Maple Leafs in last night's game if I'm being honest and I think everyone else can agree with that. However, one thing that did go right was the fact that the Maple Leafs bent but didn't break and they hung around all game despite being outplayed and found a way to pick up the win in overtime.
Without Samsonov in the final 40 minutes of regulation and in overtime, who knows what the score of the game ends up being? He made some huge saves for his team in moments where I, and I bet a bunch of others probably thought the game was over given how Toronto was playing.
After the third goal he gave up to Raddysh, Samsonov stood on his head and went toe to toe with arguably the best goalie in the world, Andrei Vasilevskiy. This was a game Toronto usually loses, and usually, it's Toronto who outplays their opponent but finds a way to lose in overtime, but this time around, their goalie stole the game and gave his team a chance to win and that's exactly what they did.
What went wrong:
Basically, the only thing that went wrong for Toronto in game three was how sloppy they were for almost the entire game. It felt like they were constantly hemmed in their own zone, making sloppy breakout passes, not generating a ton of chances throughout the first 40 minutes and just all around not looking as crisp and clean as they did when they won game two at home.
As I said earlier, despite being outplayed, they hung around all game long because of their goalie and found a way to not only tie the game late in regulation to force overtime but also win in overtime to give themselves the 2-1 series lead.
Who stood out:
There are actually quite a few players that stood out to me in last night's thrilling 4-3 overtime win. For starters, although he let in some questionable goals, without Ilya Samsonov standing on his head after Tampa Bay scored to make it 3-2, that game could've easily gone downhill for Toronto fast.
Ryan O'Reilly was also somebody that stood out in a massive way for this Maple Leafs team. His three-point night helped propel Toronto to the win and without him, who knows if they tie this game late to even force overtime? He buried a rebound with a minute left to tie the game at three and then he wins the face-off in overtime to feed Rielly for the game-winning goal.
But it's not just the points that impressed me tonight. He battled along the walls all night long winning puck battles and trying to set his teammates up with the puck. He also blocked a shot late in regulation with literally no time left on the clock after he tied the game just seconds prior. He is literally the definition of a playoff player, and I think Noel Acciari agrees with me too.
Of course, we can't leave out the player who scored the game-winning goal in overtime. Morgan Rielly became the first Maple Leafs defenseman in 20 years to score an overtime goal. The last to do so was Tomas Kaberle in the Eastern Conference Quarterfinals in game three back in 2003.
Although Rielly jumped up in the rush a lot and a forward had to cover him, and the Lightning came close to scoring, that was a massive goal for Rielly. He was also involved in some rough stuff in the third period when Point went into the boards hard and awkwardly and the Lightning players jumped Rielly.
Some other players that stood out to me were Auston Matthews who not only scored his first goal of the series but also had his first-ever fight and also registered five hits in the game which is only less than Acciari (9), McCabe (6), Aston-Reese (6) and Schenn (6).
Some others were players that didn't appear on the scorehseet, but they did their job on the ice and that was playing with a physical presence and blocking shots. A lot of Leafs have stood up to the challenge of playing a physical brand of hockey against a physical team like the Lightning.
The hits last night were 62-61 in Toronto's favour, when was the last time you saw that? Through three games, the hits are 153-145 in favour of Tampa Bay. Toronto outhit them in games one and three, but Tampa Bay outhit Toronto by 12 in game two and given they were losing by five, it makes sense why they were running around late in the game.
Highlight of the night:
The highlight of the night is without a doubt Ryan O'Reilly's game-tying goal with a minute left in regulation to force overtime and of course, Morgan Rielly's overtime winner with under a minute left on the clock.
Two massive goals that without them, give the series a totally different look.
The Maple Leafs and Lightning will battle it out on the ice in game four of the series Monday night in Tampa Bay. The puck drop is scheduled for 7:30 pm ET on Sportsnet, and the Maple Leafs will be looking to grab another win on the road.