Maple Leafs open up more salary cap space after placing Jake Muzzin on Long Term Injured Reserve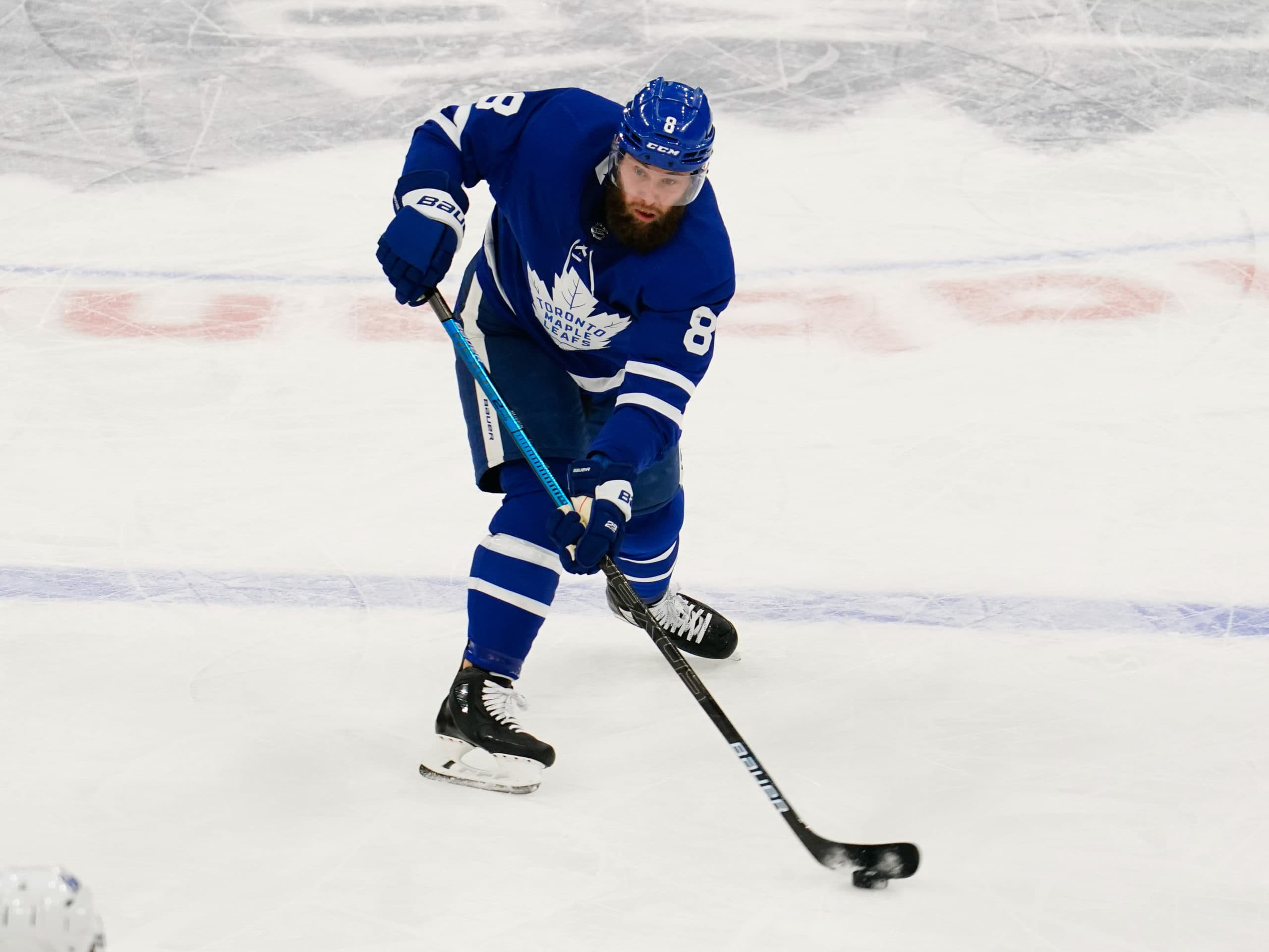 Photo credit:John E. Sokolowski-USA TODAY Sports
Shortly before the Toronto Maple Leafs fell to the Columbus Blue Jackets 4-3 in overtime on Tuesday, Head coach Sheldon Keefe confirmed that Jake Muzzin was in concussion protocol for the second time in just over a month.
"We'll be patient with that of course," Keefe said of Muzzin. "All things considered, it was a positive day for him."
Muzzin didn't travel with the club to Columbus and went home on Tuesday after getting some tests completed at a Montreal-area hospital. The Leafs will tread cautiously with Muzzin as he recovers, given that he had just come back from a previous concussion injury this month.
Muzzin is not expected to return anytime soon and the club began to mobilize their situation by placing the veteran forward on long-term injured reserve on Wednesday. The player will be required to miss at least 10 games and 24 days, beginning from the first day he didn't play (Tuesday against the Blue Jackets is both Day 1 and Game 1).
News of Muzzin moving to the long-term injured reserve was first reported by
Capfriendly.com.
The Leafs made some some paper moves that set the stage for the Leafs to maximize Jake Muzzin's $5.625 million salary-cap hit.
Defencemen Brennan Menell and Kristian Rubins were called up by the Maple Leafs and Rasmus Sandin was sent down. The paper transactions (neither are expected to play) allowed for the club to reduce their remaining salary cap space by approximately $207,000.
The move today allowed for the Leafs to have a projected cap space of $9,706 according to
PuckPedia.com
. When electing to shift from a daily salary cap accrual method to a long-term injury exception method, that first move to get into LTIR is crucial to establishing a deep pool.
Now that the Leafs pulled the trigger on moving Muzzin to the long-term injured reserve, getting the above-mentioned number as close to zero was the most desirable, as that maximized getting the most of Muzzin's $5.625 million cap hit in exception space.
That first move set the stage for the LTIR 'pool'. Any subsequent LTIR moves that would follow just get added once you are already in the pool.
You're seeing teams take a dip in the pool now more than ever in a flat-cap world. But manoeuvering to get that pool to its deepest is what  the Leafs did to ensure they got the most out of Muzzin's cap hit.
A fully healthy Maple Leafs were on track to add somewhere in the ballpark of $1 million with the way their roster was constructed before today. When the club pulled the trigger on moving Muzzin to LTIR, that number increased by another $5 million. That gives the Leafs plenty of room to build on their roster before the playoffs.
The hardest part for Muzzin will be not playing.
A guy who prides himself on his physical play, Muzzin never made any excuses for his performance this season, despite some glaring mistakes at times. Now he has to step away for a while, which can be difficult for any player.
"I think it gets lonely at times because you're just kind of sitting some days and you're not feeling great and you just have to be yourself and be in quiet spots," Mitch Marner said of Muzzin's injury. "It's a scary thing to see that, you don't wish upon anyone, especially someone you're close with."
While the Leafs take care of things on the ice and in the front office, the most important thing here is Muzzin's health. Everybody handles concussions in different ways and two in a short period of time is not something to be taken lightly.
Muzzin was hurt on Monday when he was involved in a collision with Montreal Canadiens defenceman Chris Wideman on Monday night. Muzzin laid motionless on the ice for several moments, before he got up on his own power and skated off to the dressing room.
Earlier this month, he came back from concussion he suffered after a hit to the head by St. Louis Blues forward Klim Kostin on Jan. 15.
Muzzin has two goals and 12 points in 41 games this season.