Maple Leafs should be one of the teams inquiring about Jesper Bratt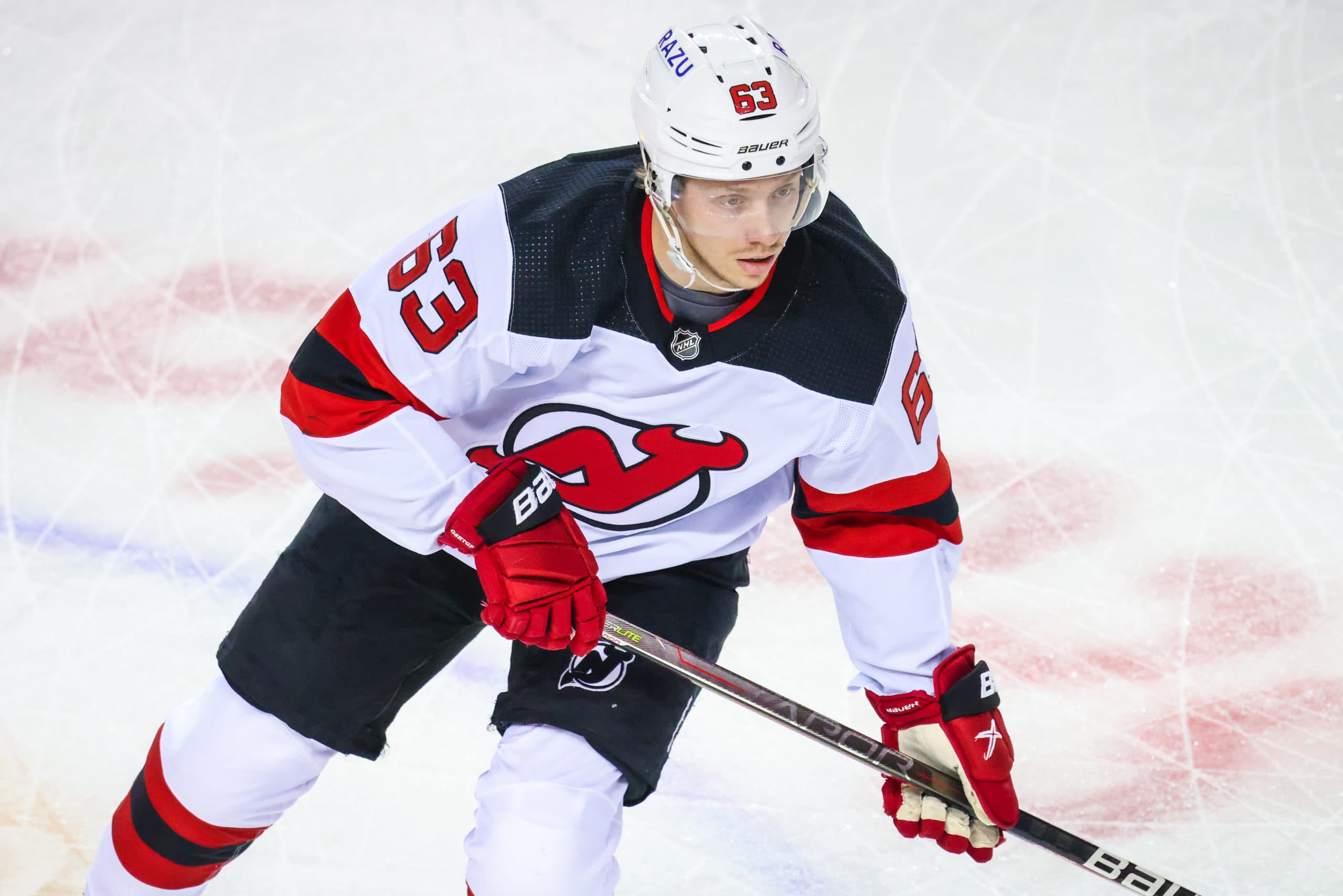 Photo credit:Sergei Belski-USA TODAY Sports
We've looked at a number of UFAs, trade targets, and RFAs that the Maple Leafs should look into this summer, but another player has emerged from the darkness.
The name — Jesper Bratt.
From Seravalli's article on Bratt:

Scoop: Admittedly, Bratt is a bit of a perplexing name on the board. GM Tom Fitzgerald said after the season Bratt is a big part of New Jersey's future. Makes sense. He is a heck of a player. He's young. He's worked his way to become a point-per-game guy from a sixth-round pick. On the other hand, sources indicated Bratt was available at the deadline last spring. To my knowledge, there have been no contract extension talks to this point for what will be an expensive deal. Add in Fitzgerald's mandate to find "hard skill" this summer, and well, it makes you wonder.
Almost 24 hours later, ESPN's Kevin Weekes joined Seravalli in saying Bratt hasn't had any substantial contract negotiations with New Jersey and that a number of teams have inquired about the 23-year-old.
If you don't know much about Bratt, well, let's get you informed very quickly about the rising star. He was drafted in the sixth round back in 2016 and has always shown signs that he can be a productive player. Yet, the points haven't always been there for him.
That was until this season where Bratt had 26 goals and 47 assists for 73 points in 76 games played. The 23-year-old had 13 more points than Nico Hischier, who was second on the Devils in scoring. Not to mention that Bratt did this on one of the worst teams in the NHL this season.
It wasn't just points that he led the Devils in either. The 23-year-old had a 53.89 CF%, a 53.57 GF%, a 56.86 xGF%, and a 59.06 HDCF% — leading New Jersey in each category at five-on-five among skaters who've played 200+ minutes.
One of the reasons why I think he'd be a good fit with Toronto is because they need a left-winger for their second line. And what better way of getting one than an almost point-per-game player who's only 23?
Bratt will be 24 by the beginning of next season, and if the Maple Leafs want him, they better go in quick. His qualifying offer is $3.3 million and he's arbitration-eligible meaning if Bratt doesn't like the number, an arbitrator will come in, listen to both sides, and pick a price tag.
The good part about this case is that he's worth much more than $3.3 million, if in fact he is a true point-per-game player. Not to mention, if the arbitrator was to award Bratt more than $4,538,958 on a one-year deal and Toronto didn't like it, they can just walk away from the player and let him go to free agency.
I don't like the idea of him hitting the open market if they traded for him, though. If any team is looking to qualify him, they have until July 11th to do so.
It's an interesting low-risk move for the Maple Leafs because at this point, they'd just have to trade for his negotiation rights. And although he's a seemingly great player, the rights can't go for as much as he'd cost already signed.
The end question, though, is does Toronto have enough cap space to bring Bratt in? I'm not sure they do unless GM Kyle Dubas is shipping out someone with a significant cap hit, like Alexander Kerfoot. Even then, I'd say there's still a bit more wiggle room needed.
This is me spit-balling but would you trade Kerfoot to the Devils in exchange for the negotiation rights of Bratt? It's interesting.
I'd be okay with them making that trade because it allows you to get the $3.5 million cap hit of Kerfoot off the books, while in turn trying to lock in a player like Bratt. Although he did have a great season, the 23-year-old hasn't proven that he can do it consistently and that's where I believe Toronto might have the upper hand.
Nevertheless, he's likely going to command a lot and New Jersey might too for his rights. But what do you think — should the Maple Leafs at least test the waters with Bratt?
(Statistics via NaturalStatTrick.com and contract values via PuckPedia.com)