The Leafs should check in on Patrick Kane's price tag, but would it be worth it?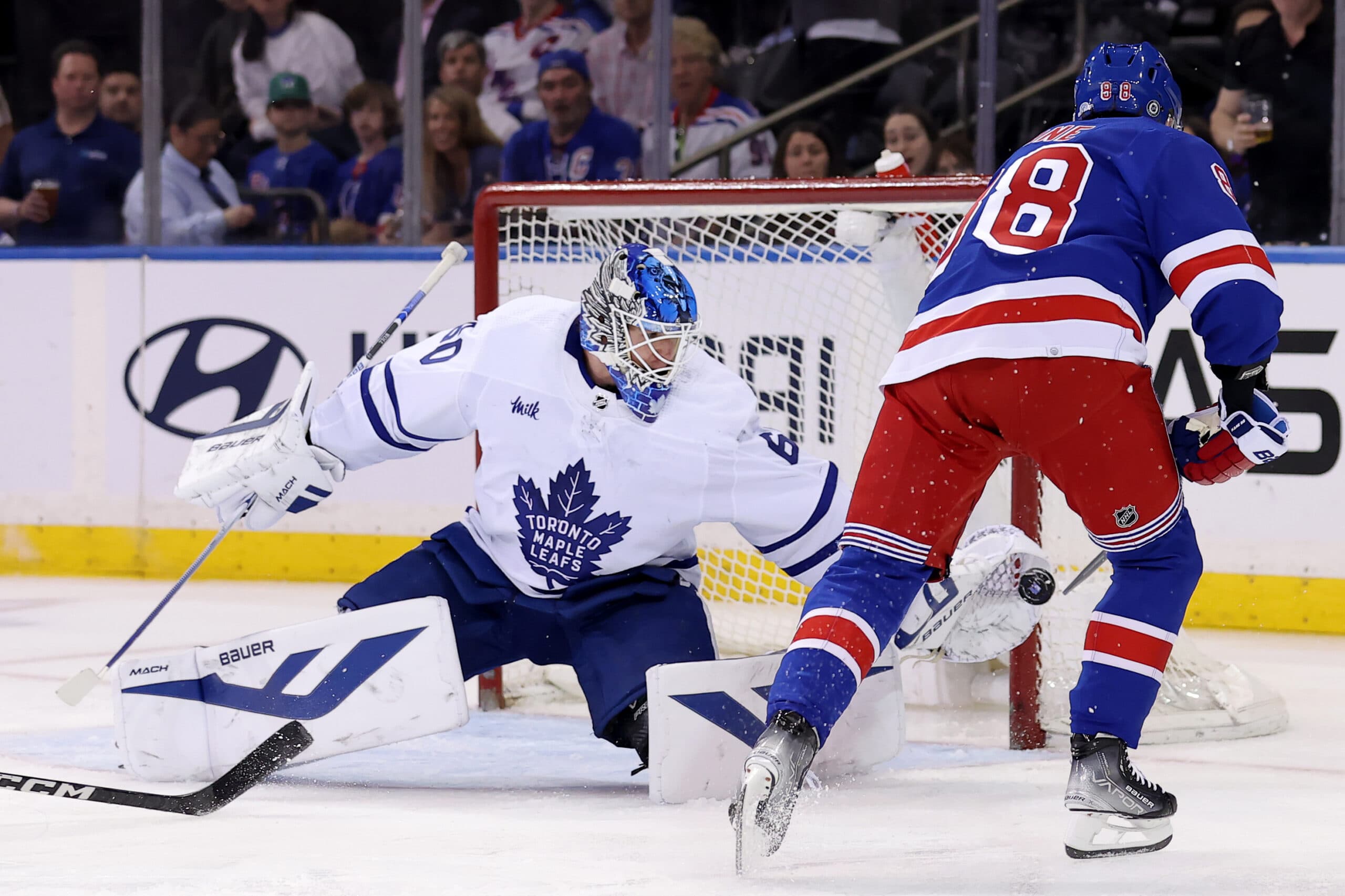 Photo credit:Brad Penner-USA TODAY Sports
Patrick Kane is a free agent, he's almost at 100% healthy and he's ready to get back to the grind of an NHL season.
The former Chicago Blackhawks legend turned New York Ranger has been putting in work to rehab his surgically repaired hip. Kane's excited about the progress he's made this summer after being under the knife back on June 1.
When it comes to the Toronto Maple Leafs,
general manager Brad Treliving
should at least be making one phone call to see what Kane is looking for on his next contract. At 34 years old, it likely won't be more than a two-year deal, something the Maple Leafs GM should at least be kicking tires on.
Maple Leafs Could Use Another LW
One area of concern heading into the 2023-24 season is left-wing depth. The Leafs are relying heavily on
Tyler Bertuzzi
and Matthew Knies to carry the load in the top six, meanwhile the likes of Nick Robertson and potentially
Max Domi
could have themselves penciled in on the third line left side.
Adding Kane would help ensure Knies starts the season on the team's third line and would give the Leafs a chance to balance out the top-nine very nicely. Imagine Kane, Auston Matthews and Mitch Marner playing together all season with Bertuzzi with John Tavares and William Nylander. Talk about the best top-six in the league…
Kane also played a lot with Domi last season in Chicago so there's some familiarity there, however to me, it would make the most sense starting him off with Matthews and Marner. It could make for some must-see TV.
Adding Kane Means Somebody Goes
Yes, as per usual, the Maple Leafs are up against the cap. They have to already juggle some things around to potentially go with a 11F/7D lineup for opening night. Adding Kane would complicate things even more and it's very likely a trade would need to take place to make it happen.
Is this something Treliving wants to do? Likely not as it would potentially be a defencemen like TJ Brodie or Timothy Liljegren or forwards like Calle Jarnkrok or Sam Lafferty who would need to be moved. Not impossible, but talk about a risk moving out a depth piece that creates another hole, just to add an aging Kane who didn't look like himself at times with the Rangers.
This is where the wildcard comes into play. Kane was hurt, he was playing through pain and he needed to have surgery. Repairs are complete, now what to expect? 12 points in 17 games with the Rangers kind-of-production, or the old Kane, who can be a game-changer and rack up 92 points in 78 games like he pulled off with the 'Hawks back in 2021-22?
It's by no means the perfect fit for the Leafs, but at this point, there's really no such thing considering the salary cap implications.
Kane Holds All the Cards
There's no doubt the Maple Leafs would look even scarier heading into next season with Kane in their lineup, but his contract demands mean everything. He won't be asking for $10.5 million like his last deal, but he's also likely not going to accept a $1-$2-million average annual value on his next deal. The American star winger is holding all the cards to his future in the palm of his hands.
"It's just exciting to see progression and just feeling better on the ice. Kind of getting back to my old self, so it's pretty exciting. If someone wanted to come and give an offer that I was excited about, and a situation that I'm excited about, it's not like I wouldn't be listening just because of the situation I'm in. I think we're at the point now where, I mean, could I come back early? Yeah, probably. But does it make sense? You know, it might be better to take the full time and just make sure I'm at 105-110% instead of just 90-95. But it's a lot better than I was last year."
Two teams to keep an eye on are the Detroit Red Wings and Buffalo Sabres. They both have over $5 million to work with heading into this season and Kane could be a serious option here.
As for the Maple Leafs, admittedly a pipe dream but one that would excite the hell out of Leafs Nation. Kane is a world-class talent when healthy and if he's fully recovered heading into this season, get set for some big things out of the future hall-of-famer.