Maple Leafs should learn a lot about themselves after big win out of the All-Star break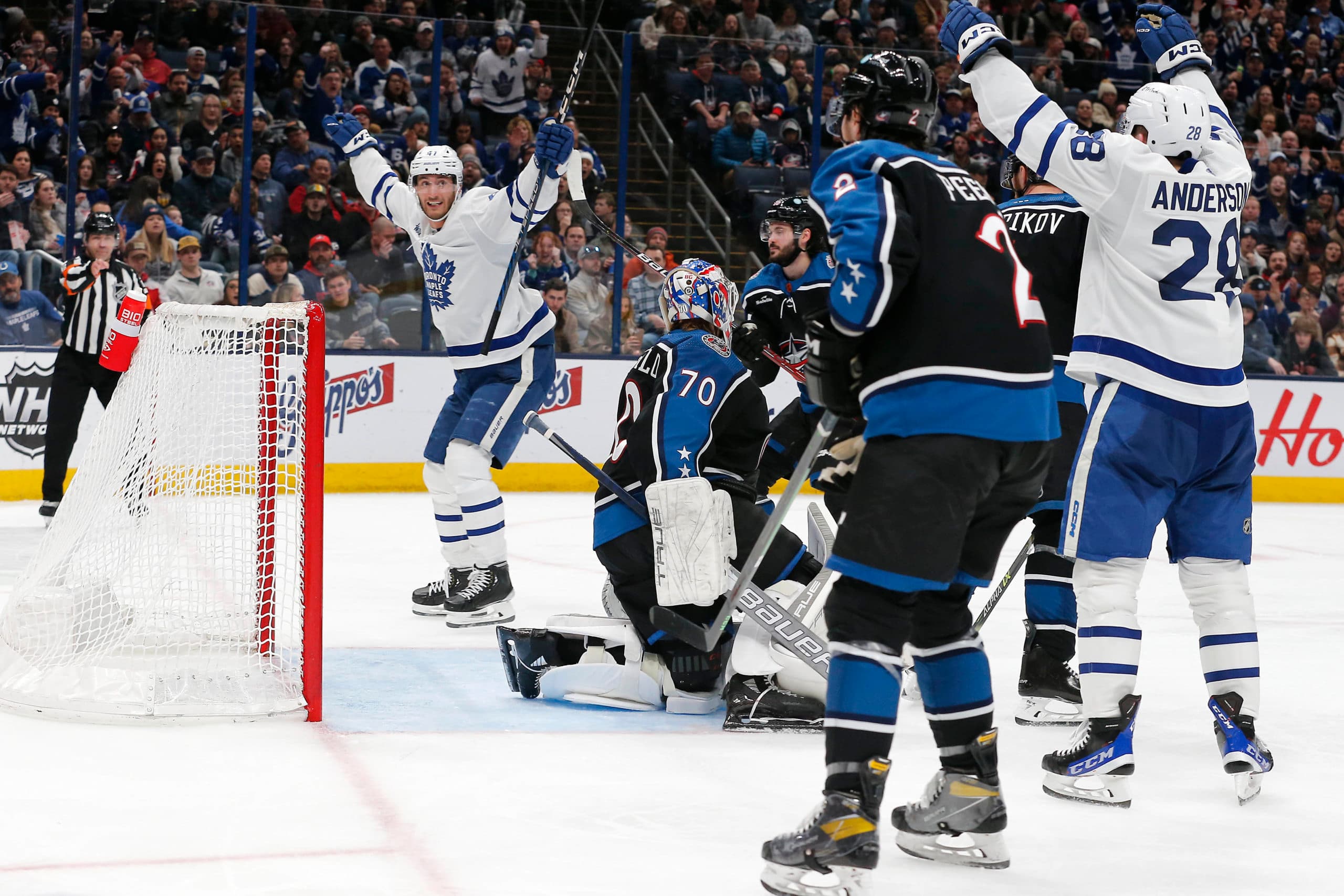 Photo credit:Russell LaBounty-USA TODAY Sports
The Maple Leafs returned from the break with their foot still firmly pressed on the gas.
It was a night of nights for Toronto in what might be one of their most complete games thus far in 2023.
Heading into Friday's game against the Blue Jackets, Ilya Samsonov told reporters that he had no desire to hear the cannon go off in Columbus. And the 25-year-old went the entire game without hearing it, stopping all 30 shots he faced.
It was a big shutout for the team, but more importantly for Samsonov, who secured his third road win in eight games this season.
"I feel great today. Thank you teammates, I never see better game than today." The 25-year-old
told TSN's Mark Masters after the game
. "How many shots we blocked, how we play on the PK, we have a lot of time in offensive zone.
"This shutout not about me, just more team. How we moving puck, how we blocking shots — how we play today. We need to keep on going tomorrow too."
There was a lot at stake for Toronto on Friday even though it was against the last place Columbus Blue Jackets. A great game coming out of the break was important, but as was a win against a team very far down the standings.
The Maple Leafs secured both.
A win like this coming out of the All-Star break speaks about how much of an effort Toronto is putting in to tighten up their game. The Maple Leafs might've gave Columbus a few sniffs to get back into the game, but when that occurred Samsonov was lights out.
Everyone worked together, whether it was at five-on-five, the power play, and even the penalty kill. (The penalty kill was especially needed in the second period after Timothy Liljegren got a high-sticking double minor.)
The scoring also helped push Toronto to the finish line on Friday. Two goals from John Tavares. and ultimately, two incredible assists by Mitch Marner to set up the goals.
Marner's assist on the first goal was especially eye-popping.
"An elite play by an elite player," said Maple Leafs head coach
Sheldon Keefe to reporters after the game Friday
. "A lot of people would've expected him to move it to the other side (to William Nylander), but he finds [John] and just an elite finish by [John] as well.
Although Marner, Tavares, and Samsonov might have been the stars of the show, you cannot forget about Toronto's depth, who also contributed.
Just an all around a great shift by the third line. Some great work from Pierre Engvall to get it out from the boards to David Kampf, who then makes a nice pass to Morgan Rielly, who then returns the puck to Engvall for the goal.
This is everything you want to see from the Maple Leafs' depth as we get closer to the playoffs. It was a big goal to help close off the game from Columbus — something Toronto needs to continue to do against every team in the NHL.
It's almost abundantly clear that Toronto has punched their ticket to the playoffs against the Tampa Bay Lightning. Every game from here on out should be a test that gets them ready for that matchup come April.