Maple Leafs squander four-goal lead as Panthers show why they are the beasts of the East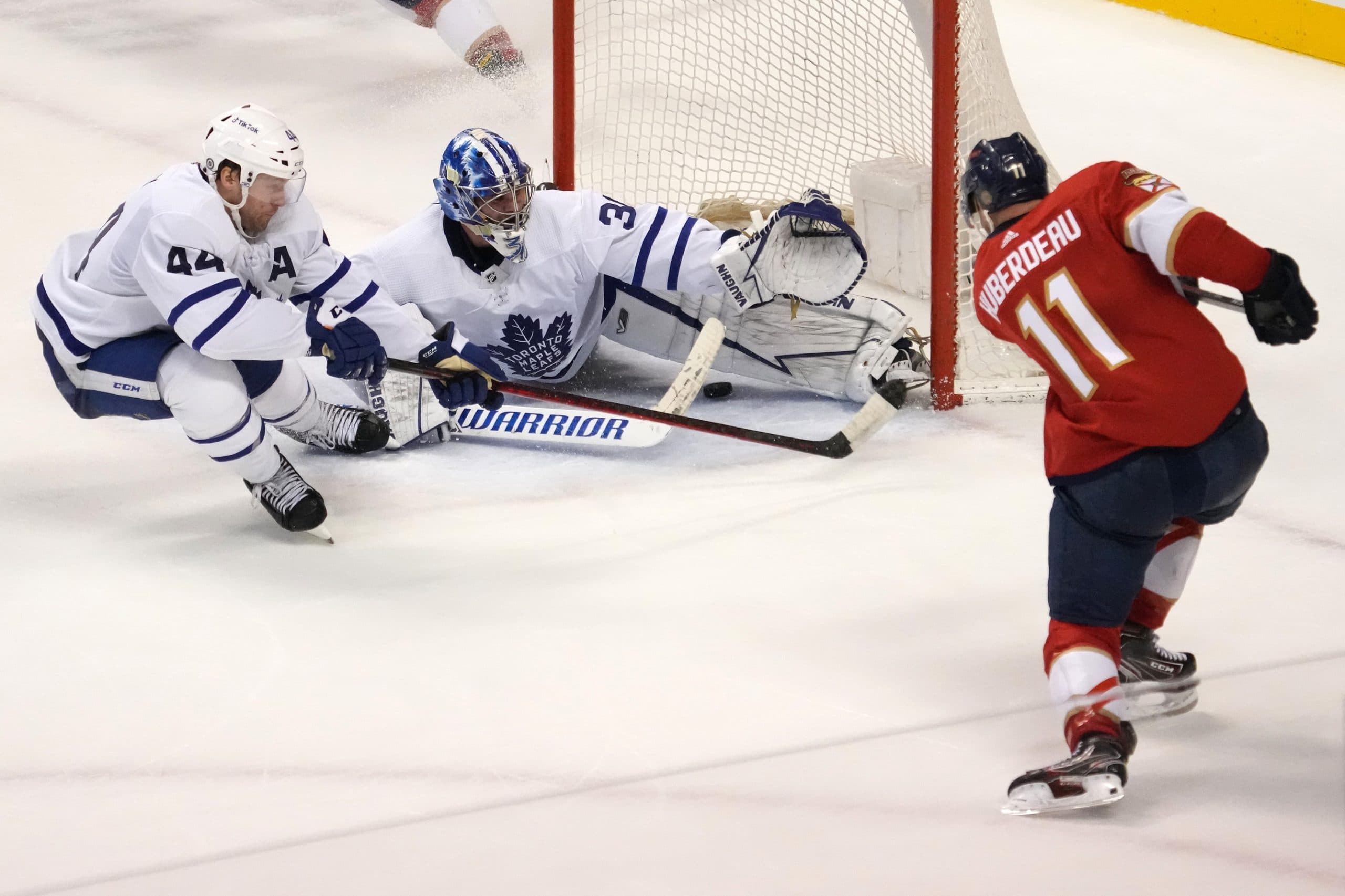 Photo credit:Jasen Vinlove-USA TODAY Sports
SUNRISE, Fla. — The Toronto Maple Leafs were letting their offence run wild against the Florida Panthers on Tuesday until their opponents did what they do best.
They came back.
The Florida Panthers erased a 5-1 deficit in the second period and went on to defeat the Maple Leafs 7-6 in overtime. With all eyes on Auston Matthews one night after the Maple Leafs forward tied the franchise record for goals in a season with 54, it was another league star who set a franchise record of his own.
Jonathan Huberdeau became the first Florida Panthers player to reach the 100-point plateau in a season. He ended the night with his second goal of the game in overtime as part of a five-point night to sit at 102 points.
"It's just happening for us right now," Huberdeau said. "It's been a fun year and it's going to get more fun."
The Panthers recorded their 24th comeback of the season and with the win set a new franchise record for points in the season (104). Three days before this game, the Panthers erased a four-goal deficit against the New Jersey Devils to win in overtime by the same 7-6 score. It's clear why they are the class of the Eastern Conference.
It's likely why Maple Leafs coach Sheldon Keefe was somewhat positive of his team's performance despite the a porous penalty kill and some questionable goals against.
"I'm going to focus on the fact that we played another good hockey game today," Keefe said. "We were bad in moments, the penalties, you can't take a too many men on the ice penalty. You can't give up a shorthanded goal from a clear shot from the blueline. You can't have your fourth line take a penalty; All those kinds of things we can't do in those moments."
Keefe was happy with his team's play at 5-on-5, but according to
NaturatStatTrick.com
the Panthers won much of the possession battle. But it seems as though he's giving his team a lot of rope on the tail end of a back-to-back games. The Leafs just completed a 10-day stretch where they played twice against the Panthers and one game each against the Boston Bruins and Tampa Bay Lightning on the road.
They came out of it with seven out of a possible eight points.
"I was looking to come out of this little segment of the schedule with a sense of where we're at as a team and whether we can compete with the very best in our division," Keefe explained. "And the answer is unequivocally yes. That's all I'm going to take at this."
One night after Matthews recorded a hat trick against the Lightning, he came close to breaking Rick Vaive's single season record for goals by a Maple Leaf. He finished the night with three assists and a game-high eight shots on goal.
His linemate, Mitch Marner did the most damage offensively. He scored both of his goals on special teams. First with a shorthanded tally that made it 2-1 Leafs early in the second period. He followed that up with a power-play goal just 77 seconds later, breaking the NHL record for fastest shorthanded and power-play goal by a single player.
Marner picked up a pair of assists to go with his two-goal night.
Jake Muzzin returned to the lineup after missing the last 20 games with his second concussion of the season. He led all Leafs defencemne in expected goals rate (54.22 per cent) and scored the goal that made it 5-1 Toronto in the second period.
"You saw the poise he has after being out; he looks like he hasn't missed a day," Jason Spezza said of Muzzin. "You can't teach that poise back there. Our D-core is pretty solid and adding Muzz helps quite a bit."
Muzzin returned on the second defensive pair alongside Justin Holl, but the duo logged similar minutes to that of the team's third pair in Mark Giordano and Timothy Liljegren.
Erik Kallgren left the game in the second period after he was in pain when he stopped Robert Hagg's shot. Jack Campbell was forced to finish the game in relief, although Kallgren did return to the bench in the third period.
A lot happened in this game and squandering a four-goal lead in any situation exposes a team to ridicule. But the Panthers have proven to be worthy adversaries and the Leafs could be in for quite the series if these teams meet in the postseason.
Until then, they have another game in South Florida at the end of the month. And if it's anything like this game was, there will be no shortage of excitement.
POINTSBET IS LIVE IN ONTARIO
PointsBet Canada has officially launched in Ontario! Get a $25 free bet just for 
signing up right here!