Maple Leafs kickoff a five game homestand with the Battle of the QEW against the Sabres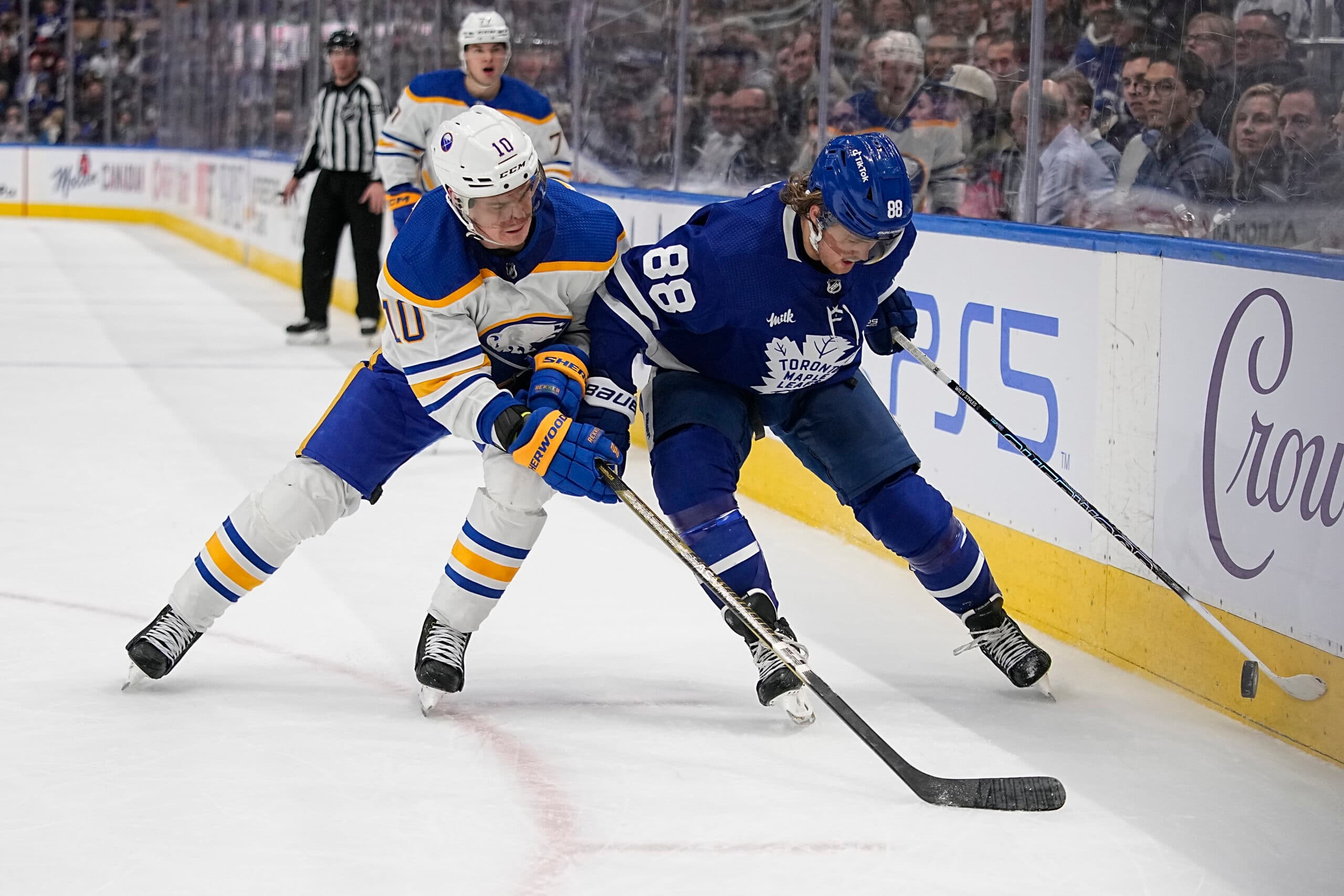 Photo credit:John E. Sokolowski-USA TODAY Sports
It was a better effort from the Toronto Maple Leafs Thursday night in Boston, but it was the same result as the last two games. After being criticized for their effort against the Los Angeles Kings Tuesday night, they showed up for the game against the Bruins but came up short in the shootout, picking up a single point. Tonight's game against a tired Buffalo team offers the Leafs a great opportunity to get back in the win column.
Although they weren't criticized for their effort this time, they were most definitely criticized for their lack of team toughness. It will be interesting to see how the Leafs might respond to the assertion that there is little to no interest in standing up for a fallen teammate.
Maple Leafs' lineup:
For their game against the Bruins, Sheldon Keefe went with the same lineup from the Kings game this past Tuesday, and I was concerned about that because I thought it was time to shake up the lineup. However, as we know, the top line finally got on the board a couple of times at five-on-five, so I guess it somewhat worked out.
It appears he'll be going back with the same lineup against the Sabres tonight.
There are still some changes to this lineup that I would make, but I guess we'll give these guys one more shot playing together and see what they could do. Buffalo is on the second half of a back-to-back after playing the Flyers last night, so maybe these lines can take advantage? We'll see.
Outside of the lineup looking the same, there is one change. Timothy Liljegren is not there and was placed on LTIR due to the injury he sustained against the Bruins.  Toronto announced they recalled defensemen Simon Benoit and Max Lajoie to the NHL, and based on Mark Masters' post on X, Lajoie could be getting the nod tonight to play in Liljegren's absence.
For tonight's starter, Joseph Woll was the first goalie off the ice and is projected to be the starter.
Sabres' lineup:
As mentioned above, the Buffalo Sabres are in the second half of a back-to-back after losing to the Flyers 5-1 last night.
With that being the case, they probably weren't on the ice taking line rushes, so here is their lineup from last night, and they will probably go with something similar to that with some minor changes.
Coming into this season, the Sabres were seen as a team that could take a massive leap and contend for one of the top three spots in the Atlantic division. However, it hasn't gone quite to plan for this young Buffalo team, as they sit seventh in the Atlantic with 10 points in 11 games (5-6-0).
It's still really early in the season for this group to turn it around, and they most likely can, but Toronto has to take advantage of their slow start and the fact that they played last night.
Players to watch:
Last pregame, I wrote how Matthews and Marner were two players to watch for in the Bruins game because they needed to be better, and they were due to score at five-on-five. Well, they did.
I also wrote Ilya Samsonov was another player to watch for, given his promising rebound game in Nashville despite a 3-2 overtime loss. Well, he had probably his best game of the season despite a 3-2 shootout loss, turning aside 38 shots.
For tonight, the team as a whole will have my attention. We all know how they did not come to the defence of Liljegren after he got tripped by Marchand, and that was brought up in today's presser by Keefe and some players. Well, we'll see if things change, and they have each other's backs if something similar happens.
Outside of the team toughness aspect of the game, I'm looking at Max Domi to score his first of the season. Domi has gone 10 games this season without scoring a goal and has just four assists to his name. A promising sign is that Domi scored against the Sabres in the preseason, so maybe he can get his first of the season tonight.
You can catch the Maple Leafs and Sabres tonight in action on Sportsnet. Puck drop is scheduled for 7:00 pm ET/4:00 pm PT.