Maple Leafs take on Rangers in a battle of surging hot teams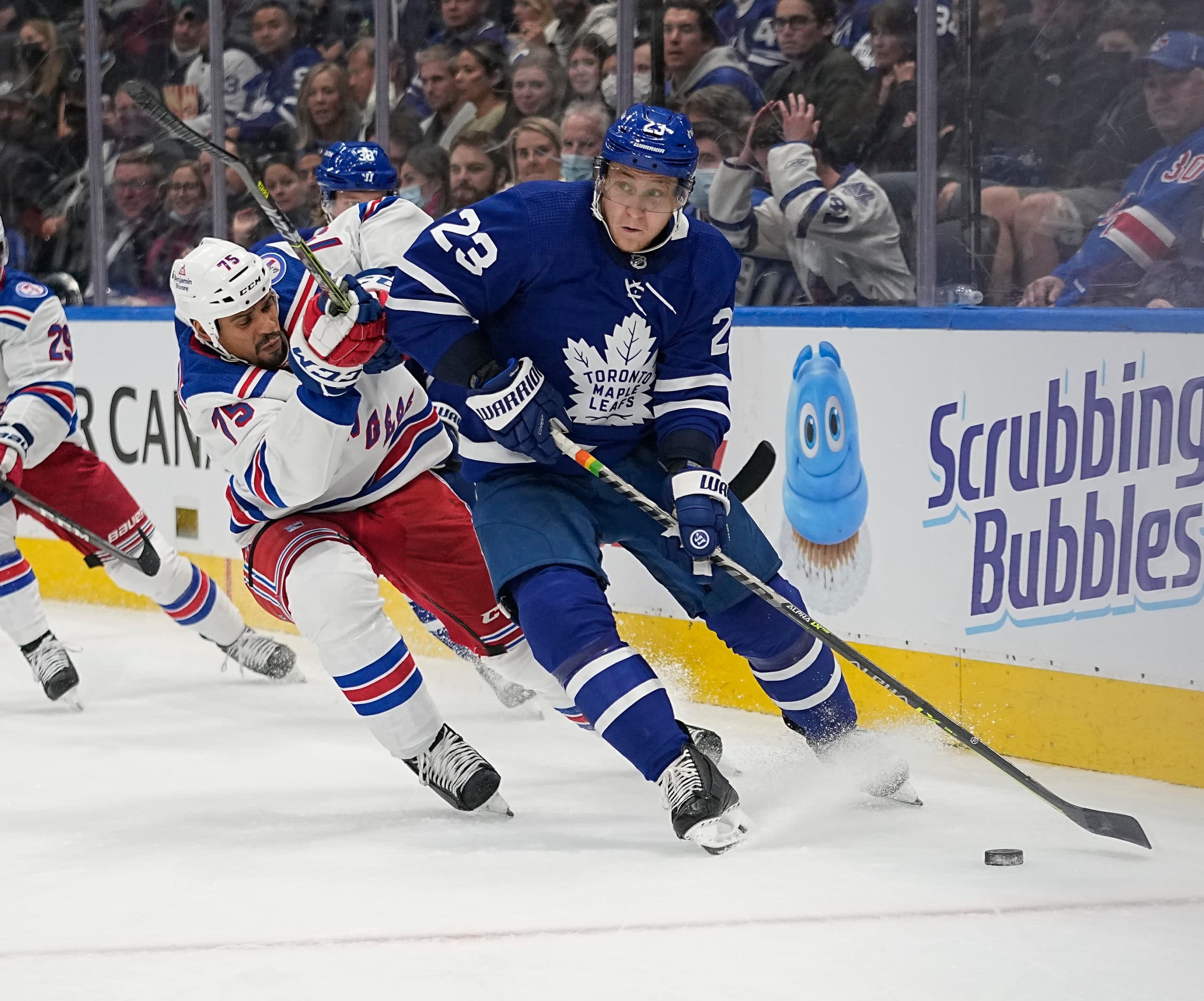 Photo credit:John E. Sokolowski-USA TODAY Sports
The Toronto Maple Leafs and New York Rangers each find themselves on a four game winning streak, with both teams sitting only two points out of first place in their division. As the two franchise's play each other tonight, each one will look to keep that momentum alive and make up some valuable ground on their division leaders as we approach the quarter mark of the season.
The Leafs recent winning ways go past these recent four games as well, with the team having won nine of their last ten, quickly changing the narrative from fans and media alike after a sluggish start to the season. It's not just the fact the team is winning that's changing the narrative either, but also how they're doing it. Unlike previous seasons where Toronto seemed to only have one possible win condition (coming out on top in a high scoring affair), the 2021/2022 edition of the franchise seems to have added a few tricks to their playbooks, winning low scoring games, grinding out late comebacks for an OT win, and physically dominating an opponent as they did during Tuesday's contest out-hitting the Nashville Predators 31-22 despite the Maple Leafs also leading in possession and scoring chances.
With much of the fanbase resigned to the fact that regular season success means nothing if the team once again can't get it done in the playoffs, it's beacon of good faith that the team has shown it is capable of winning the kind of low-scoring grind fest games that the playoffs are known for. Against the Rangers they play a team that has also found an impressive balance between skill and grit, one that has them sitting in a playoff spot, surprising many forecasters along the way.
As two young franchises with a bit of an edge and some excellent goaltending face off, tonight's game looks to be not only a mirror matchup of sorts, but could also be a future playoff series if both teams continue their recent winning ways.
Lineups
Liljegren was the odd man out at yesterday's practice and after a shutout victory it's hard to justify removing a defenceman. That said, Keefe has been rotating the bottom pair of the team's d-corps with Liljegren, Sandin, Holl, and Dermott all having been rested in recent weeks so Lillypad's absence shouldn't be a long one even if Toronto continues to win. Also of note is that Kase is currently a game time decision after a minor injury from blocking a shot late in Tuesday's win, Kirill Semyonov will be dressed for warmups ready to slot into Kase's spot should he not be able to play.
With the ever dangerous Zibanejad on the first line and then recent top two draft picks Kakko and Lafreniere on the second and third, this Rangers team is one that often has a scoring threat on the ice. The one exception of course is the fourth line who only have a combined four points so far this season despite Hunt and Rooney playing in every game and Reaves missing only four of sixteen. With Toronto having last change as tonight's home team, look for Keefe to exploit this weakness and cause some heavy mismatches sending out his big guns against New York's struggling unit.
Starting Goaltenders
Jack Campbell vs Igor Shesterkin
Although neither goalie has been officially confirmed as of writing, Campbell vs Shesterkin seems to be the most likely matchup. With the Rangers not playing again until Sunday, they're unlikely to be resting Shesterkin who has handidly been outperforming Alexandar Georgiev in New York's battle of the 25-year old netminders. Meanwhile, for Toronto, Campbell will almost certainly be given a chance to keep the momentum going with two shutouts in his last three starts. Seeing as how Toronto plays back to back contests this weekend, rookie Joseph Woll will be getting another chance between the pipes either Saturday against Pittsburgh or Sunday at the Islanders new arena, and it seems cruel to force a rookie goalie into two games in four nights so tonight's net belongs to Campbell.
Where to tune in?
Puck drop is currently scheduled for 7pm, broadcast on TSN4.