The Maple Leafs are taking an interesting route to offload goaltender Matt Murray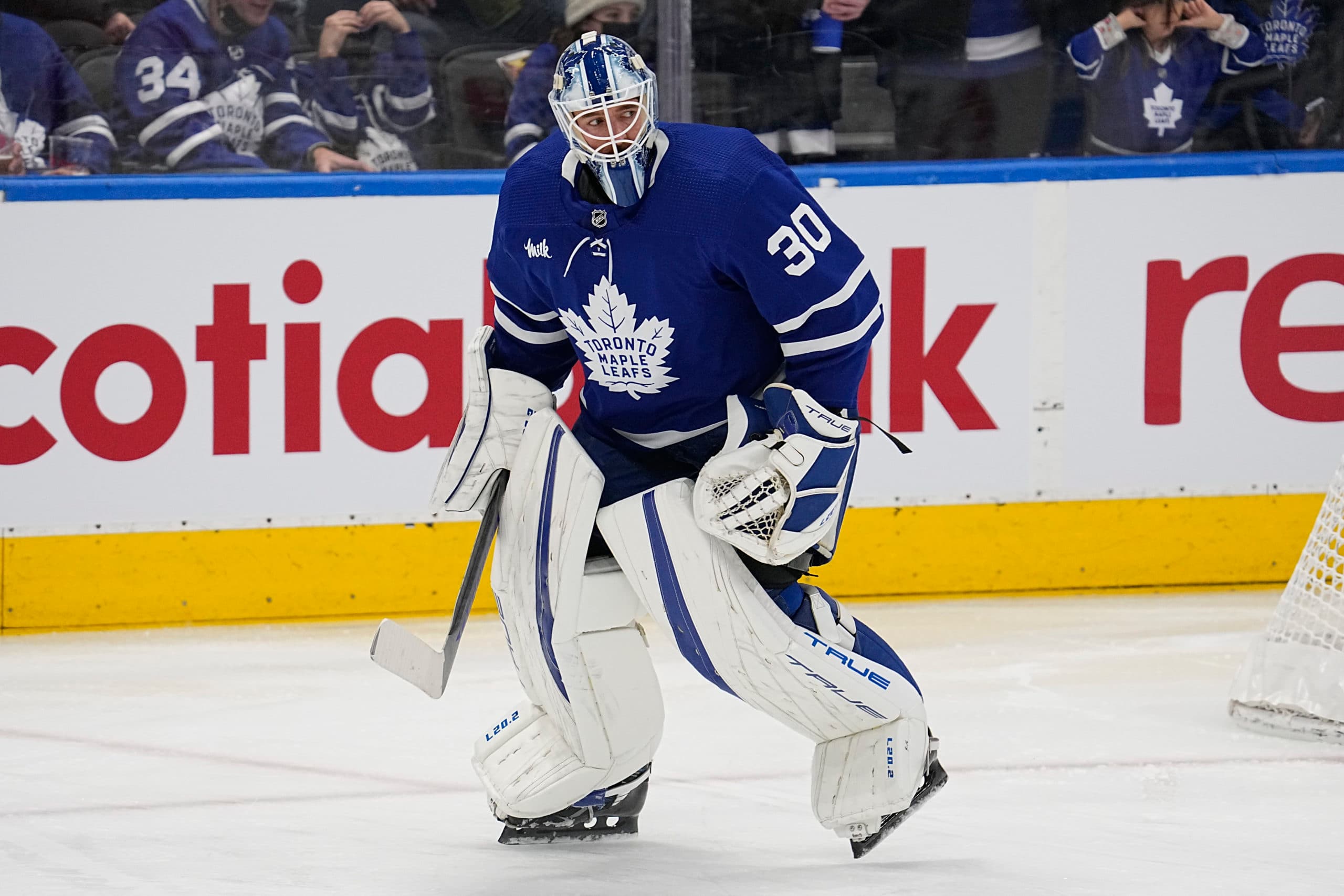 Photo credit:John E. Sokolowski-USA TODAY Sports
The NHL's first buyout window closes at 5pm on Friday June 30. While there's been a ton of speculation brewing that Toronto Maple Leafs general manager Brad Treliving would be using this option to
buy out goaltender Matt Murray
, turns out that's not the case at all.
Now what? The Maple Leafs head into free agency with a ton of questions and limited answers. Auston Matthews needs a new deal, as
does William Nylander,
after that is anyone's guess. Luke Schenn appears to be the one Leaf who could re-sign. Noel Acciari, Ryan O'Reilly, Michael Bunting and Alex Kerfoot appear to be after thoughts at this point.
Murray Can Be Bought Out Later This Summer
While the NHL's buyout window closes on Friday evening, there is another chance down the road. The league's second buy out window is later this summer where a 48-hour is created, linked to the team's arbitration cases. The window opens on the third day after the final of a settlement of the Leafs' final arbitration case or their last arbitration award.
The league does implement some conditions regarding the second buy out window, however there's nothing to worry about as Murray meets all the requirements with his $4.6 million cap hit and how he was injured during the trade deadline in the previous season. Maybe some stars will align later this summer.
A trade at this point seems very unlikely. The entire league was just in Nashville for the NHL Draft and if Treliving couldn't find a trade partner then, it seems like the buy out is the only option. Or, perhaps LTIR for that matter but is Murray hurt? He finished last season healthy and 'available' to play should they have needed him. Joseph Woll had other ideas.
Treliving Leaving Himself Options Heading Into Free Agency
What if a trade offer comes through where the Maple Leafs need to shed a contract? Or what if a team misses out on one of the free-agent goalies and needs a veteran backup to bring into the fold? Murray would be there for pennies on the dollar.
Treliving can still rid himself of Murray's $4.6 million later this summer and teams are allowed to go over the salary cap in the offseason, so even if after it's all said and done and Toronto's over the cap because of Murray, a move could be made before opening night.
It just seems like the inevitable is coming, so why not fast-track the break up? Treliving doesn't appear to be as worried about as Leafs Nation and doesn't feel his hands are tied because Murray is still on the roster heading into free agency. He's probably right.
Murray Will Land on His Feet
While it appears his time in Toronto is coming to an end eventually, Murray will be fine. There's a number of teams who will be interested in signing him once he hits the open market.
Having two Stanley Cups on your resume is attractive to other teams for a number of reasons. He's shown he can win when it matters, he has the pedigree to help mentor a young goalie and he has the fire to still battle in the crease for a number one job.
The only problem? He's going to be late to the party. With the likes of Tristan Jarry, Frederik Andersen, Jonathan Quick, among others hitting the open market on July 1, teams are going to have their depth charts sorted out by the time Murray gets bought out. He's going to be left with the 'scraps'.
When it comes to the Maple Leafs, they head into free agency with Joseph Woll signed for two more years and contract negotiations ongoing with restricted free agent Ilya Samsonov. If things go off the rails with Samsonov, who has solid trade value, maybe the Maple Leafs keep Murray in the mix next season? Nothing against Murray as a person, but that would be a worst-case scenario for the Maple Leafs and their new GM. They should have bought him out as soon as the option was on the table and got rid of Kyle Dubas' mistake.  Interesting times in Toronto, to say the least.