Maple Leafs trade targets: a goalie?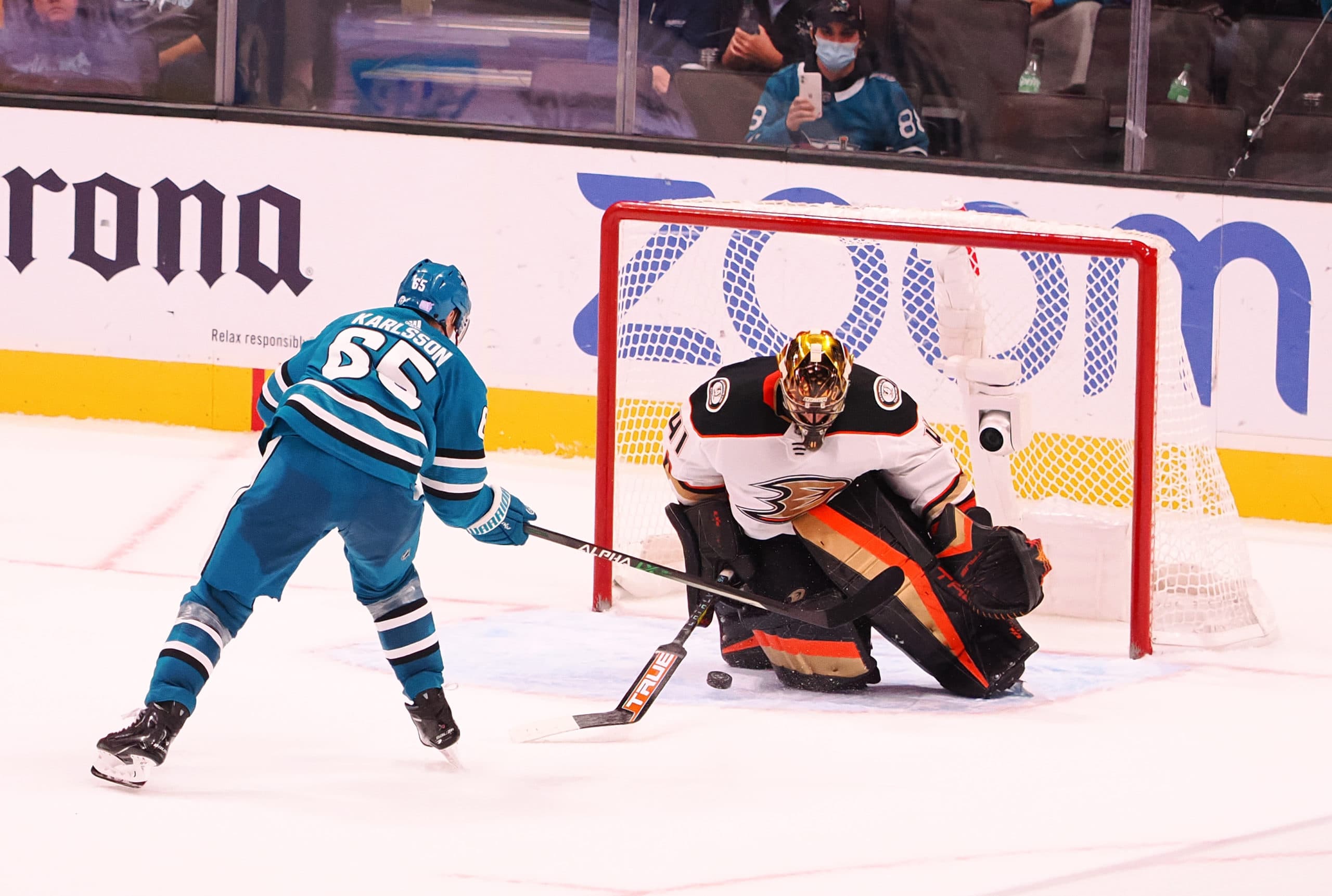 Photo credit:Kelley L Cox-USA TODAY Sports
Welcome to the Kyle Dubas show. Is he getting adequate sleep? I hope Jason Spezza is making sure he's still eating three squares a day. If you're reading this, I assume you're well aware of the trade activity surrounding the Maple Leafs yesterday. Engvall and Sandin departed, Gustafsson and Luke Schenn came in. The Leafs received Boston's 1st round pick from Washington in the Sandin trade, and a 3rd round pick from the Islanders for Engvall. There is plenty of insight from my teammates all over The Leafs Nation site, definitely check it out.
This article, however, will look at an area that Kyle Dubas could possibly still address in the coming days. Ilya Samsonov has been very solid this year. Entering Wednesday's contest with the Oilers, Samsonov has a .918 save percentage and boasts a 2.30 goals-against average. He will enter the playoffs as the Leafs bonafide starter barring any unforeseen health issues (knocks on wood).
Speaking of unforeseen health issues, enter Matt Murray… The polarizing netminder has played pretty well *when healthy*. His save percentage is .911, and his goals-against average is 2.73. The problem hasn't been his on-ice play, it's been his health. This mysterious ankle injury has lingered, and it's not the first injury that has kept him off the ice this year.
Beyond Samsonov and Murray, the Leafs have Joseph Woll, Erik Kallgren, and Keith Petruzelli signed to NHL contracts. Petruzelli has never played an NHL game, and Erik Kallgren has looked less than stellar in his brief NHL usage. Joseph Woll has put up gaudy AHL numbers and performed decently in his few NHL starts. I have faith that he will become an everyday NHL goalie, but that's a couple of years down the road. Having to rely on Woll this year in the playoffs means something has gone wrong.
So, where does that leave the Leafs goaltending situation? If Matt Murray can't stay healthy, they are very thin behind Samsonov. In a year when Kyle Dubas had acquired depth all over, could he dip into the goalie market and bolster the Leafs crease? If he does, it could be one of the following names.
#1. Anthony Stolarz
I think Stolarz is the most likely target. I touched on him in my
Pacific Division targets
(before Kyle Dubas went trade crazy in the last couple days). It is clear that Lukas Dostal is the future netminder in Southern California. Long-time guardian John Gibson has a $6.4M contract for four years beyond this season, which will need to be revisited at some point. That leaves Anthony Stolarz. the journeyman has played in 19 games this year and would provide a cheap depth option. Anaheim should be more than willing to part with Stolarz, whose 950K cap hit elapses this season. Of all the targets on this list, he is probably the cheapest.
#2. Cam Talbot
The Leafs and Senators have been trade partners plenty of times before. Matters are somewhat complicated by the Senators being on the outskirts of the wildcard spots. They aren't that far out, but far enough where they should consider moving Talbot. Ottawa would have to retain, but Talbot has told the Senators that he will not re-sign after his contract expires this season. Could Erik Källgren be part of a package that went the other way? They would likely need another warm body in net, and some sort of additional compensation. If the Leafs are adamant that Murray isn't going to be healthy, Talbot could be the way to go.
#3. Craig Anderson
Anderson is an interesting case. The oldest player in the NHL is on a $1.5M contract that expires at the end of this season. The future in Buffalo belongs to Ukko-Pekka Luukkonen, and Eric Comrie is a capable backup. Comrie is someone I was hoping the Leafs would sign last summer, although he has had some injuries this year. Would Buffalo trade with Toronto? Our closest geographic rival may be hesitant to bolster our crease, but perhaps gaining an asset for an expiring contract would entice them. Anderson would obviously provide a calm veteran presence, and the 41-year-old would likely relish the chance of making a playoff run.
Honourable Mentions: James Reimer, Thomas Greiss, Joonas Korpisalo
James Reimer is the romantic option. Toronto reunited with Luke Schenn, and how darling would it be to bring back Optimus Preim. The Manitoba native also has an expiring contract and would require San Jose to retain half of his $2.25M deal. Getting the band back together seems too good to be true, doesn't it? Greiss is another steady backup, but St. Louis's goalie depth is very thin, and I doubt they would leave themselves that vulnerable in net. Korpisalo would have been target #1 except it appears he is on his way to Los Angeles.
Whether or not the Leafs move for a goaltender comes down to Matt Murray's health. Dubas will have a plan in mind, and I'm not totally convinced he will add to his crease. If he does, Anthony Stolarz could be the name to keep an eye on.
THE DAILY FACEOFF TRADE DEADLINE SHOW
Join us on March 3rd for the Daily Faceoff Live: Trade Deadline edition as Frank Seravalli and the panel break down all of the latest rumours, news, and rumblings from around the NHL. The show will be live on 
YouTube
, 
Facebook
, and 
Twitter
 from 12 PM – 4 PM ET to keep you up to date on all things trade deadline no matter where you're watching from.