Maple Leafs trade targets part 2: Atlantic division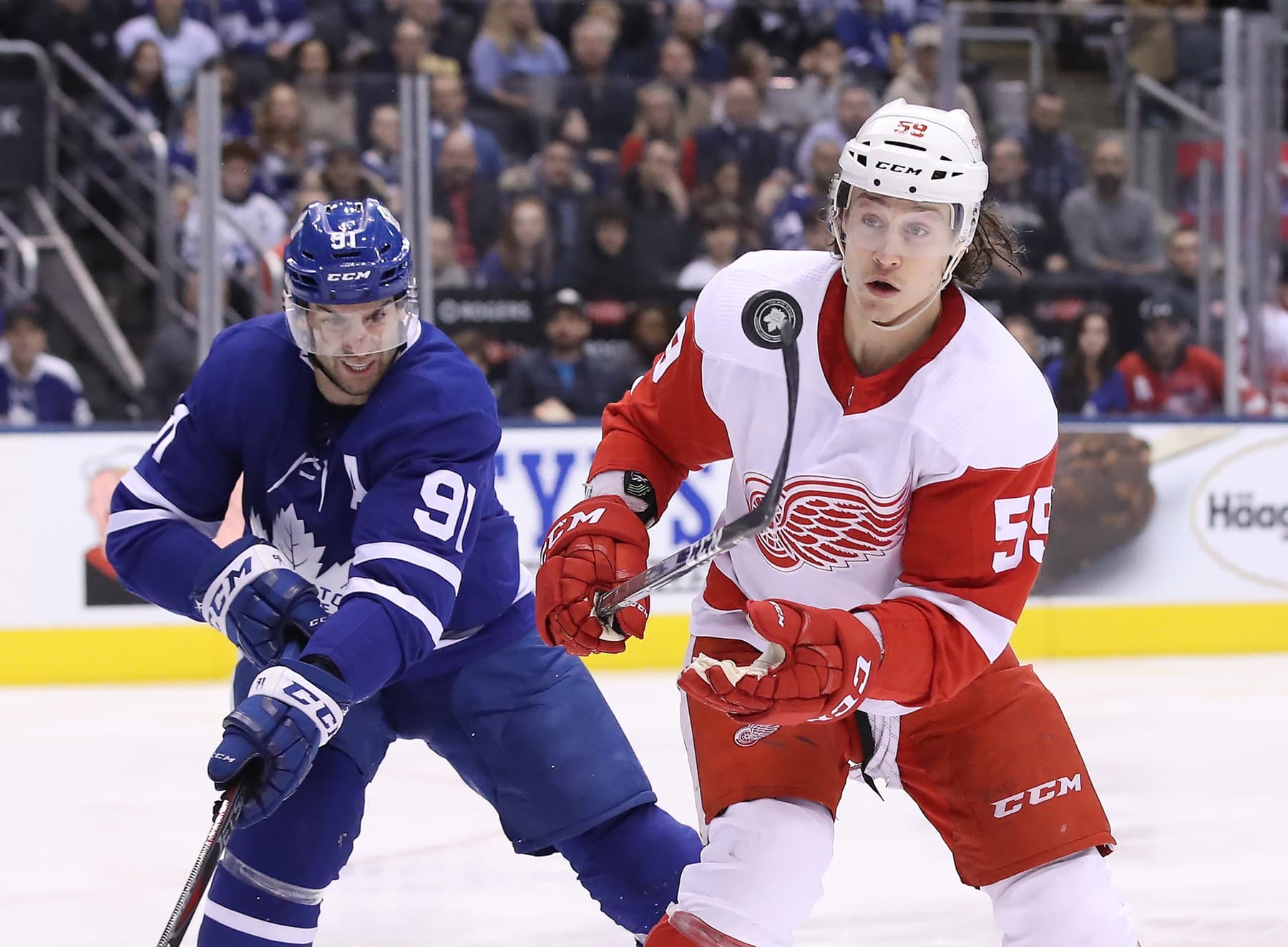 Photo credit:© Tom Szczerbowski-USA TODAY Sports
Well, this mini-series changed dramatically yesterday afternoon. Of course, Kyle Dubas couldn't wait until after my Central Division targets article went up to pull the trigger on Jake McCabe + Sam Lafferty. I am THRILLED with the deal, and there is plenty of analysis already done by my Leafs Nation teammates, with more to come.
Dubas addressed the defence and bottom six forwards, which dramatically changes their needs heading into March 3rd. The players/roles he will now look to trade for are much different than they were 24 hours ago. That being said, there are still players that could be targeted, and I don't believe Mr. Dubas is done yet. With the deadline still three days away, I will look at what players (if any) the Leafs could still target in the Atlantic Division.
The Atlantic Division, what a beast. This division boasts the best team in hockey, two of the last three Stanley Cups, and Toronto's fiercest rivals. Boston is the toast of the NHL, and the odds-on favourite to hoist the Stanley Cup this summer. They improved their chances recently by acquiring Dmitry Orlov and Garnet Hathaway from the Washington Capitals. The Bruins have received amazing goaltending, a Hart Trophy-worthy season from David Pastrnák, and contributions from up and down the lineup. The Bruins are currently 13 points ahead of Toronto with two games in hand. They are in scintillating form.
Our beloved Maple Leafs come next and are swiftly followed by the Tampa Bay Lightning. It will be a fight to the finish to see which team gets home-ice advantage, but it's no secret that the Bolts and Buds will play each other in the first round this year. Tampa Bay has reached the summit twice, still has most of its core, and continues to add pieces. They may have overpaid for Tanner Jeannot, but he will undoubtedly be a major thorn in Toronto's side come April.
On the outside looking in are Buffalo and Detroit. Both teams are flirting very hard with wildcard spots and should feel good about the growth they've shown this year. Each of these rust belt cities will be looking to punch its ticket to the playoffs. The same goes for Ottawa and Florida, who are slightly further back in the standings. It will be interesting to see how each team approaches the deadline.
Montreal is definitely out of the hunt and should be looking to capitalize on certain assets. Expect Joel Edmundson and/or Mike Matheson to be dealt. Could someone come in swinging for Josh Anderson or Jonathan Drouin? Sean Monahan's health presents an interesting few days in La Belle Province.
With that being said, here are a couple of players that Leafs could target in the Atlantic:
#1. Tyler Bertuzzi
I think a move like this is probably unlikely. It's tough to gauge what Detroit is going to do between now and Friday. They are stuck between being buyers and sellers, and it's anyone's guess which direction they go. I can't see them selling the farm, nor could I see them swinging a major deal. They would be smart to cash in on Tyler Bertuzzi and his expiring contract, but this could seriously hinder their playoff chances. Could one of the Leafs expiring forwards plus a sweetener give the Red Wings an asset whilst keeping them competitive? Would an Alex Kerfoot + ____ for Tyler Bertuzzi trade be something Steve Yzerman would entertain? Probably not…
#2. Ryan Lomberg
Who doesn't love a good Toronto boy? Born and raised in the GTA, Ryan Lomberg would tick a few different boxes for Toronto. Florida has underwhelmed thus far and they are currently a couple of spots outside the final wildcard slot. Could they be tempted to either upgrade and make a push, or look to the future? Paul Maurice answered that definitively, stating vehemently that they were not sellers. Again, would Pierre Engvall or Alex Kerfoot be enough to tempt Bill Zito into trading Lomberg? Would Kyle Dubas want to trade Engvall or Kerfoot for 4th line tenacity? Lomberg will make a mere $800K next season and brings loads of physicality. He would be a cost-controlled 4th line option for the rest of this season and next.
#3. Cam Talbot
The Leafs and Senators have been trade partners plenty of times before. There is an uncertainty that remains with Matt Murray's health, and if the Leafs aren't comfortable that he can return to his best or return and remain healthy, they should be exploring the goalie market. Ottawa would have to retain, but Talbot has told the Senators that he will not re-sign after his contract expires this season. Could Erik Källgren be part of a package that went the other way? This all depends on Murray's health and ability, which to the outside eye has been questionable.
In the way of Bertuzzi, the Leafs would add another scoring threat. If they are still seeking someone in that mould, Connor Garland would be a great target. Lomberg adds physicality and is a solid skater, while Talbot solidifies the crease should Matt Murray's situation worsen.
The Atlantic is the toughest division to trade within, given that Boston and Tampa Bay would be reluctant to trade with Toronto and vice versa. Slim pickings in this division remain after Kyle Dubas was very active yesterday. Tune back in again tomorrow for possible Metropolitan Division targets.
THE DAILY FACEOFF TRADE DEADLINE SHOW
Join us on March 3rd for the Daily Faceoff Live: Trade Deadline edition as Frank Seravalli and the panel break down all of the latest rumours, news, and rumblings from around the NHL. The show will be live on 
YouTube
, 
Facebook
, and 
Twitter
 from 12 PM – 4 PM ET to keep you up to date on all things trade deadline no matter where you're watching from.