Maple Leafs vs. Lightning: Who has the advantage on the blueline?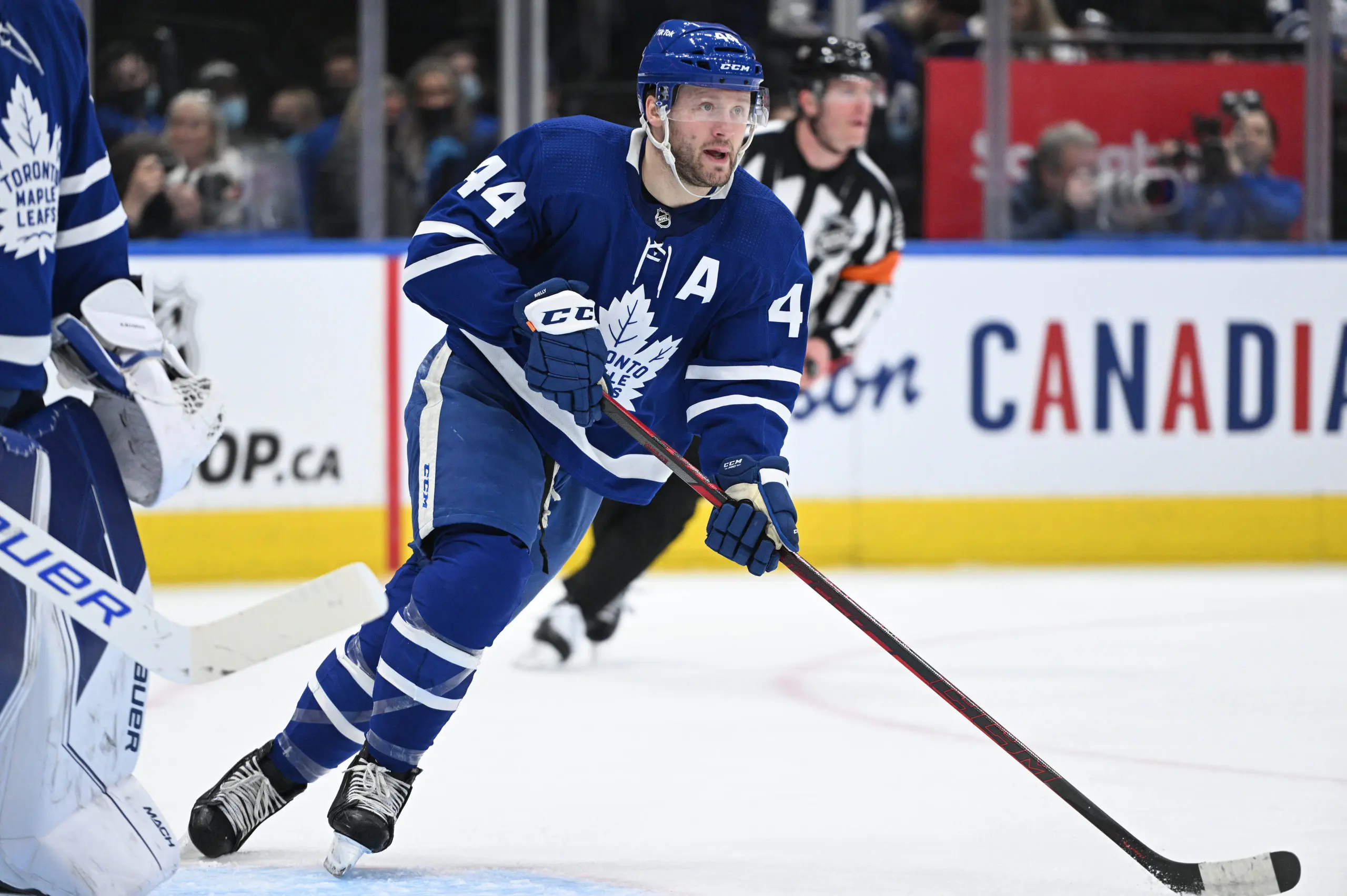 Photo credit:Dan Hamilton-USA TODAY Sports
We know the opponent, it's time to start diving into the matchups. The Toronto Maple Leafs are taking on the back-to-back defending Stanley Cup Champion Tampa Bay Lightning in the first round of the 2022 Stanley Cup playoffs.
Today, we begin breaking down the individual matchups in the upcoming series, beginning on defence. In past seasons, the defence has been a major criticism of the Maple Leafs, but enter the 2022 edition of the postseason with a very deep group. With as many as eight legitimate NHL options if everyone is healthy, Toronto will have some tough decisions to make for Game 1 and beyond.
On the Lightning side, the defence will consist of the clear group of seven that they have used almost exclusively all season long. How those players line up, and who is on the outside looking in, remains to be seen. In the final week of the season, Tampa Bay experimented with different pairings from their usual lineup construction and even dressed seven defencemen, as did Toronto.
The 1st Pair
Both Tampa Bay and Toronto broke up their most-used defence pairings late in the season. For the Lightning, they looked to a pairing of @Victor Hedman and @Erik Cernak over the past week, while Toronto was forced to move away from the @Morgan Rielly and T.J. Brodie pairing due to injuries.
Heading into this series, it seems unlikely we see Rielly-Brodie reunited, at least to start. For Tampa, Jon Cooper may well load up the top pairing with Hedman and Cernak, but a return to the Hedman and @Jan Rutta pairing that has been a mainstay in their lineup is more likely to balance things out.
Interestingly, Tampa and Toronto's top pairings are constructed fairly similarly. Both feature a star defenceman (Hedman and Rielly) alongside a physical, defensive presence (Rutta and Lyubushkin).
It comes as no surprise that the pairing with Victor Hedman has the better results of the two. Though the pairing of Hedman-Cernak has the best results of any Lightning pairing used for any notable amount of time-on-ice, the Hedman-Rutta duo is not far behind and allows the Lightning to dress a deeper lineup when splitting Hedman and Cernak.
While Rielly-Lyubushkin has slightly outperformed Hedman-Rutta in generating shot attempts, the Hedman-Rutta pair has been better in every other facet. It should be noted that Rielly-Lyubushkin has been used in heavier defensive starts, a significant difference from when Rielly is paired with T.J. Brodie (over 55 per cent offensive zone starts).
Whether Lyubushkin is in the lineup at all remains to be seen. Competing for a spot with @Justin Holl, Lyubushkin provides more physicality and net-front defence that the Leafs will want at even strength, while Holl has had better overall results and has been a primary penalty killer. Vitally, the decision between Holl and Lyubushkin isn't a straight swap either. The defence is constructed in quite different ways depending on which of the two defencemen are in the lineup.
Regardless of who is playing on the right side of Tampa's top pair, they will have the advantage here thanks to Victor Hedman's presence. I'm most interested to see whether they do go back to Hedman-Rutta, which has been used relatively neutrally with a 50.42 per cent offensive zone start rate, or if they stick with the Hedman-Cernak duo that we saw in the final week of the regular season, which was used in much more of a defensive role with a 32.43 per cent offensive zone start rate.
Advantage: Tampa Bay
The 2nd Pair
The 2nd pair could make or break the series for the Toronto Maple Leafs.
@Jake Muzzin's struggles in 2021/22 have been well documented, both in terms of on-ice results and health. A late regular-season return to the lineup has seen him paired with T.J. Brodie rather than his usual partner of Justin Holl, and the results look promising.
For Tampa Bay, Erik Cernak has been their go-to shutdown defender. As aforementioned, he finished the regular season playing on the top pair with Victor Hedman, but a spot back beside @Ryan McDonagh on a designated shutdown pairing seems the more likely scenario to balance out the lineup.

It's only a handful of games, but the Muzzin-Brodie pairing has been fantastic for the Leafs. Over the past month, Toronto has had 75.5 per cent (71-23) of the shot attempts with Jake Muzzin and T.J. Brodie on the ice. That's obviously unsustainably high and will come back down to earth, but if the Leafs have found a partner that works for Muzzin that provides them with a dependable shutdown option, that could have huge ramifications for the outlook of this series.
On the Tampa side of things, every pairing Erik Cernak has been used on has been a heavily defensive zone start pairing. He's split time with each of Victor Hedman, Ryan McDonagh, and @Mikhail Sergachev, and each of those pairings has clocked in at a sub-40 per cent offensive zone start rate. Notably, Cernak has had positive results with both Hedman and Sergachev in these defensive starts at above 55 per cent in expected goals for, while alongside McDonagh they have been essentially breakeven.
In fact, Ryan McDonagh could be someone the Leafs look to target as a weak point in Tampa's top four. On the season, McDonagh is under 48 per cent in Corsi-for, though he is breakeven in expected goals-for and has been used in defensive zone starts. Still, he's the one partner where Cernak has had average results rather than dominant.
Advantage: Toronto
The 3rd Pair
One thing we won't be seeing in this series for either team is a 3rd pairing that is a bit of an afterthought and doesn't see much ice-time.
For both Tampa and Toronto, they have defensive groups three pairs deep that could rotate without much concern. The Leafs seemed to have found magic in deadline acquisition @Mark Giordano and rookie @Timothy Liljegren, while Tampa's Mikhail Sergachev and one of Cal Foote or @Zach Bogosian provide a prototypical hard to play against 3rd pairing.
Though they have come down to earth slightly after their torrid start, the Giordano-Liljegren duo has been a revelation for the Maple Leafs. At the deadline, it appeared Timothy Liljegren would be on the outside looking in on the playoff lineup, especially if all eight defencemen on the roster were healthy. Now? He appears to be the only lock on the right side.
Giordano and Liljegren have been creating chances offensively and preventing them defensively. Crucially, the pairing gives Toronto another option on the blueline that they can feel confident in against a Tampa Bay team where you will inevitably have shifts away from your ideal matchups. In past seasons, Toronto has not had this level of defensive depth in the postseason and has cost them before.
Having been in the top four in the final week of the regular season, one would imagine Cal Foote bumps down to the third pairing if Tampa does revert back to the status quo for their top four. Sergachev and Foote have been a good, if unspectacular, third pairing. @Zach Bogosian's results with Sergachev have been worse than Foote's, but the veteran could get the nod at least to start the series.
Whichever two of Jan Rutta, Cal Foote, and Zach Bogosian the Lightning decide to dress presents different combinations to varying degrees of interest, but what it doesn't change is the Leafs edge on the third pairing.
Advantage: Toronto
The Verdict
Tampa Bay has a decisive edge in their top pairing, especially so if Erik Cernak remains alongside Victor Hedman. That is the only pairing that, at least on paper, the Lightning have the clear advantage over Toronto in.
Overall, the biggest factor will be health and Jake Muzzin's status. If Muzzin can stay in Toronto's lineup and provide an elite defensive pairing with T.J. Brodie, as they have shown in a small sample recently, I would give the advantage to the Leafs on the blueline. A healthy Muzzin-Brodie pairing has shown to be a more effective shutdown duo than the Lightning's pairing of McDonagh-Cernak, while Toronto's Giordano-Liljegren has been much more impactful than Sergachev-Foote.
But again, that all comes down to health. If Muzzin comes out, the domino effect is huge for the Leafs. Rielly-Brodie is likely reunited at that point, Giordano-Liljegren gets bumped up the lineup, and one of Lyubushkin or Holl plays with @Rasmus Sandin (if he is available).
Finally, expect lineup changes for each game. Both Jon Cooper and Sheldon Keefe have experimented with their defence pairings this season to see what they have with different looks. Given both teams have more than six NHL defencemen on the roster, I would be stunned if we don't see a fair bit of rotation and evolving matchups as the series unfolds. A game with seven defencemen dressed for either team isn't out of the question, either.
Advantage (if healthly): Toronto
POINTSBET IS LIVE IN ONTARIO
PointsBet Canada has officially launched in Ontario! Get a $25 free bet just for 
signing up right here!