Mark Giordano's strong play should allow for more opportunity in the Maple Leafs lineup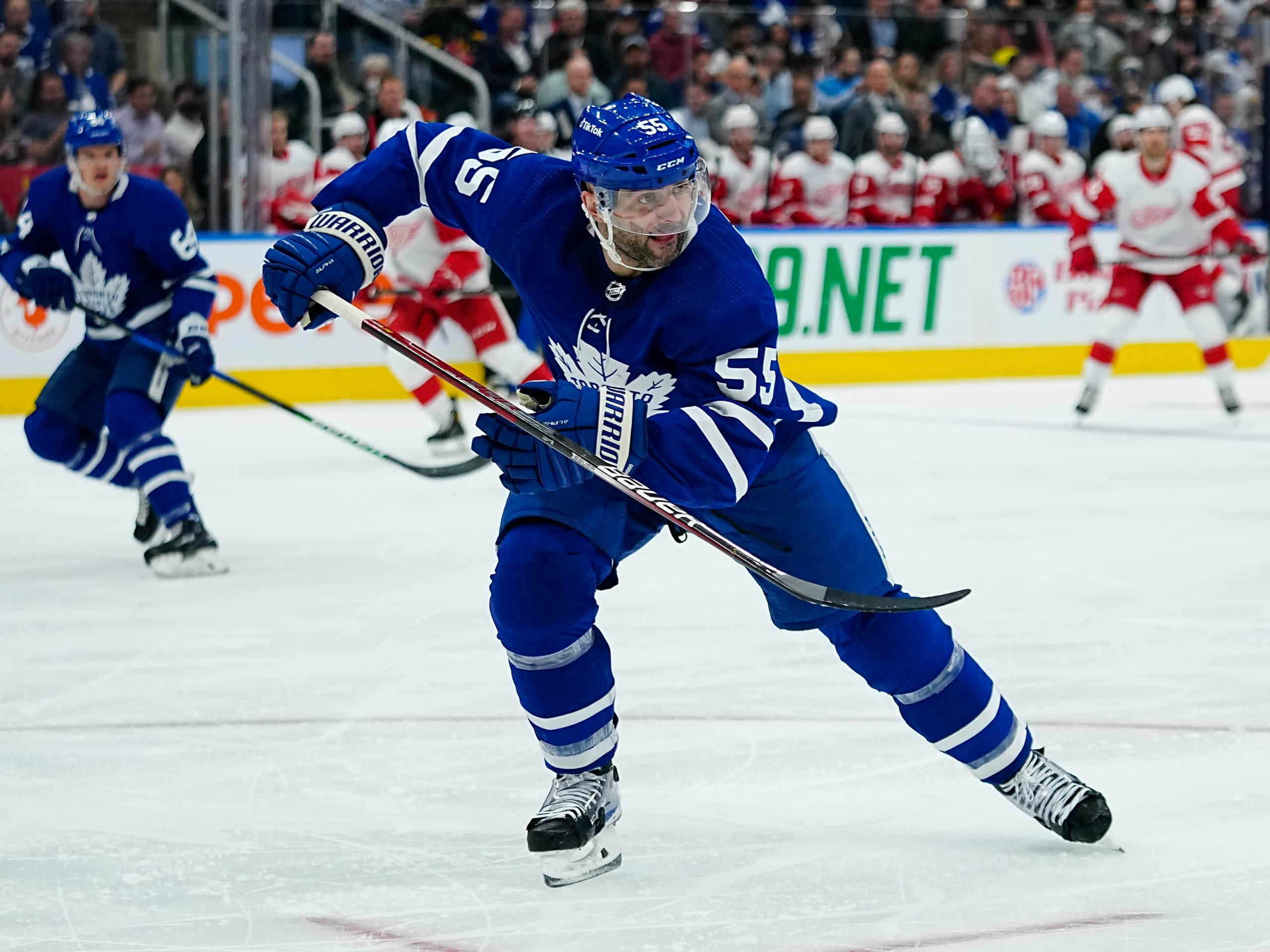 Photo credit:John E. Sokolowski-USA TODAY Sports
Mark Giordano is the second-oldest player in the NHL, and somehow he remains one of the most important defencemen for the Maple Leafs.
Usually at 39-years-old, NHL players have either wrapped up their careers or are thinking about retirement. But for Giordano, that's likely in the rear view mirror as he drives to his next destination: "Stanley Cup in Toronto."
Nobody has stopped there in years, and he wants to be a part of the first trip back which is understandable since he's from the city.
When Giordano signed the dotted line on a two-year, $1.6 million contract with the Maple Leafs in the summer, there was plenty to be excited about. He brings a ton of leadership, experience, physicality, and stability to Toronto's defence core, which is needed at the moment with young players such as Timothy Liljegren and Rasmus Sandin.
And for $800K per year, who would say no to that?
Since joining Toronto back in March, the 39-year-old has remained on the Maple Leafs' third pairing, usually glued to one of either Sandin or Liljegren. What's interesting about that is the fact that while playing that far down the lineup, Giordano has still been one of Toronto's best defencemen.
| | | | | | |
| --- | --- | --- | --- | --- | --- |
| 5v5 advanced stats 22/23 | CF/60  | GA/60 | xGF/60  | HDGA/60 | On-Ice SV%/60 |
| Giordano (Leafs D rank) | 63.68 (1st) | 0.58 (1st) | 3.2 (2nd) | 0.58 (1st) | 97.87 (1st) |
What stands out most looking at these advanced numbers above is the fact that Giordano allows 0.58 goals per 60 minutes at five-on-five, while also having the second-best xGF/60 on the team.
The 39-year-old is very good at limiting chances around his net, while also driving play in the offensive zone. At times, the eye test doesn't do it justice, but Giordano has the highest GF% at five-on-five among Maple Leafs devencemen at 75%, according to NaturalStatTrick.
A small sample size, yes. But also a reminder that the 39-year-old has still got it.
One of the biggest question marks I had before diving into this article was: With such great play, why doesn't Giordano get more opportunity higher in the lineup?
Although the lineup card usually shows the 39-year-old on the third pairing, that's not always the case in-game. Giordano, at all strengths has the fourth-most minutes (248:49) as a defenceman on the Maple Leafs, behind Morgan Rielly (326:52), T.J. Brodie (300:52), and Justin Holl (288:09).
What's most shocking is that at five-on-five — Giordano's average ice-time per-game is 14:40 — the lowest among Maple Leafs defencemen currently in the lineup.
| | | | | |
| --- | --- | --- | --- | --- |
| 5v5 advanced stats 22/23 | CF% | GF% | xGF% | SCF% |
| Giordano | 52.91 | 75.00 | 56.64 | 55.51 |
| Rielly | 52.11 | 43.48 | 51.34 | 52.44 |
| Brodie | 53.06 | 50.00 | 53.21 | 54.55 |
| Sandin | 52.85 | 44.44 | 55.87 | 57.34 |
| Holl | 50.35 | 52.94 | 46.09 | 48.70 |
| Liljegren | 50.63 | 66.67 | 47.90 | 42.11 |
Giordano's play is at five-on-five is some of the best on the Maple Leafs' back-end at the moment. And while part of that might be from playing against lesser competition, I'd say it's still worthy of a promotion if others don't improve.
With Liljegren returning to the fold, he's definitely going to get an extended showing within the top-four, which he should. But I'd be interested in reuniting the Giordano-Liljegren pairing that was
one of the best defensive units
in Toronto last season.
A stay-at-home defenceman like Giordano, paired up with an offensive defender like Liljegren — what could go wrong? I do believe it's worth trying out for the time being since the 39-year-old is playing some very good hockey.
But also, in the same breath, you don't want to give him so much opportunity to the point where his strong play disappears. There definitely needs to be a balance, and maybe that's testing him out with more minutes against tougher opponents.
It cannot hurt to at least try it for a game or two.
Statistics via NaturalStatTrick.com