Marlies and Greg Moore ready for new season with new faces and heightened expectations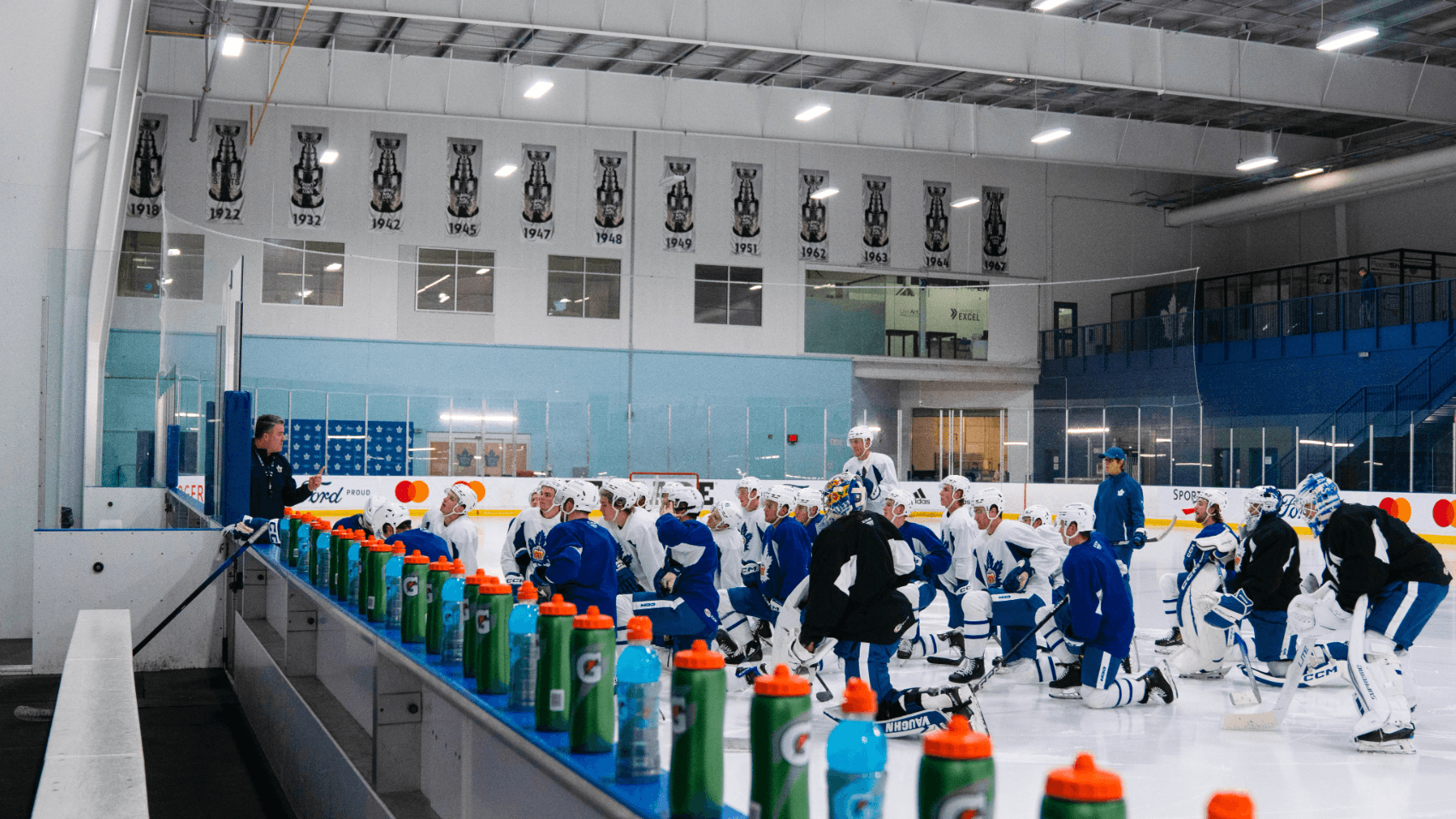 Photo credit:Toronto Marlies / Twitter
Friday is the beginning of the Marlies regular season and it's safe to say there are high expectations for the team this year.
The 2021-22 season was a small step in the right direction, as there was a lot of individual development. However, for the team overall, they missed the playoffs for the first time since 2011, and that was a major letdown.
And another chance for Marlies head coach Greg Moore to prove that he's a valuable coach at this level.
"We know our primary objective is to help the Leafs win hockey games and develop the players that could be the future of this organization," Moore said on Friday. "And at the same time, you can't tip the scale too far in one direction, as we value the ceiling that young players have, but maybe their bodies aren't there yet or experience at the pro level.
"And winning fosters development. You can't have a losing season and expect your guys to be put into a situation where they're succeeding every night. Playoffs is important to make so that our guys can gain that opportunity and experience in pressure situations so when they get to the Leafs, they have come accustomed to those things."
Moore is entering his fourth season with the Marlies as their head coach. The 38-year-old was hired back in December of 2019 when now-Maple Leafs head coach Sheldon Keefe was promoted to the NHL.
There has been plenty for Moore to learn throughout the past three years — a lot last year especially.
"For me, I've had a couple years now of being very sure of what my philosophy is coming into this level from my experiences with USA and the Steel." Said Moore. "Last year, I went a little bit more in the direction of what I've learned since I've been here. And now this year, I'm gonna find a blend of the development path of things that I had learned at USA and junior hockey, and with how pro-style coaching and teaching is, I'm going to find a mix of that.
"I went too far on the spectrum early, and then last year on the other end. And now, we're going to find a happy medium. So that's something I'm targeting. The other piece, too, is, it's all well and good to communicate good culture and say you want this or that. But just like the players, actions have to match what they say and want to do on the ice, I have to match accountability, and the decisions I make have to match what I'm asking them to do so that guys understand, like, things aren't going to be allowed that we've been discussing on and off the ice."
The Marlies skated in Toronto on Thursday morning for what was their final practice before they begin their season in Rochester. There was a lot of excitement in the air as all of these players have been skating in Toronto for over a month now — most getting into at least one game during the Maple Leafs' preseason.
But now, the real work begins. And if you're wondering what the Marlies lineup will look like on Friday night, there were combinations during Thursday's practice.
Marlies projected lines for season opener:
Robertson-Abruzzese-Shaw
Steeves-Holmberg-Anderson
McMann-SDA-Gaudette
Blandisi-Douglas-Clifford
Kral-Hollowell
Rifai-Mete
Kokkonen-Villeneuve
Kallgren
Petruzzelli
Injured: Mikhail Abramov, Axel Rindell, and Joseph Woll
This lineup is incredibly deep and Toronto seems to have four forward lines that they could roll out at any moment to have success. What's most fascinating to me is the fourth line, which consists of Joseph Blandisi, Curtis Douglas, and Kyle Clifford.
"It's just a hard line to play against," said Moore of the line. "You got some big bodies, you got some toughness. They're going to make it really hard for the opponent — whatever line is out there — even if it's the top line. There's not going to be time and space.
"They're going to be physical, they're going to hopefully get out in the game and be able to tilt the ice, set up the guys behind them for o-zone, and then chip-in offensively. They all have a scoring touch. But, really, it's the physicality and the strength that they have together. And the style of play that they're going to play together with that will make it really hard on other teams."
There's a lot on the line here — for both the players and Moore. The season might be a little rocky at the start as the defence is a bit inexperienced. However, every player will lean on each other to help push through and bring a different outcome to this season.
The goal is to develop players and make a deep Calder Cup playoff run. And for Moore, personally, it's even more than that.
"[It's] another opportunity to improve not only myself, help better serve the players, and help the Leafs win the Stanley Cup."