Marlies' Logan Shaw wins AHL's Fred T. Hunt Memorial Award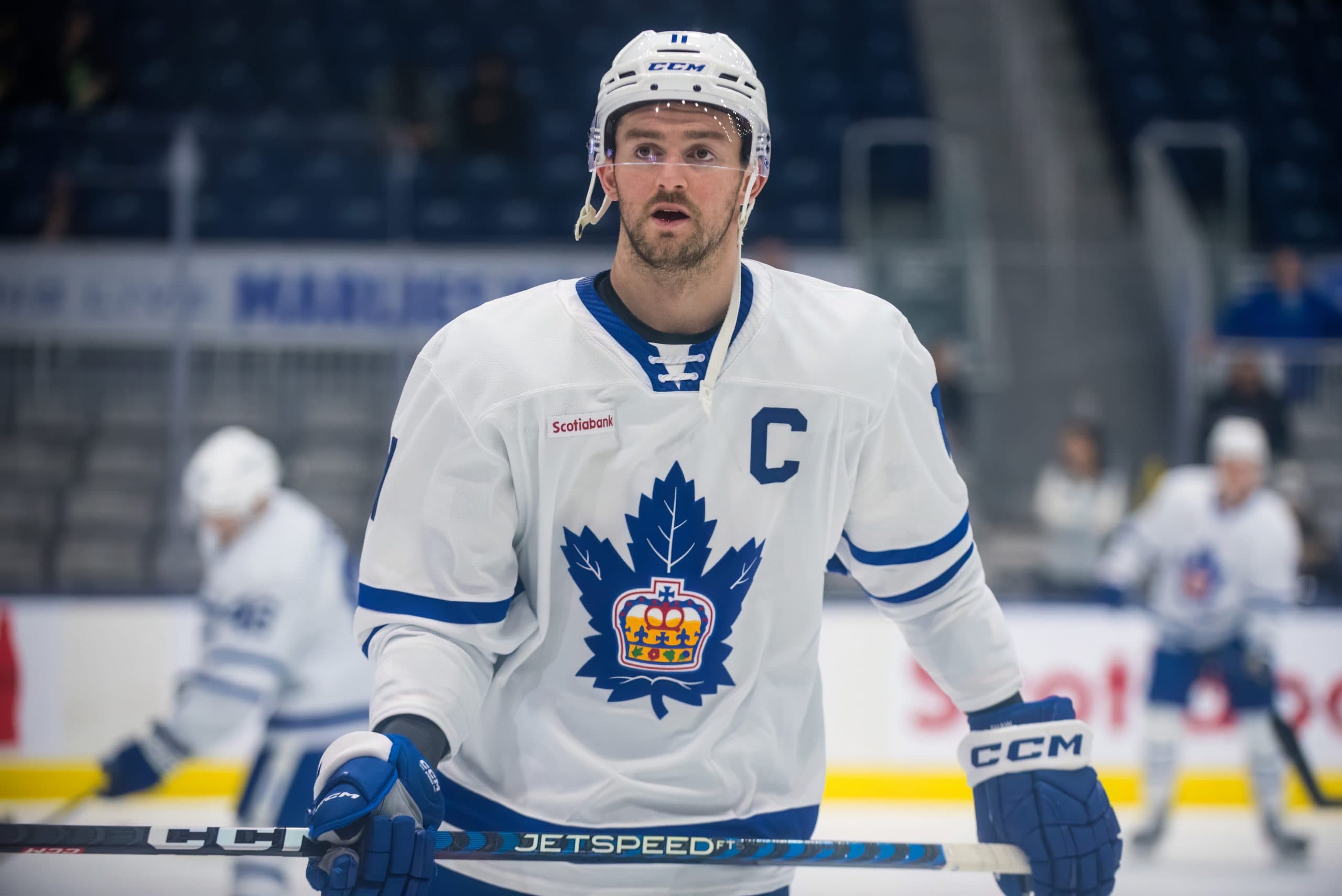 Photo credit:Steven Ellis/Daily Faceoff
Logan Shaw, during a career season with the Toronto Marlies where he's scored 21 goals and 45 assists in 67 games, has added a new award to his name.
The 30-year-old has won the AHL's Fred T. Hunt Memorial Award, an honour for one player in the league who best exemplifies the qualities of determination, sportsmanship, and dedication to hockey.
Shaw is the 47th player in AHL history to win the award which is voted by coaches, players, and members of the American Hockey League media. He is also the first Marlie to ever win the award.
"I'm honoured for it, it's pretty cool to be recognized for it," Shaw said. "I think our whole team, we kind of turned the ship as a leadership group in here and we kind of built off of what Rich [Clune] left when he retired.
"So I think a lot of credit goes to him as well, but it's cool to be recognized."
The 30-year-old has played eight seasons in the AHL, representing the likes of the San Antonio Rampage, the Portland Pirates, Springfield Thunderbirds, San Diego Gulls, Manitoba Moose, Belleville Senators, and now, the Toronto Marlies.
"I wouldn't change anything in my career — where I've been or my career path — it's been a lot of stops on the way, I've had my family there with me the whole way supporting me, and that's all I can ask."
Shaw's been around the game of hockey for a long time, and through that he's learned a lot about the word "leadership."
"I just try to make sure everyone feels welcome, everyone feels like they're a part of everything we do here," he said.
Earlier this season, Shaw was named the 10th captain in Marlies history, having the torch passed on by Clune who has remained with the Maple Leafs organization in Player Development role.
A moment he and his family will never forget. And this award will add yet another memory to a long and storied career.
"We're incredibly proud that Logan has received this recognition from his peers and those around the league for the leadership and professionalism he has demonstrated through this season," said Marlies GM Ryan Hardy in a
media release
.
"Logan's passion for the game is evident as a player but what has set him apart are the consistent qualities he exhibits as a person and his daily interactions with his teammates and all members of our organization. He is an invaluable resource to our young players, leadership group, coaches and staff for his mentorship, compassion and experience. He is deserving of this recognition, and we congratulate him on this honour."
Shaw has also played 232 NHL games, and through that he says is where he developed his leadership qualities.
"Every team I've been a part of, I don't think I could say that I've had any bad leaders." Said Shaw. "Right from my 16-year-old year in the Quebec league, where it all started, I had a great leader there.
"Every step of the way, from a child I had my parents and my older brother. They kind of taught me to be who I am right now, and then, when I turned pro, I had Derek McKenzie, Willie Mitchell, Greg Rallo, [Ryan] Getzlaf — the whole way it's been incredible with a lot of guys that I've been able to look up to.
"Some people say being in a leadership role is who you are, but for me, I learn from other people as well and you can see what works, what doesn't and you can kind of adapt to that.
"And for me, the biggest thing is trying to be who I am and not try to be fake. I want to make sure I'm there for everybody on my team and make sure that everyone feels welcomed to come to me."