Marlies Mailbag: Josh Ho-Sang returns, Dmitry Ovchinnikov, and the evolution of Bobby McMann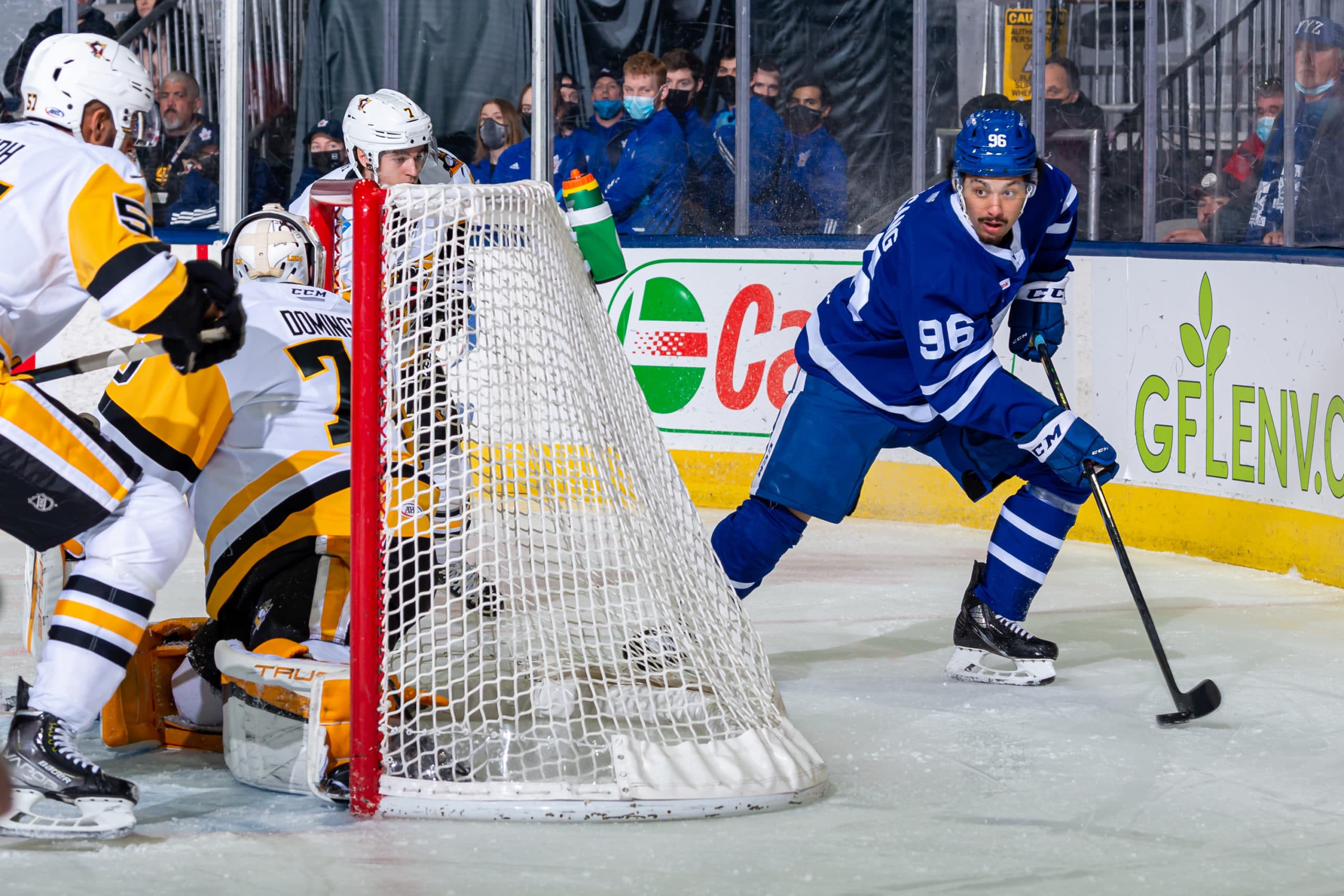 Photo credit:Christian Bonin/TSGphoto.com
Welcome to another edition of the Marlies Mailbag!
A lot has happened since I wrote the last mailbag. Dmitry Ovchinnikov joined the Marlies, Josh Ho-Sang returned to Toronto from the Olympics with Team Canada, Erik Källgren received a call-up to the Maple Leafs, and much more!
The Marlies most recently defeated the Wilkes-Barre/Scranton Penguins 6-1 on Wednesday night. With that win, Toronto's magic number to get into the playoffs is 33 points.
It's a very tight race between the five of Toronto, Laval, Rochester, Syracuse, and Belleville. Each team has almost an identical winning percentage which makes these last 17 games vital for points.
In today's mailbag, we'll be discussing Ho-Sang's return from the lineup after missing six games, Ovchinnikov joining the team, and the evolution of Bobby McMann throughout this season.
So, without wasting anymore of your time, let's get started!
---
While the Marlies were on a two game road-trip throughout New York at the beginning of March, there was a bug going through the team. I'm not too sure what it was, but what I do know that it was non-COVID related.
Ho-Sang missed those two games with the illness, and it likely hit him so hard that it took four more games to get back up to speed.
On Wednesday night, Ho-Sang returned to the Marlies lineup for the first time in six games. He was placed on a line with Nick Robertson and Antti Suomela (at the beginning of the game), before Mikhail Abramov joined Robertson and Ho-Sang later on.
The two of Robertson and Ho-Sang combined for seven points on the night — both scoring pretty nice goals.
"When he gets going in the middle of the ice and is entering the offensive blue line, you're kind of on the edge of your seat not knowing what's going to happen," said Marlies head coach Greg Moore of Ho-Sang. "He can do things that other guys can't do."
The Marlies haven't had Ho-Sang and Robertson in the lineup at the same time since the first game of the season back in October. Each player is incredibly missed when they're out of the lineup, but it's felt more when they both don't play.
With Dmitry Ovchinnikov, as far as I know, since he terminated his deal with Novosibirsk Sibir and signed an entry-level deal with the Maple Leafs, the 19-year-old will be here for his entire three-year deal.
Obviously, anything can happen at this point, but I'd like to think Toronto would much rather have Ovchinnikov here, developing with the Marlies rather than in the KHL where he might not receive as many minutes as he needs.
Ovchinnikov played Wednesday night's game on the opposite wing of Alex Steeves. The two have a lot of speed, which is why they could work really well together. It will take some time for the 19-year-old to get used to the AHL, but when he does, he'll be a dangerous player for the Marlies.
The most under the radar player on an AHL deal that I think has the biggest chance to make it to the NHL is Bobby McMann.
Ever since joining the Marlies this season, the 25-year-old's trajectory has just kept on improving. McMann brings a lot of speed and skill to Toronto, but he also has a very good shot, which he says is an asset to his game.
His work ethic is also second-to-none, and a lot of players can see that.
"He hasn't been handed anything," said Marlies captain Rich Clune. "I wish we had, like, ten Bobby McMann's. Straight up, like, I'm not trying to be funny, I think he's one of our most valuable forwards."
Most recently, McMann has scored four goals in his last three games. He's slowly approaching 20 goals in his first full-pro season, sitting at 17 currently. The 25-year-old has as many goals as Steeves, who is another player who projects to be in the NHL, and both are only four back of Joey Anderson for the team lead.
McMann is making the most of this season with the Marlies.
"Throughout the whole season, his competitiveness, how hard he works, how strong he is on pucks along the wall, how much time and space he takes away, how much space he creates for his linemates, just with how fast he plays and how strong he is, he singlehandedly tilt the ice for us." Said Moore of McMann.
The 25-year-old signed a one-year extension with the Marlies last month, but there's nothing to say that he can't get an NHL deal if his strong play continues.
One other name to put into that conversation is Keith Petruzzelli.