Marlies Mailbag: What's going on with Pavel Gogolev?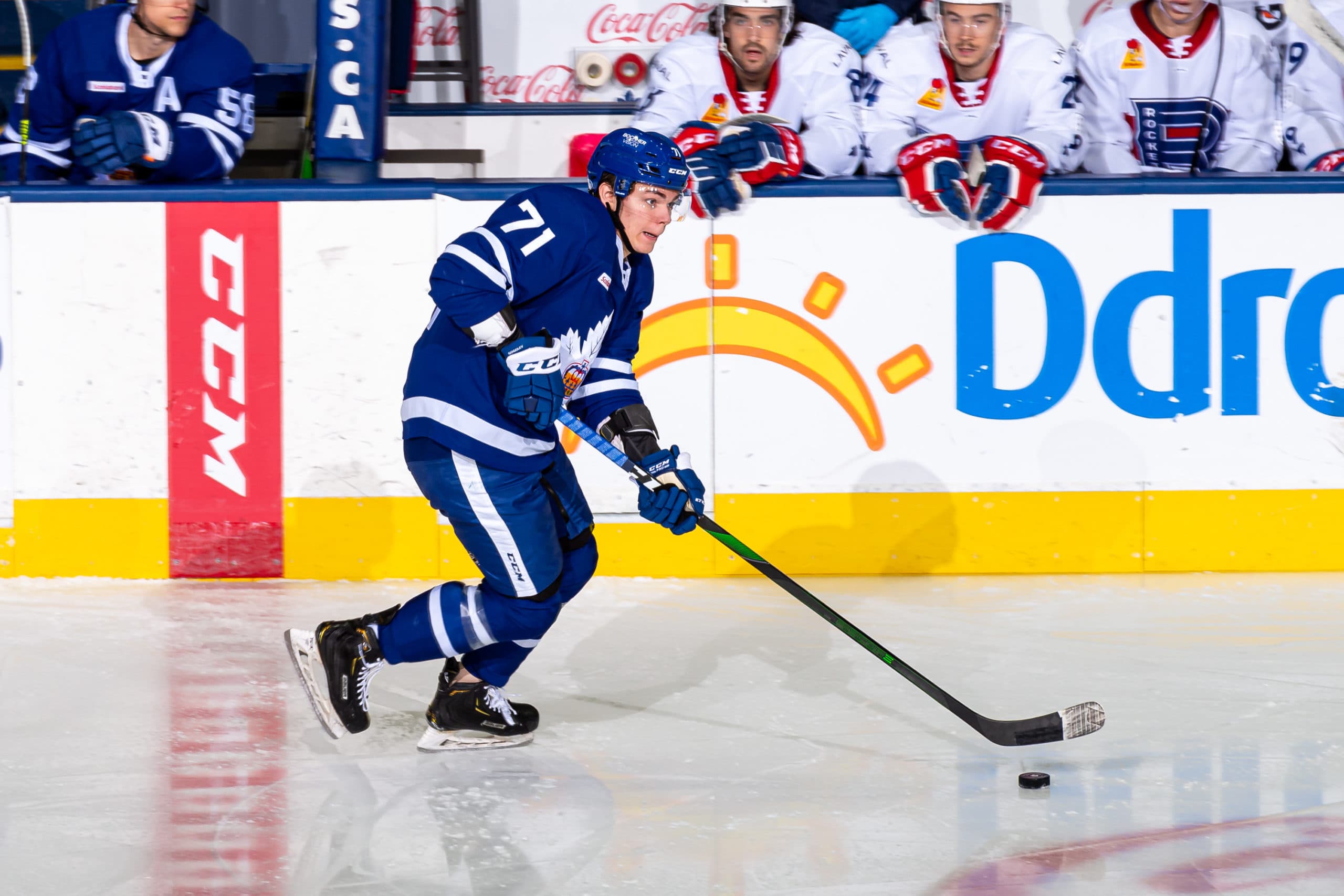 Photo credit:Christian Bonin/TSGphoto.com
Welcome back to another edition of the Toronto Marlies mailbag!
This month, I go over the Marlies season so far, who's stood out during their latest stretch, and who the Maple Leafs could look at signing ahead of the NHL trade deadline.
With the addition of Nick Ritchie as of late, Toronto seems like a team that will be tough to beat in the next month and even further into the future.
But instead of rambling on, though, let's get into the mailbag!
---
As of right now, Joseph Blandisi is still on a PTO to my knowledge.
Joining the Marlies back in December, the 27-year-old was just happy to be back playing hockey. During his first scrum, he said how happy he was to be playing in the blue and white, something the Markham, Ontario native dreamt of for a long time.
Blandisi has been a leader, but also a point producer, putting up 15 points in the 16 games he's played in this season with the Marlies. He's done so well that he's even been in conversation to be one of the Maple Leafs late signings ahead of the trade deadline.
In terms of Chad Krys, I would think he's in their long-term plans. He's in the same position as Gogolev, where there's so many good defenceman that it's just difficult to get into the lineup.
He's an RFA after this season, but I think him returning depends on who else the Maple Leafs sign in the off-season. If they re-sign players like Carl Dahlstrom and Alex Biega, it'll be difficult for him to be in a full-time role.
Even then, it's always possible that a few more Maple Leafs prospects join the Marlies next season.
I think it's likely that he'll return, but it all depends on if/who Toronto brings into the fold in the 2022-23 season.
This is a very good question that I unfortunately don't have an answer for.
One of the reasons why I think people weren't fans of Greg Moore early on was because it didn't seem like the results were coming. While they were winning games, it seemed like the team still had a lot of learning to do.
Since their COVID outbreak in December, the Marlies have gone 12-4-1-0 and have the 9th-best point percentage in the league.
I think with the players learning a lot, Moore is doing the same. At this point, it looks like the learning is paying off and they're playing very good hockey. It's just a matter of if they can stay consistent, and that will tell the full story.
As a new coach, plenty of people are going to question your decisions. But Moore cares about these players on both a playing and personal level, which is very refreshing.
I believe Moore is a fit and the Maple Leafs are happy with how he's done things so far.
I wish I could give you the odds on the Marlies winning the Calder Cup, but I unfortunately can't. I can say, though, that they're incredibly deep and could make for an exciting playoff push.
"I don't remember a team being this deep," Alex Biega said of the Marlies last weekend.
Biega, who's been a part of many teams in his career, won the Calder Cup with the Utica Comets back in 2015.
With the signing of Dmitri Ovchinnikov on Friday, the Marlies now get even deeper. He will join the Marlies when his Canadian work permit is approved.
I've gone over it already above, but Toronto has plenty of good players who aren't in the lineup on a given night.
I think when you look at it, this team has the calibre to push for a Calder Cup, but they have to make the playoffs first.
When Pavel Gogolev signed an ELC with the Maple Leafs, he was coming off a 13-game stretch where he produced good numbers.
During his first little taste of pro hockey, Gogolev scored six goals and added six assists for 12 points, while getting a lot of opportunity. The Russian-born winger, at times, got to play in the top-six and was even on the power play.
This season has been a bit different.
The 21-year-old was scratched on both Wednesday and Friday night, but I wouldn't say it was from a lack of trying. Toronto has a very deep team and with players like Nick Ritchie and Kyle Clifford coming down, it makes it much more difficult for someone like Gogolev to stay in the lineup.
"I think I'm progressing in different areas," said Gogolev in early January. "Focusing a lot on the d-zone, get a little contact in, be consistent every shift, and be in the right spots, so in that area, yeah, for sure I think I've improved a lot. But in points progression and everything, I think I can definitely do way better."
In the 28 games he's played in this year, Gogolev has three goals and five assists.
But there was always going to be an adjustment period for the 21-year-old when you look at the competition of this season compared to last year. Full-time AHL players aren't with the taxi squads anymore and it's made it tough on players who had a strong impact last season.
And while there have been reports of the Maple Leafs trying to move Ritchie, that free roster spot would likely go to Josh Ho-Sang who will be returning from the Olympics.
I don't think this signing was a "flash in the pan" by any means, though. Gogolev is a very deceptive player who can change his speed on the flip of a dime, while also having a very good shot. I still believe there's a lot of upside.
Once players move around, I think Gogolev will get back into the Marlies lineup and prove how good he can really be.
---
That's it for this portion of the Marlies mailbag!
I did answer a few more questions on my YouTube channel. If you want to watch some of those, you can find it
here
.
There's a lot of good things happening with the Toronto Marlies right now, though, so you should be very excited. They haven't had a team like this in a while, and it could be one that's very dangerous in the playoffs.
By next month, we'll have a much better picture of where they stand on that front.