Marlies Weekly: Lajoie to the Maple Leafs, and a new addition as the boys split in Quebec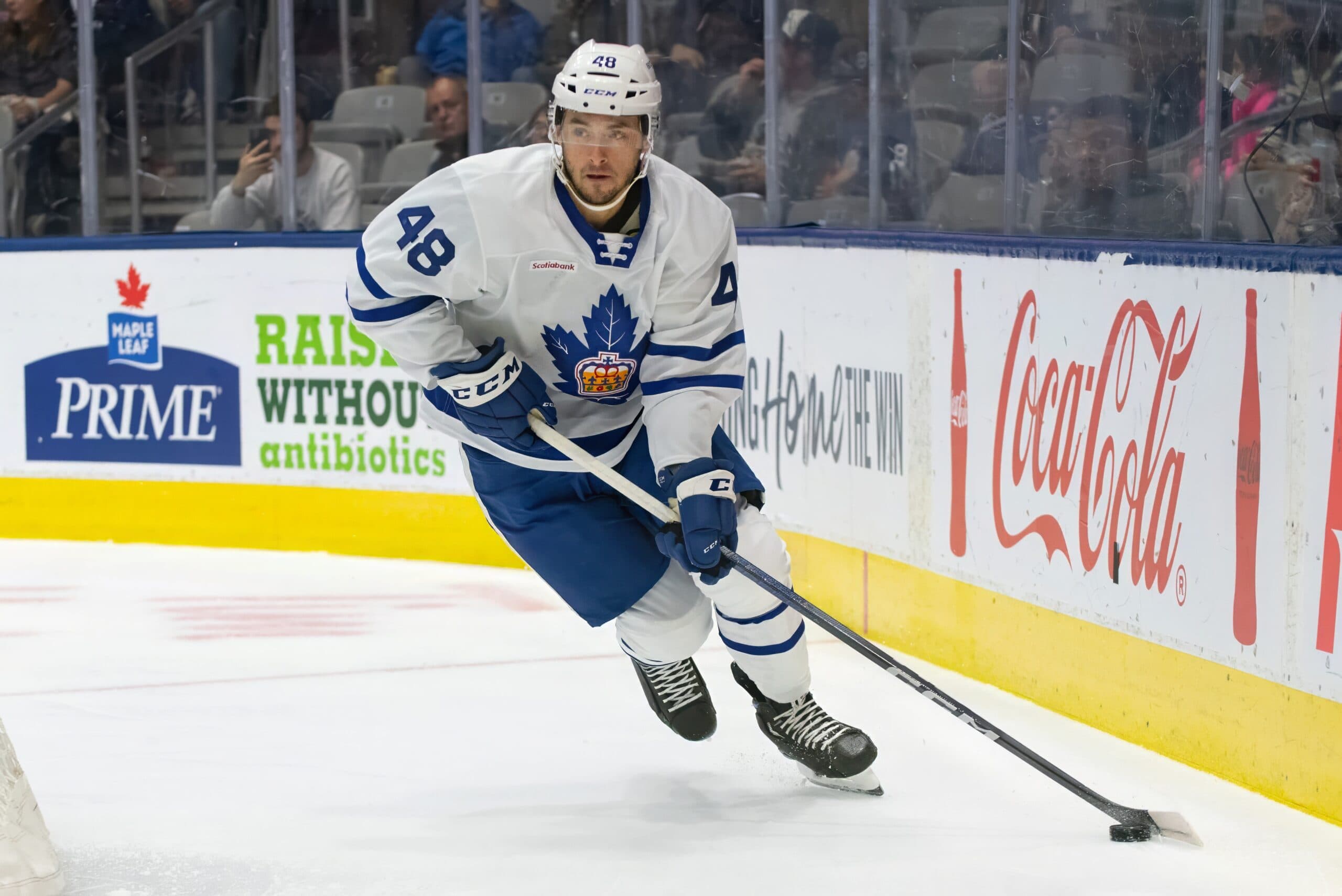 Photo credit:Steven Ellis/Daily Faceoff
The Marlies were back in action this weekend as their road trip continued in Quebec. They were off Monday to Friday, and got some valuable reps in, while some of the injured players continued to heal. They also made a PTO signing, adding Kiefer Bellows to the squad. Perhaps the biggest news during the week stemmed from the Toronto Maple Leafs and Timothy Liljegren.
During the Maple Leafs contest with Boston, Liljegren and Brad Marchand engaged in a puck battle near the boards. I don't think the play was suspendable, but there absolutely should have been a penalty called on the play. Things happen quickly in hockey, and while I don't believe it was Marchand's intent to injure Liljegren, he "can-opened" the Swedish blue-liner, and Liljegren crashed dangerously into the boards.  Our worst fears were realized, as Liljegren has been put on LTIR with a high-ankle sprain.
With every injury comes an opportunity, and this time it was Max Lajoie who benefited. Both Lajoie and Simon Benoit were subsequently called up by the Maple Leafs. Last night, Lajoie played 4:54 seconds in Toronto's loss to Buffalo. Congratulations to him for making his Maple Leafs debut.
The Leafs need to shift gears and focus on tomorrow night, as Tampa Bay comes to town. While Sheldon Keefe mentioned that Jake McCabe may practice today, it's likely too soon for his return. With Lajoie playing so little, I wonder if Benoit will get back on the ice. Keefe mentioned in his post-game press conference that he hadn't seen his d-core look that exhausted in a 3rd period, so perhaps some new blood is in order.
Back to the Marlies, who signed Kiefer Bellows to a PTO midweek. The former 1st-rounder played in 27 games with the Philadelphia Flyers last year, scoring 3 goals. He has some familiarity with the Marlies brass having played underneath Head Coach John Gruden in New York, and the NTDP with Ryan Hardy.
Bellows made his debut on Friday night as the Marlies took on the Laval Rocket in the first of back-to-back meetings. It didn't take long for him to get acclimated; he scored his first goal and the Marlies jumped out to a 3-1 lead early in the 3rd period. Nick Robertson and Mikko Kokkonen had the others. Unfortunately, the wheels fell off, and Laval stormed back with 4 straight to take the first game 5-3. Joseph Blandisi led the way in shots with 5, while Martin Jones surrendered 4 goals on 30 shots.
On Saturday night the Marlies came out with a point to prove. Having not lost back-to-back games all year, they were determined to put forth a good effort. Alex Steeves got the scoring party started in the 1st period, making a nice strong move from behind the net into the high slot before depositing his 5th of the year. Kyle Clifford got his second of the year in the 2nd period, and the Marlies went into the 3rd period up by 2.
The floodgates opened up, as they tacked on 3 more. Nick Robertson and Logan Shaw both sniped home, while Alex Steeves potted his second of the game in some style. Dylan Gambrell and William Villeneuve both added 2 assists, while Dennis Hildeby turned aside 26 shots to earn the shutout.
Steeves has continued his hot streak, as he now leads the team in goals with 6. If he continues to produce and produce without sacrificing his strong 200-foot game, he should earn himself more looks from the Maple Leafs. He has shot out of the gates so far, and has likely vaulted himself above a couple of other forwards in terms of earning a call-up.
As we look ahead to this week, the Marlies will continue their road trip with 3 more matches. They travel to Milwaukee on Wednesday in what should be a spicy affair given some of the extracurriculars that happened in their game 2 weeks ago. After that, they head to Michigan for back-to-back games against Grand Rapids on Friday and Saturday.
I'll be interested to see what happens with the Maple Leafs d-core, and if Lajoie continues to get the nod over Benoit. Let's hope the Leafs and Marlies put together some wins over the next few days, I'll be back next weekend to recap!