Marner, Matthews line looking for even strength spark against Vegas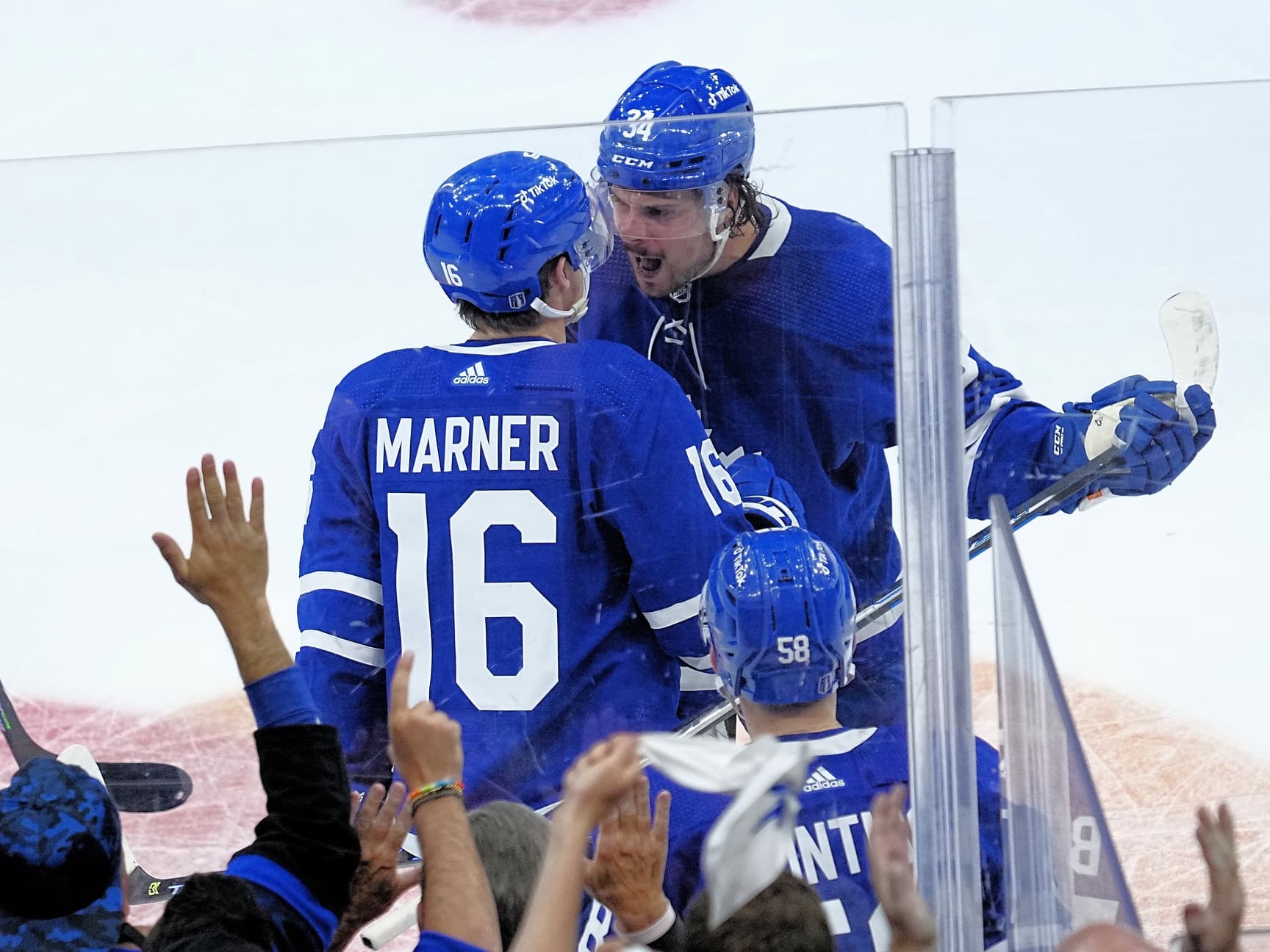 Photo credit:John E. Sokolowski-USA TODAY Sports
If you look solely at the points column, Mitch Marner and Auston Matthews have been flying high.
Both of them have a point-per-game, with Marner leading the team with 12 assists. But at 5-on-5, they've been virtually non-existent with four goals between them, with Matthews tallying just three of his 13 points at even strength.
Ouch.
Of course, only in Leafland would there be concern about a top line with two players producing at an 80-point pace. But considering Bunting's six total points, they haven't been rewarded for the opportunities they're capable of. Coach Sheldon Keefe split the line up during Sunday's victory over Carolina, and it seemed to spark them all just a bit. But Keefe elected to re-unite them for Tuesday's home game against the Vegas Golden Knights, the team that sent the Leafs spiraling on a tumultuous western road trip last month.
When everything's good, Marner and Matthews have been paired with Michael Bunting. But the second-year Leaf hasn't lived up to expectations after a remarkable first campaign in Toronto last year. Bunting led all rookies with 63 points last year, with 23 of them being goals. And with just five power-play points to show for, it was almost always coming at 5-on-5. On Tuesday. Bunting skated on Toronto's third line with Pierre Engvall and Calle Jarnkrok, while Alex Kerfoot took his spot with Matthews and Marner.
With just six points through 13 games, it was time for a change.
"Bunts is competing his ass off out there, he's involved in everything," Keefe said. "It just hasn't come together."
Kerfoot has skated with the top line this season on rare occasion with nothing to show for yet. But as a whole, Kerfoot has found his game again after a tough end to 2021-22. If Kerfoot can spark something, excellent. If not, perhaps it's a short test. The Leafs need Bunting to be better, and while the opportunities have been there, he hasn't figured things out.
That's something his linemates agree with – not towards Bunting in particular, but the group as a whole.
"I think we're getting our chances, but it's not going in right now," Marner said. "But you can't stress anything about it. You just have to realize you're doing the right things, you're getting the chances, they're just not happening. Eventually, you'll get rewarded."
The Bunting-Matthews-Marner line have an expected goals percentage of 56.7 this season, according to
MoneyPuck
. That's down from 65 percent in 2021-22 after 554 minutes together, which is simply remarkable. The Kerfoot-Matthews-Marner line played 23 minutes together last year with a 50 percent mark, so it'll be interesting to see how they gel tonight – or potentially longer.
The Leafs have won the past three games, shaking off an ugly five-game losing streak that made the fanbase go into a frenzy. But the Golden Knights are currently on a seven-game winning streak and have an 11-2-0 record overall. Goaltender Logan Thompson has been one of the best early on, while the Leafs will go with third-stringer Erik Kallgren with Ilya Samsonov and Matt Murray on the sidelines. So Toronto needs that top line producing, and that starts with the two biggest stars finding chemistry at even strength.
It felt like the top line was always scoring at Scotiabank Arena last year. And while power-play goals are completely valid, you need more out of 16 and 34 when everything's equal. The Golden Knights won't give you much room to work with, after all.
So it'll be interesting to see how Matthews, Marner, Kerfoot and, to a different extent, Bunting, react on Tuesday. If they still can't get things figured out, maybe Keefe goes back to Matthews and William Nylander as one pair and Marner and John Tavares as another. Both lines seemed to find their spark in the second half against Carolina, so it was interesting to see Keefe return to what has typically been the team's 1-2 punch.
Now let's see it pays off.