Martin Marincin is off to the medal round as USA and Canada fall in the Men's quarter-finals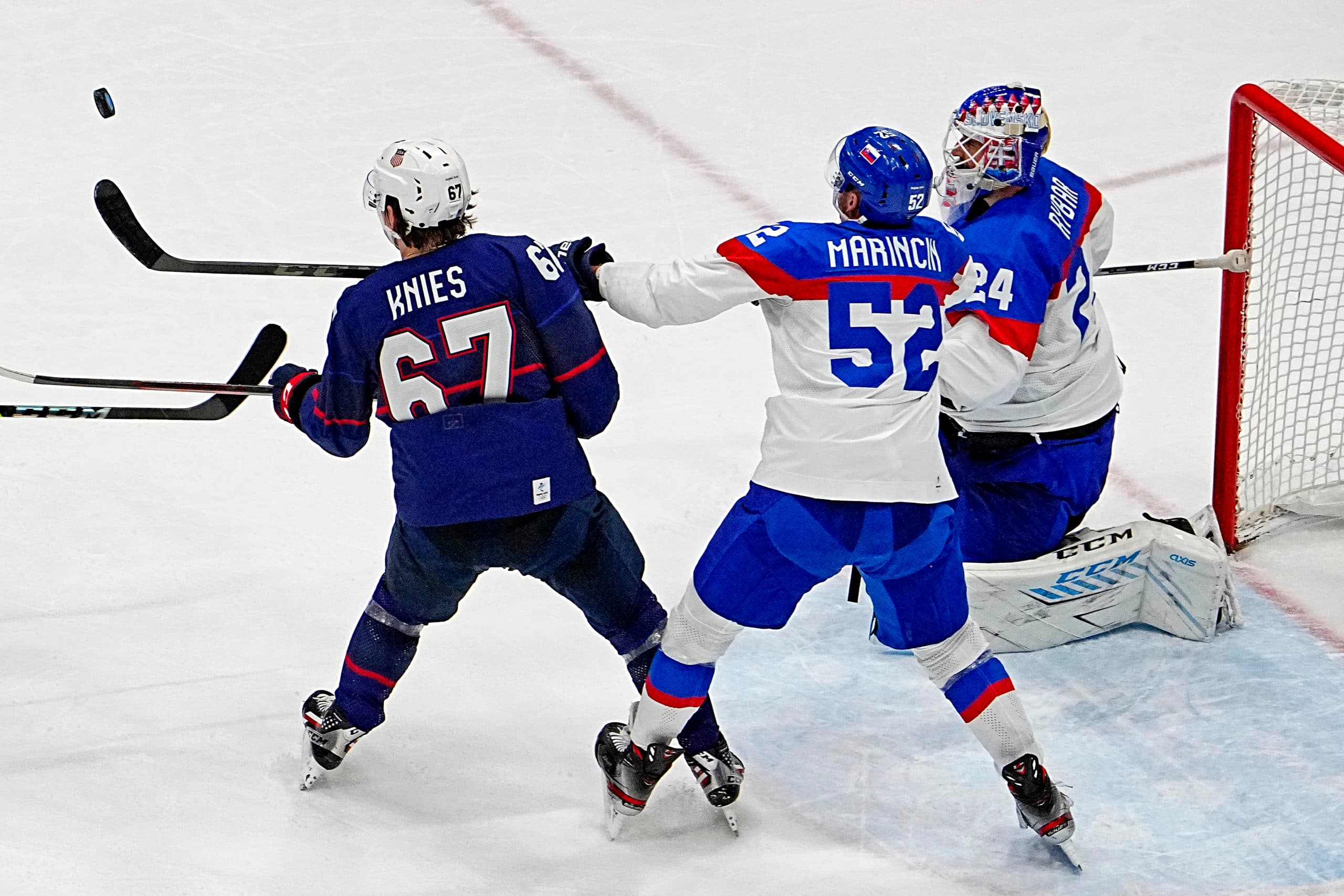 Photo credit:Peter Casey-USA TODAY Sports
I didn't think I'd be writing about Team Canada and the US getting eliminated from the Men's Olympic Hockey Tournament this early, but here we are.
All four of the quarter-final games were played today, and each involved teams who could send upsets to the other country. That's what some did.
The two biggest games of the day were the USA vs. Slovakia (which started the day) and Canada vs. Sweden (that ended the day).
It seemed like the Americans were an exciting team, with players like Matthew Knies and Nick Abruzzese, who are both Maple Leafs prospects. Even without them, USA had Kenny Agostino, David Warsofsky, and Jake Sanderson. This team was supposed go further.
But unfortunately, neither one of Canada or USA will be playing for a medal at the 2022 Olympics.
USA vs. Slovakia
Team Slovakia almost led after the first period, but just before the period ended, Abruzzese was able to pot one for the US after some nice passing.
That was the 22-year-old's only goal at the Olympic Games.
During the second period, the Americans would get on the board again with a goal from Sam Hentges. After that, it went fairly quiet for both teams. There were some penalties being called, but no goals.
However, with 44 seconds left on the clock, Slovakia was able to tie it.
Slovakia had the net empty and Marek Hrivik puts it in after a point shot just squeezes through Strauss Mann.
They eventually went to the shootout and Patrik Rybar made every save to help Slovakia overcome the United States and play for a medal at the 2022 Olympics.
As for Maple Leafs prospects, Knies finishes the tournament with one goal and one assist, while Abruzzese scored one goal and added three assists in four games.
There is some good news in this, though, because former Maple Leaf, Martin Marincin will be playing for a medal after defeating the US.
That's what we love to see.
Russia vs. Denmark
This game didn't have much upset potential in it as the ROC has been pretty dominant over the span of the tournament so far.
It seemed similar in this game, too.
After two periods, Denmark was down by two goals and it didn't help in the third when with six minutes remaining, they got a penalty.
The ROC capitalized and scored their third goal of the game, which sealed the deal.
Denmark goes home and Russia moves on to face Sweden in the semi-finals.
Finland vs. Switzerland
Switzerland has been a tough opponent throughout these Olympic games, but they didn't have it against Finland.
Former Toronto Marlie, Miro Aaltonen got Team Finland on the board early. Shortly after, it was former Maple Leafs defenceman, Mikko Lehtonen who joined the fun.
Switzerland would score one goal, but they fall to Finland, who's now off to face the Slovakia in the semi-finals.
Canada vs. Sweden
As much as I am shocked about this result, at the same time, I'm not.
Although it did look like Canada had a good team at these Olympics, they never really dominated games.
I said in my last Olympics article that Canada's Olympics starts now with a game against Sweden, and they unfortunately couldn't get it done.
Glenn Healy said it perfectly in the broadcast after the game ended. He said that Canada didn't have one line or one goal scorer who would come out in the big moments, which was true.
One of the decisions I questioned was when Canada had an offensive zone faceoff with just over two minutes remaining in the third period. Claude Julien elected to keep Matt Tomkins in the net, while Canada had a lot of pressure in Sweden's zone.
Shortly after Sweden was able to get it out, Canada brought the puck into zone again, Julien got Tomkins to the bench this time, and then Sweden came down and made it 2-0.
If you're a Maple Leafs fan, you should be watching Pontus Holmberg, since he was playing in the final minutes of this game. The Leafs prospect assisted on Sweden's empty-net goal. It'll be exciting to see how far he can go in these Olympic Games.
But for Canada, they had a lot of hype coming in and it was for good reason. But unfortunately, they couldn't get it done and now will return home without a medal in hand.