Mat Barzal for Mitch Marner, a far-fetched hypothetical swap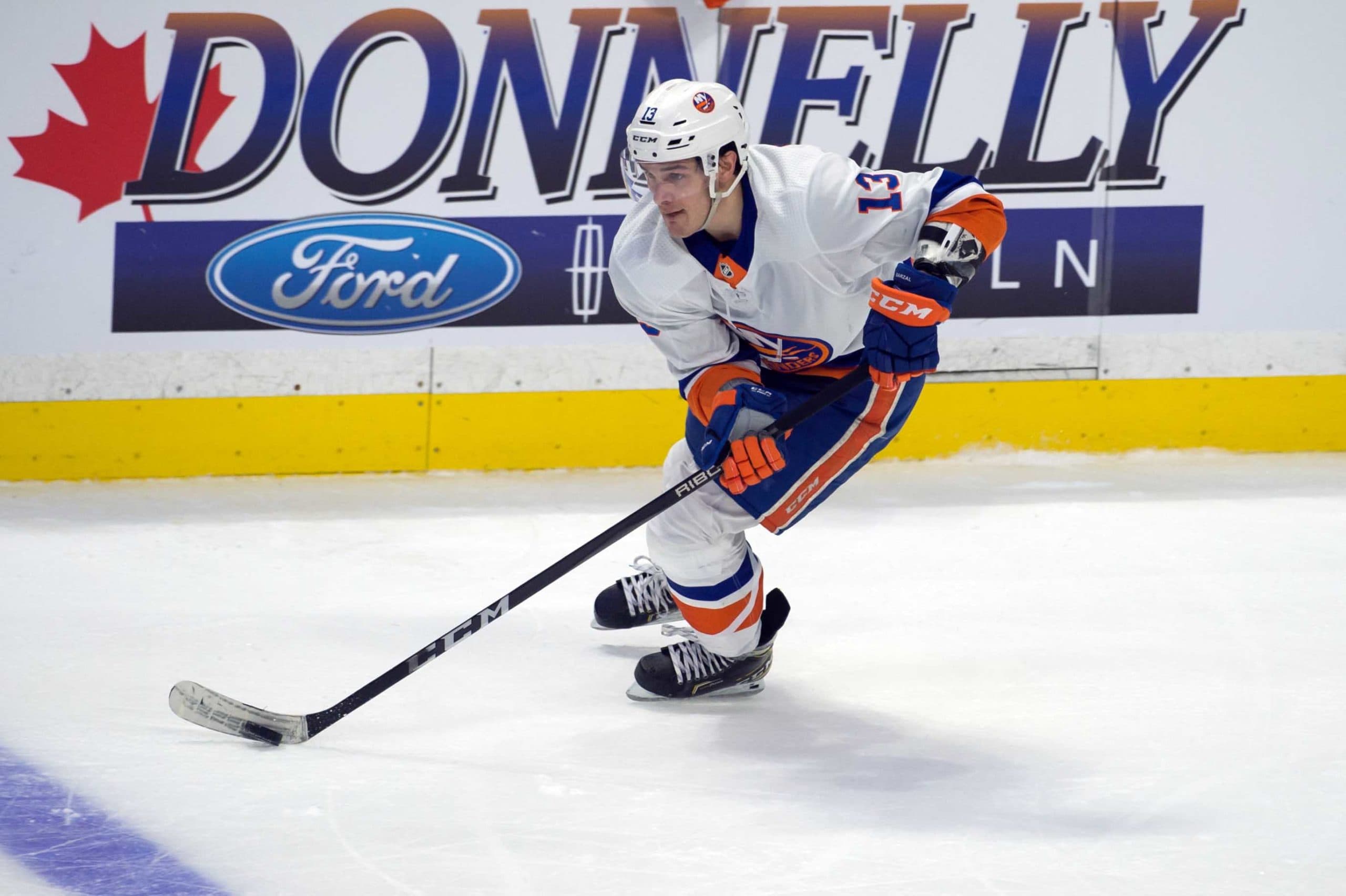 Photo credit:Marc DesRosiers-USA TODAY Sports
End-of-year press conferences in the NHL enable fans and members of the media to pull back the curtain and gather information directly from team management. They can occasionally reveal very intricate situations, and as we saw here in Toronto they have the ability to alter the course of a franchise forever.
Most teams hold their end-of-year media availability within a week after their season ends, and usually, the President of Hockey Operations and General Manager or Head Coach will speak. The New York Islanders had their season come to an end on April 28th in overtime of Game Six against the Carolina Hurricanes. Fast forward to June 6th, the Tuesday of this week, and we finally heard from Lou Lamoriello.
We are all familiar with Lou here in Toronto. He chooses what to say very carefully, and everything he does has a purpose behind it. He doesn't often mince his words and he certainly has more than enough experience dealing with questions from the media. When I listened to his availability one answer he gave stood out. As the off-season in Toronto rolls on, here is a far-fetched. trade opportunity between the Islanders and Toronto based on their needs
Lou's Comments:
Lou was asked a question about what his roster may look like next year. He talked about their pending free agents (Pierre Engvall, Zack Parise, and Scott Mayfield are the main ones), and then touched upon the core. Lou clearly believes in his goaltender (Ilya Sorokin), and their top four defencemen; Adam Pelech, Ryan Pulock, Alexander Romanov, and Noah Dobson. He then touched upon the depth that New York has at center…
Lamoriello stated that the Islanders are very fortunate to have five pure centermen, and he touched upon Matt Barzal having to be pushed to the wing. Given that Toronto has a clear lack of centres, perhaps these two teams could help each other…
Toronto's Needs:
The Maple Leafs will obviously look to strengthen their roster this summer. They have certain positions that need addressing, and one of them is down the middle. Auston Matthews is a big question mark in terms of his contract, but as of now, most signs are pointing towards him re-signing here this summer. John Tavares isn't getting any younger, and his lack of foot speed could force Toronto to push him to the wing. With Ryan O'Reilly, Alex Kerfoot, Noel Acciari and David Kampf all out of contract this summer, the Leafs don't have much certainty at all at center. This is certainly an area Brad Treliving will address.
New York's Five 'Pure Centers'
Let's start with their shortest-tenured center, Bo Horvat. Horvat was traded from Vancouver to Long Island this season in exchange for Anthony Beauvillier, Aatu Raty, and a conditional 1st round pick. Horvat is a #1 center, although he struggled after the trade. In 30 regular season games, he scored seven goals and added nine assists. In the playoffs, he put up a measly two points in six games. Beauvillier actually outscored him in the regular season after the trade. Horvat certainly hasn't played his best hockey for the Islanders, and Islanders faithful will hope that next season his play is more in tune with the $8.5M cap hit he has until 2031. His numbers should improve, and he is almost certainly off-limits for Toronto or anyone else.
Brock Nelson anchored the Islander's second line last year. The 31-year-old has played his entire career in the Islanders organization since being drafted 30th overall back in 2010. Nelson is coming off his most productive NHL season, scoring an impressive 36 goals and falling just short of a point per game. He is signed through 2025 at $6M per year.
Next is Jean-Gabriel Pageau. The 30-year-old has been able to offer New York some secondary scoring, tallying 40 points in 70 games played this season. He is signed through 2026 at $5M per year, and the Leafs would more than likely have no interest in targeting him.
At 4C is Casey Cizikas. He makes up a third of the Islander's very reputable 4th line (Matt Martin and Cal Clutterbuck are the other two). Lou Lamoriello took time to praise this line in his press conference, and the trio certainly make their presence known whenever they are on the ice. Cizikas brings energy and physicality and won over 53% of his draws this year. He is signed through 2027 at $2.5M per season. It's unlikely that Toronto targets him via trade, but it is important to note that Cizikas is born in Toronto. He could be one to earmark for a hometown discount as his playing career winds down.
That leaves the fifth 'pure' center Lamoriello was referring to, Matt Barzal. An elite playmaker and skater, Barzal is one of the most exciting forwards in the NHL. He was forced to play on the wing at times this year, but he is an elite playmaking center. He is a Calder trophy winner and an All-Star. Barzal is signed through 2031 at $9.15M per year.
What a Hypothetical Trade Could Look Like?
First off, let me be crystal clear here. I am not advocating for the Leafs to trade away any of the 'Core 4'. IF, and only IF Brad Treliving decides that trading one of them away is the best course of action, I believe that Mitch Marner would be the first to go. Now, if you are going to give up one of the very best players in hockey, you would expect to get a very strong return. In this case, if the Islanders and Leafs engaged in trade discussions involving Marner, Matt Barzal would almost have to be included going the other way.
The Islanders have too many centers, the Leafs don't have nearly enough. Swapping a center for a winger does make sense. Now, Marner would command more than just Barzal, and Lou might not be inclined to give up too much for the skilled forward. From a value standpoint, Barzal wouldn't be enough to tempt Treliving. Romanov or Dobson would be another piece that the Leafs should add in, assuming this deal was to ever happen.
Summary
Lamoriello waited a long time to have this press conference. He pointed out that they have five centers, and specifically mentioned Barzal playing on the wing. The probability of a deal involving Marner and Barzal going through is incredibly low, but it's June and until the draft/free agency happens, it's fun to throw far-fetched trade proposals around.