Matt Knies arrives, Niemelä nets his first, Moldenhauer stays hot: Leafs Prospect Roundup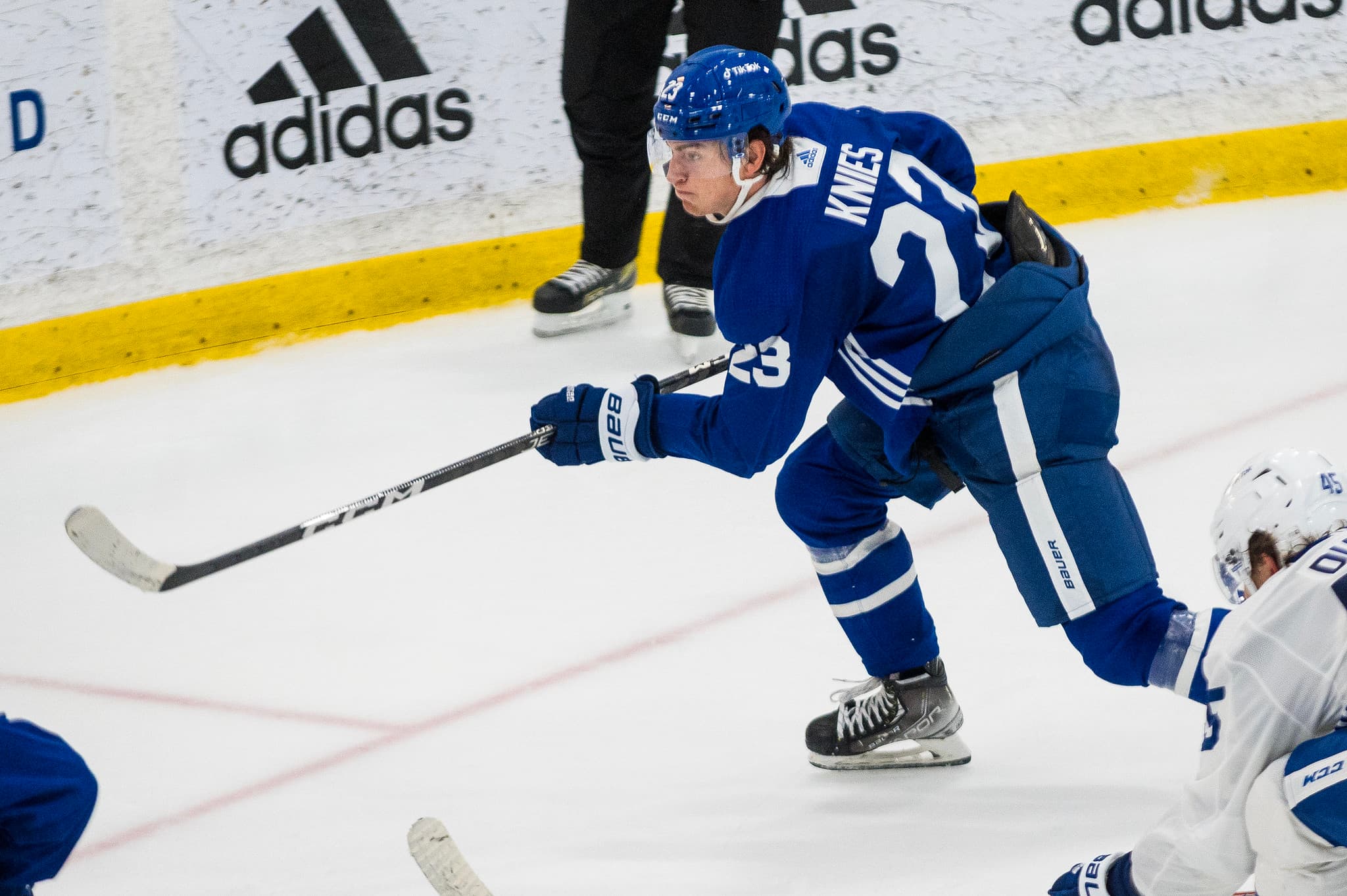 Photo credit:Steven Ellis/The Leafs Nation
Matthew Knies was a completely unknown commodity for most fans when the Leafs selected him 57th overall in the 2021 draft, but his play with the Minnesota Golden Gophers over the last two seasons has promptly catapulted him to the top of Toronto's prospect pipeline, and now, the NHL.
Knies's sophomore season came to a heartbreaking end in the National Championship game in Tampa Bay on Saturday night, as Quinnipiac tied the game with their goalie pulled late in the third period before ending the game in stunning fashion just 10 seconds into overtime. Knies flew back to Minnesota with his teammates, but he won't have long to dwell on the loss after signing a three-year entry-level contract with the Leafs on Sunday.
The Leafs had to partake in some salary cap gymnastics to make it happen, but when all was said and done on Sunday, Knies was signed and on his way back to Florida to join his new teammates. His contract will carry a cap hit of $925k annually, and there are no performance bonuses included in the deal.
With Calle Järnkrok still considered day-to-day and Wayne Simmonds assigned to the Marlies in order to create the cap space needed to sign Knies, the Leafs arrived in Florida with just 12 healthy forwards on their roster following the addition of the organization's top prospect. Unless Sheldon Keefe opts to revert to using 11 forwards and seven defensemen against Florida on Monday night, Knies appears set to make his NHL debut against the Panthers.
With their place in the standings locked up and a number of forwards who could use a night or two off down the stretch, throwing Knies into the deep end and getting a look at what he could bring to their lineup in the final three games seems like an easy decision. The young power forward should be given a chance to show what he's got, but it is important to temper expectations.
Knies has proven to be a dominant force at the college level, evidenced by being named the B1G10 Player of the Year and a finalist for the Hobey Baker Award this season, but the jump from college hockey to the NHL is a big one, and there is sure to be an adjustment period for the Arizona native.
One thing that should help ease Knies' transition to the pro ranks is his physical makeup. Standing 6'3″ and weighing in at 210 pounds, he isn't a player who should be overwhelmed by the size and strength of NHL defenders. He uses his strength and large frame to gain little advantages all over the ice, whether that be playing through contact while protecting a puck along the wall or boxing out a defender to create time and space around the front of the net. Knies is extremely effective along the boards, forcing turnovers and winning small-area battles to pull pucks off the wall and into the middle of the ice. It will be interesting to see how those attributes translate to the smaller ice after spending two years at Minnesota, where they utilize an Olympic-sized sheet.
Knies is a physical player who will finish his checks with authority, and he can change a game with a bone-crunching hit, but he isn't the type of player who is constantly running around looking for it, either. There is a cerebral nature to his game, and he does a good job of picking his spots to throw that big hit, but he is just as likely to swipe a puck with a deft stick check as he is to try and put someone through the end boards. That blend of power and finesse is the hallmark of Knies' game and makes him a valuable building block in a day and age where players of that ilk are becoming rarer and rarer.
More often than not, it is Knies' creativity and offensive skill that stands out above all else. He has slick hands that allow him to execute skilled plays under pressure, pulling pucks through sticks and feet or coming away with a rebound near the blue paint. Knies will attack defenders one-on-one, where he can lean on them to the outside and power his way to the net or catch them reaching and beat them with a quick dangle. He is a versatile offensive threat who can create his own chances, but he also has good vision and the ability to string those skilled moves with the puck into quick passes for his teammates.
While he plays a middle-driven game and does a lot of his damage around the opposing net, Knies also has a lethal curl-and-drag wrister that makes him a scoring threat from the outside. He has a knack for finding soft spots in coverage, and he doesn't need much time to load up his quick release to catch defenders and netminders off guard.
Knies is a fine skater who gets around the ice well for a big man, and he can execute skilled plays off the rush, but he will need to improve his lateral mobility and posture to be as effective in transition as he has been at the college level. He is a handful when he gets a head of steam going, but there will be less time and space available for him when carrying the puck in the NHL.
So where does Knies fit in right now, and what are realistic expectations for him heading into the postseason?
The Leafs are in a position where they can afford to get a good look at Knies to close out the regular season. The trick will be balancing the need for the current lineup to continue developing chemistry while also putting Knies in a position to succeed. Barring an otherworldly showing in what will be a brief audition ahead of a crucial playoff matchup with the Tampa Bay Lightning, his performance over these final few games will likely determine where he slots in on the "next man up" depth chart with the likes of Simmonds, Pontus Holmberg, Alex Steeves, Radim Zohorna, and the currently injured Bobby McMann.
Knies could eventually find himself in the lineup for a playoff game – whether that be due to injury or poor performance from someone in the bottom six – but with the way the Leafs' forward group has performed, it is difficult to envision Knies stealing a job outright with such little runway ahead of the postseason.
Regardless of what he is able to contribute this season, getting the organization's top prospect signed and in the fold moving forward is a big win for Kyle Dubas and the Leafs. Knies' impact is more likely to be felt next season and beyond, but hey, you never know.
Notes from the rest of the prospect pool:
Topi Niemelä registered his first AHL point with a secondary assist in his Marlies debut and wasted little time adding his first goal, scoring with a sneaky wrister from the point in Wednesday's 2-1 overtime loss. Niemelä's marker came in the dying seconds of the third period to force overtime and ensure a point for his club. He was held without a point in Friday's blowout loss to Utica, going -2 in the defeat, and now has an even rating with a goal and an assist through his first three AHL contests.
The Kamloops Blazers made quick work of the Vancouver Giants in their opening-round playoff series, sweeping them in four games, but Fraser Minten missed all four contests with an undisclosed injury. Hopefully, the injury is minor, and the Blazers' extended break before the second round will allow the Leafs' 2022 second-rounder to recover before then.
Roni Hirvonen and HIFK are against the ropes, down three games to one in their Liiga semifinal playoff matchup with Tappara. Hirvonen's only point of the series came on an assist in a game three loss, and he now has two goals to go along with two assists in 10 postseason games. If and when HIFK is eliminated, he is expected to follow Niemelä's path to the Marlies to close out the season.
The Sarnia Sting closed out their first-round matchup in the OHL playoffs with a 4-3 overtime win in game six on Sunday. Ty Voit scored his first goal of the postseason to tie the game at two and finished the series with seven points. His playoff production is a continuation of a stellar regular season, and he was also chosen as Sarnia's nominee for the OHL's Most Outstanding Player Award earlier this week.
Nick Moldenhauer has been scorching hot as of late and put up consecutive two-point outings against Youngstown on Friday and Saturday. He notched a goal and an assist in each contest, bringing him to 29 goals and 38 assists in 51 games, including nine in his last five. The Leafs' 2022 third-round pick is closing out the regular season on a high note as Chicago gears up to make a run at another Clark Cup title.
Like Niemelä, Dennis Hildeby joined the Marlies last week, and he made his debut on Friday against Utica. Unfortunately, the towering netminder received little support throughout the game as he was shelled for five goals against on 42 shots. Hildeby had his struggles, but he also made a number of solid stops. Hopefully, the rest of his team will show up to give him a better shot in his next start.
Brandon Lisowsky, Josh Pillar, and their Saskatoon teammates are in the midst of a back-and-forth first-round series against Connor Bedard and the Regina Pats after the Pats forced game seven with a 5-3 win on Saturday. It's a small sample size, but Lisowsky's production has dipped in the playoffs, and the Blades will likely need him to add to the goal and two assists he has so far if they're going to advance to the second round.
Knies wasn't the only Leafs prospect who played a big part in the Gophers making it to the NCAA title game. Mike Koster had a big second half of the season, including a goal and an assist in their semifinal matchup against Boston University, and finished with 29 points in 40 games. Unfortunately, it was his poor read off the opening faceoff in overtime that played a big part in Quinnipiac coming away victorious in the championship game. Despite a disappointing finish, Koster took positive steps in his development this season. He is likely to return for his senior year and will take on a larger role if so, giving him a greater opportunity to earn an ELC with the Leafs next spring.
(Statistics from EliteProspects.com)
(Contract details from CapFriendly.com)