Matthew Knies enjoys the pressure of being a top prospect at Leafs development camp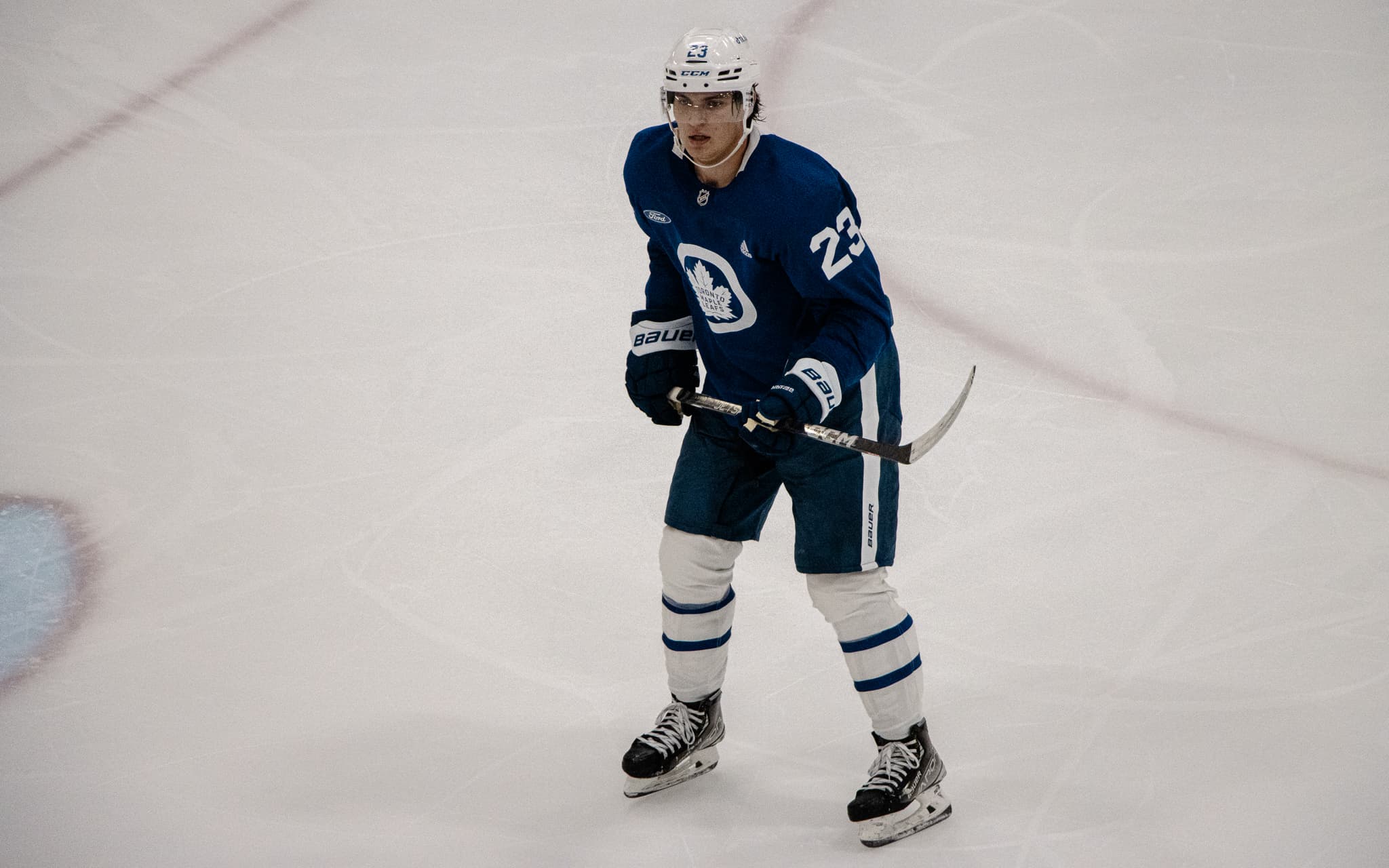 Photo credit:Nick Barden
Matthew Knies stepped onto the ice for the fourth day of Leafs development camp on Wednesday and continued to do what he does best — dominate.
The 19-year-old didn't put up a single point in Tuesday's scrimmage and looked visibly frustrated at times when he couldn't get anything going. Coming into Leafs development camp — with the expectation to perform well and the pressure from all of the outside noise — it could get to some players.
But for Knies, he enjoys the pressure, wherever it is.
"I think pressure is good, honestly." Said Knies on Wednesday. "It makes me lift my game, it makes me improve. It makes me work harder, it makes me compete. So, that's where I see it as a good thing. I think the pressure is kind of stepping outside of my game."
After Wednesday's skate, where the Arizona native looked to be in great form once again, he discussed the scrimmage and said it wasn't his best performance.
"I'm trying to do a little too much. Stick-handling the puck a little too long, things in the game that, you know, trying to make too many moves. I think that was the problem in the game for me." Knies said. "So, the pressure's been good, but I think there's some bad habits that I picked up from it. So, I'm trying to stick away from those and play a simple game on Friday."
Friday will be the final day of a near week-long Leafs development camp. Throughout the six days, the 19-year-old will have the chance to experience the city he'll likely join when his year at University of Minnesota comes to an end next season.
Among the things he's done so far — make a smoothie, cook some stuffed chicken, and go to a Blue Jays game.
"That was really exciting," Knies said of the Jays game he attended. "I think they spanked Kansas City a little bit, so it was fun to see."
Talking about the Toronto experience, the 19-year-old couldn't wipe the grin off his face.
"It's been pretty fun, honestly."
And how could he wipe the smile off his face? It's a great city with amazing people, where he'll likely play for a long, long time. And that smile remained on his face when he talked about playing in Minnesota, too.
"Stepping out on the ice when the band's playing, there's a student section, everyone's cheering you on, it gives me chills just saying it right now." Knies said. "It's a pretty insane atmosphere to play there and to play against some of the best teams in the NCAA, it's so much fun.
"Playing for school spirit, it was a tremendous year. I really loved my freshman year and I thought, 'If I develop as a player and person there, I can enjoy my time as long as I can there, I should take it.'"
One of the interesting notes from Leafs development camp came on Monday when he was the final player on the ice after every player exited. The 19-year-old was joined by four development coaches who were helping him with his shot.
What's interesting about this is the fact that there's four coaches there to help teach him. It shows how much he wants to build his game — being the final player on the ice — yet it also conveys how high the Maple Leafs are on him as a prospect.
"It's obviously really good to have that," Knies said of the development staff. "I'm very fortunate that they have so much staff here to help me and pick up my details. I think there's a lot of parts of my game that I can improve.
"I think I have the tools, the strength and size, but those little details, such as shooting that we practiced on that, that's stuff that I can improve. So, getting to work with them, after practice, is definitely valuable for me."
The 19-year-old says the road goes both ways when it comes to improving his game. There's plenty of ways he can improve, and the two sides agree on most of them, he said.
But if you're wondering what the biggest aspects are that he wants to improve on — it's his "skating and shooting."
Knies understands the hype around him, which many of prospects don't feel. However, that pressure doesn't mean the 19-year-old only thinks of himself in these situations.
"It's a big hockey market, right. Everyone wants to make their team better, everyone wants the Maple Leafs to make it as far as possible and win a Stanley Cup," Knies said. "I enjoy being in the spotlight and being in the pressure of it, trying to make everyone better around me and try to make a good impression. It's been a really fun camp so far and I'm excited for Friday."